Restoration under way on canoe house for Temple's crew and rowing teams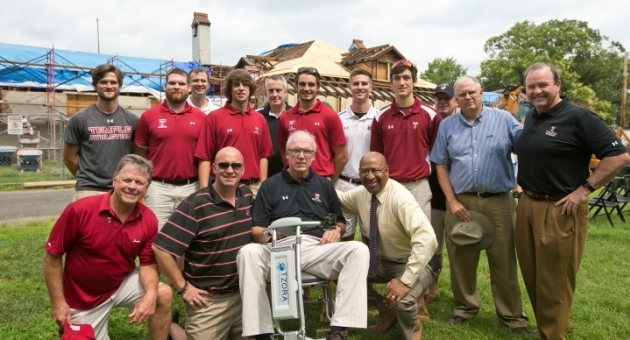 The restoration of the East Park Canoe House, the once and future home of Temple University's men's crew and women's rowing teams, was celebrated at a ceremonial groundbreaking last Thursday.
The work on the historic structure is expected to be completed by summer 2016. Temple's student-athletes should have partial occupancy of the city-owned building during the upcoming spring racing season.
"This will be the high-quality facility our student-athletes deserve," said Temple University President Neil D. Theobald. "At the same time, the restored canoe house will provide tremendous benefits to our neighbors and expand Temple's unshakable commitment to the community."
The project will restore the building's exterior, update public restrooms and provide new locker rooms, as well as renovate office and storage space for Temple's teams and the Philadelphia Police Department Marine Unit. The PPD Marine Unit will be located on the second floor of the facility, providing increased visibility up and down the river.
"By restoring the East Park Canoe House, Philadelphia is giving back to students from an institution that has given this city so much and continues to do so each and every day," Philadelphia Mayor Michael A. Nutter said at the groundbreaking ceremony. "Strengthening the relationship between Temple University—the city's university—as well as the students and the city of Philadelphia is essential for the future of Philadelphia."
The 9,260-square-foot structure on Kelly Drive is more than 100 years old. The building was condemned in 2008. Its restoration is being led by the city, which committed $2.5 million toward the project. The Lenfest Foundation, founded by Temple Trustee H. F. "Gerry" Lenfest, committed $3 million toward the restoration.
"I am more than pleased to have had the opportunity to join with the city of Philadelphia in providing a wonderful home in the renovated canoe house for the men's and women's Temple rowing teams," Lenfest said. "Temple, as the city's university, deserves a place for its rowing teams on the Schuylkill."
The canoe house is listed on the National Register of Historic Places as part of the Fairmount Park Historic District. Originally designed by renowned architect Walter Smedley, the building features a Spanish Mission Revival style of architecture that was popular in the early 1900s.
University Architect and Associate Vice President Margaret Carney said the restored canoe house will look the same on the exterior as it did 100 years ago. Even the new clay tiles on the roof will come from the same manufacturing plant that made the original tiles.
On the inside of the building, piecemeal renovations that have been made over the years will be cleared out, and the layout of the structure will return to its former design.
The city's canoe house "really has a lot of character," Carney said. "As you enter the building, you can tell that great care was given in its design. The same care is being given in its restoration."