Using soot, artist draws mural on Montgomery Garage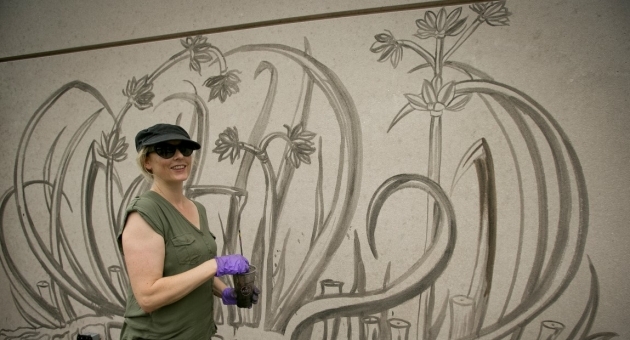 From smokestacks to tailpipes, artist Caroline Rothwell collects carbon emissions and transforms this soot into delicate drawings of endangered plants.
This week, she used emissions gathered from Temple University's smokestack at 10th Street and Montgomery Avenue to create a temporary drawing of endangered Pennsylvania plants. This stack serves boilers that generate steam for heating most Main Campus buildings east of Broad Street.
In a process similar to one used in the 19th century in which "lamp black" carbon was collected from the inside of oil-burning lamps, Rothwell and her helpers collected soot and mixed it with a binder to create stabilized paint.
On Tuesday and Wednesday, she used the emissions as a medium to draw on the north wall of the Montgomery Garage, Temple's newest parking garage. The image, based on the Juncus alpinus, a threatened species in Pennsylvania, can be seen at 12th and Berks streets until it washes away.
Rothwell's time at Temple, supported by Temple Contemporary and the university's Office of Sustainability, included a Potluck with a Purpose event Tuesday night at the Tyler School of Art in which she discussed the role of carbon in our lives.
Moderated by Grid magazine Managing Editor Heather Shayne Blakeslee, the panel discussion also included Dana Dentice, coordinator of the Plant One Million campaign with the Pennsylvania Horticultural Society, and Youness Sharifi, who has studied some of the world's largest man-made environmental disasters, such as the Deepwater Horizon and Exxon Valdez oil spills.
Potluck with a Purpose events are organized by the Green Council, an eco-friendly coalition of student organizations at Temple.