Theobald makes case for Temple's value in State of University address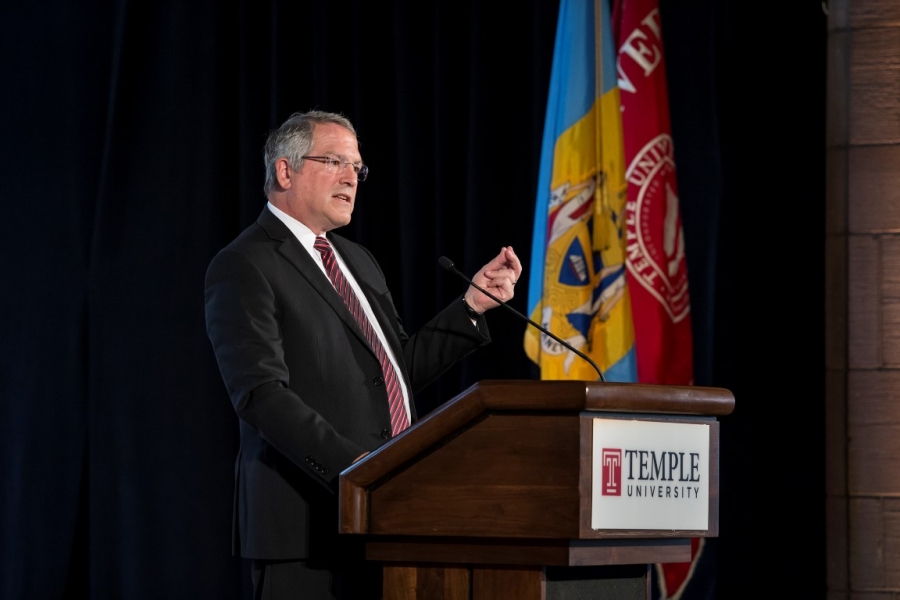 At his second annual State of the University address Thursday, Temple University President Neil D. Theobald lauded an "historic year" for Temple, citing unprecedented gains in the areas of excellence, accessibility and affordability.
"The state of the university, in a word, is excellent," Theobald told the standing-room-only crowd in Mitten Hall.
New pragmatism  
Theobald said that Temple's ability to provide "hard proof" of success defines Temple's "value proposition" at a time when many are skeptical of American higher education. We have entered an era of what he called "new pragmatism." Parents, elected officials and the media are criticizing tuition hikes, scrutinizing college's ability to help graduates find employment success—and sometimes even questioning whether a college education is worth the investment.
"I would argue that Temple's response to our era's 'new pragmatism' has been to remain committed to academic rigor while demonstrating honest value," Theobald said. "As the 'new pragmatism' sinks in, we rise. We are positioning Temple to play a unique leadership role in American higher education."
He also earned applause for restating a "zero-tolerance policy" for sexual misconduct and an "unwavering commitment to a safe and respectful campus environment for every daughter and son of Temple."
Balance and momentum
Tricia S. Jones—a professor in the Department of Strategic Communication and president of Temple University Faculty Senate, the event's official host—praised Theobald's steadfast commitment to balancing excellence, access and affordability.
"A lot of the faculty have a love for Temple's tradition of access and affordability, and as the faculty of a world-class, 'Research-I' institution, they demand excellence," she said. "I cannot think of a competing university that accomplishes that balance as well as Temple does. President Theobald did a fantastic job of demonstrating how well we've done that."
Temple Student Government President Ryan K. Rinaldi, a senior finance major, was energized by Theobald's address and a video the president presented, A Breakthrough Year for Temple University.
"It captured the vibe around campus and how students feel about Temple's momentum," Rinaldi said. "The atmosphere here is electric. Students know the value of their degree is increasing. There has never been a better time to be a Temple Owl."
Watch or read the entire State of the University address on President Theobald's website.
Related stories
Temple rises in U.S. News Best Global Universities rankings
New faculty boost Temple's rise
Temple surges to highest-ever U.S. News ranking