Flu Crew leads vaccination efforts at Temple University Hospital
Senior nursing students spend their clinical days spreading awareness about influenza immunization.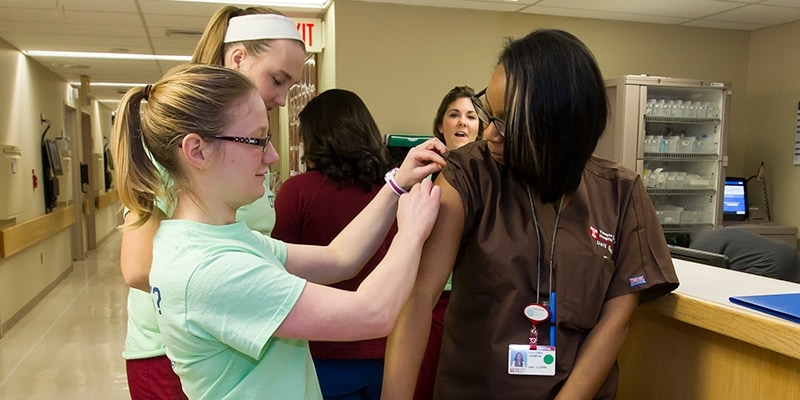 This fall, six Temple senior nursing students—Molly Kmetz, Yanna Savkova, Brianna Reed, Jamie Fitzgerald, Kelly Weniger and Shane McParland—are on a mission. The group has teamed up with the Infection Prevention and Control Department at Temple University Hospital (TUH) to increase flu vaccine compliance among TUH employees.
Under the supervision of their instructor Nancy Murphy, the students distribute surveys on vaccine opinion to staff and administer vaccines to employees as part of their community health class.
They go by "the Flu Crew" and are working with the Infection Prevention and Control Department to reach its goal of 90 percent compliance.
 
The hospital employs more than 4,100 employees, and the crew has already given 3,649 vaccines. Patricia Hayes, director of infection control at TUH, estimates the current compliance rate is near 75 to 85 percent. With four months of flu season remaining, the crew is confident that they will reach their goal. 
In addition to hitting benchmarks, the students are dedicated to educating fellow healthcare professionals on the importance of influenza immunization and providing an accessible—and free—option to staff.
"[Hospital employees] have trouble leaving the units or taking time out of their own schedules to come to Occupational Health to get shots," said Kmetz, a senior crew member. "So if we bring it to them, we can give shots right on the [hospital] floors."
She believes their bright green "Flu Crew" T-shirts help them stand out in a sea of scrubs. When they travel around the hospital with their cart, employees come up to show that they've gotten a shot or say they are in need of one.
"It's rewarding to go up to the floors and everyone says 'I don't need my flu shot because I already got one,'" Kmetz said. "We're seeing all these really high rates of compliance and succeeding at what we set out to do."
The Flu Crew plans to use the information they gather in the survey to help Hayes and her team plan for next year's flu kickoff. They would also like to submit their findings about healthcare professionals' opinions on vaccination to industry journals and publications to be shared more widely. 
"Nurses are fully capable of making significant contributions on all levels: patient care, academia and dissemination of information," said Murphy, who accompanies her students on their clinical days.
The Flu Crew has extended their services at TUH until March 31, the official end of flu season. A new crew will continue this compliance mission next year, as well as plan next fall's flu kickoff.
Related stories:
—Hayley Chenoweth