Loan literacy: Six tips to borrow wisely
Taking out loans might not be the most desirable way to pay for college, but it's often necessary. If you have to do it, do it carefully.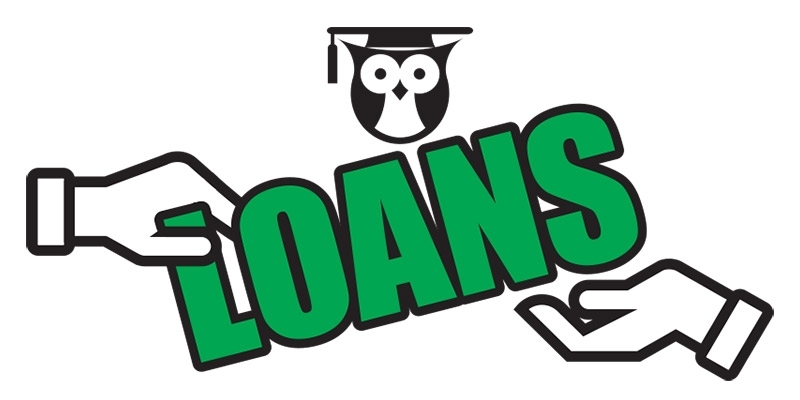 There may be times in your life when borrowing might not seem so bad—heck, it might even be fun (say, using your friend's Netflix login). Borrowing for college isn't one of those times.
Taking out student loans is a reality for many in college, and it's important you know what you're signing up for when you do. Here's Student Financial Services Director Craig Fennell's take: "We try to think of loans as a last resort," but "many people have to borrow these days."
Today, Owl About the Money breaks down important loan terminology and offers advice to help guide you as you sort your options. The best part about our two cents? We're not asking for anything in return.
Go to the feds first.
It's all about the (federal) benjamins: Loans offered through the federal government are the way to go, Fennell advises, because they tend to have lower interest rates and more benefits than private loans. Government loans can sometimes qualify for deferment (when repayment is temporarily delayed and, in some cases, the government pays the interest during that time), or forbearance (when you don't qualify for deferment, this allows you to stop making payments or reduce payments for up to a year, though interest will still be tacked on).
 
Seek the subsidized.
There are federal Direct Subsidized Loans and Direct Unsubsidized Loans, and there's a big difference between the two. With subsidized loans, which require that you demonstrate financial need (hello again, FAFSA), the government pays the interest while you're attending school at least half-time and for the six months following your departure from college.

"You always want to try to get subsidized first," said Temple's Assistant Vice President and Bursar David R. Glezerman. (Note: While all students may not be eligible to receive subsidized loans, Temple always awards students their full subsidized eligibility before other types of loan funding).

Under unsubsidized loans, the interest will accumulate after you begin to borrow. If you take one of these, consider paying off that interest as you attend school. "It's a good way to use your work study," points out Emilie Van Trieste, CLA '05, EDU '13, Temple's associate director for Student Financial Services. (If "what's work study?" is your next question, see us next week.)
 
When it comes to private loans, shop around.
If you've read our previous posts, there's a noticeable theme: Research is key. Look at a few lenders and see which one is right for you.

"Call their office, see how easy it is to get through to the office, see what the customer service is like," Van Trieste said. "This is a relationship that you're going to have during school and then maybe years later, depending on how much you're borrowing."

You might consider applying for more than one loan to compare options (such as interest rates), but be cognizant of how this could impact your credit score. Also, tools like Bankrate's student loan calculator can help you determine how much your monthly payments will be.
 
Understand where your parents may come into the picture.
In terms of private loans, Van Trieste said, many lenders will require a credit-worthy co-signer, so have that person lined up before sitting down to apply.

There's also a federal student loan offered for parents: the PLUS loan. Our experts note that the PLUS loan payments start at the time of the second disbursement (often times, the spring semester of the year in which the loan is taken). "It's the only loan for educational purposes that goes right into repayment during that year and that, sometimes, is a shocker to parents who aren't reading the fine print," Van Trieste added. "Other student loans don't enter repayment typically until they stop attending or attend less than part-time, so that's a big distinction."
 
Take *only* what you need.
If the prospect of some extra bucks in a loan brings dollar signs to your eyes, look past them to the bigger picture.

"If you're eligible for $10,000 but you only need $7,000, would you take $7,000, $10,000, something in between, or something less?" Glezerman asked (and, yes, there is a right answer). "Don't borrow more than you need … in the long term, you're paying back that amount, and you're paying interest."
 
Keep it together.
It's a simple but important concept: Stay organized.

"Get a folder or binder, and just keep your loan papers—everything you get, just put it in there," Fennell said. "It will be a huge, huge help to you later so you have can have a (complete) record."
Learn more loan considerations from SFS.
Related stories: 
Grants: Where they come from and how they help
Scholarships: Fantastic bucks and where to find them
Five things to know about the FAFSA
Owl about the money: A guide to being financially savvy in college