Floor-to-ceiling improvements
Flooring, furniture, lighting and painting upgrades are planned for 15 buildings on campus.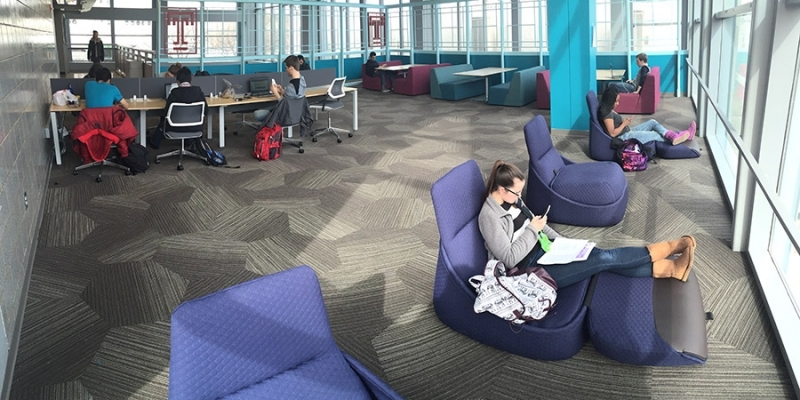 Senior advertising major Adella Hillebrecht had only used the fourth-floor Owls' Nest lounge at Tuttleman Learning Center a few times before it was recently renovated. But now that the third- and fourth-floor common areas have been upgraded with new carpeting, computer workstations, fold-out lounge chairs and tables, she and her classmates have made it their regular meeting spot for group projects.
"It's just livelier," she said. "You just feel better in that space."
A wide-ranging effort to upgrade interior public areas is breathing new life into many Temple buildings. Starting this academic year and extending through 2016–17, the painting and flooring renovation plan has so far modernized 52 spaces, totaling 90,000 square feet, across nine buildings on Main Campus and at the Health Sciences Center. And there's more to come.
"As Temple continues to add new facilities, such as our forthcoming state-of-the-art library, existing spaces also need to reflect a modern look and feel," said Kevin G. Clark, executive vice president and chief operating officer, who initiated the project. "Upgrading these spaces have both functional and aesthetic benefits for our students, faculty, staff and visitors."
Upgraded spaces include new flooring, fresh paint and LED lighting in the Presser Hall basement, home to 33 rooms for the Boyer College of Music and Dance. The basement in Speakman Hall was repainted, and the Underground event space in the Student Center has new hard flooring, as well as new carpeting from the well-known interior textile designer Jhane Barnes. Temple's Welcome Center received new painting and flooring, and new lobby furniture and hallway flooring is ongoing in the College of Engineering.
"Upgrading these spaces have both functional and aesthetic benefits."
-- Kevin G. Clark, executive vice president and chief operating officer
Notable upcoming projects include public area upgrades in Annenberg Hall and Tomlinson Theater; corridor upgrades throughout Gladfelter Hall; new seating, carpeting and painting in the Tuttleman Learning Center's 120-seat first-floor lecture halls; and $1 million in interior upgrades to the first floors of Conwell and Carnell halls, which include Admissions and the Bursar's Office. Construction is expected to take place between May and August. In a related future project, Student Financial Services will also be renovated.
In all, the painting and flooring plan is projected to reach 15 buildings and 115 rooms with a total of 250,000 square feet of improved floor, ceiling and wall space, according to ­­Jon Brighton, Temple's assistant director of architectural trades.
Back at the Owls' Nest, junior accounting major Catherine Brown was visiting the lounge for only the second time, but she plans to return more often, thanks in part to the "super comfy chairs."
The "more modern furniture and the colorful walls make it more welcoming," she said.
—Brandon Lausch and Hayley Chenoweth

Related stories: 
Nine construction and renovation projects transform Temple
New images of Temple's future library released