Faculty members honored for accomplishments and contributions
Eleven educators and scholars were celebrated during the annual Faculty Awards Luncheon.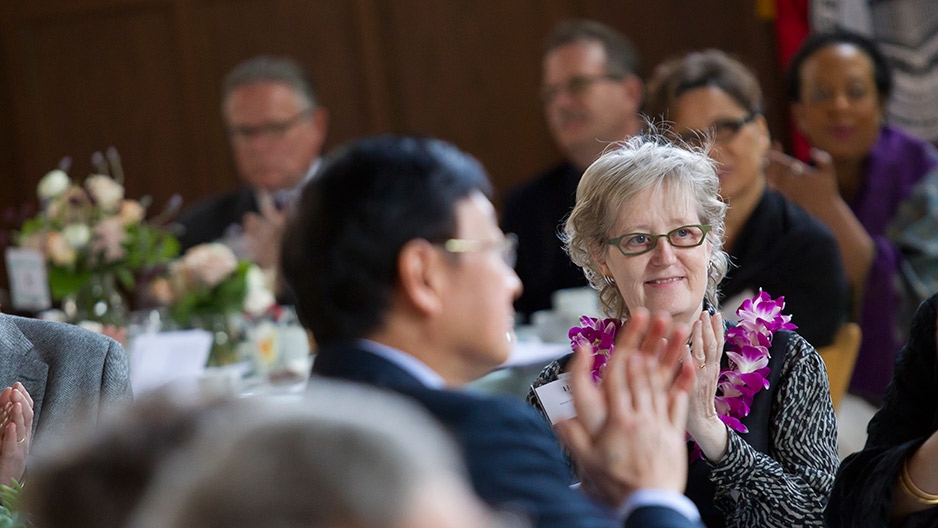 At the Faculty Awards Luncheon on April 25, 11 educators and scholars were recognized with the university's highest honors for their excellence in creativity, research and teaching. These faculty represent the university's most distinguished professors, whose achievements include investigating drug addiction prevention, serving as visiting professors around the globe and winning prestigious awards from the Guggenheim Foundation, National Endowment for the Arts and Smithsonian Institution.
Individuals are selected for the honors by a committee that reviews nominations from students and colleagues at Temple and other institutions.
"From the laboratory to the world stage, Temple's faculty are putting Temple on the map," said Provost Hai-Lung Dai. "While they represent a broad range of disciplines, they share drive, passion and innovation as well as a commitment to making a difference in our students' lives, at our university and around the world."
Awards
Each recipient receives a gift and monetary award. The Great Teacher Award winners, Rebecca Alpert, CLA '73, '78, and Elizabeth Bolman, received a commemorative glass sculpture designed by Daniel Cutrone, TYL '99, assistant professor of glass in the Tyler School of Art. Their names will be engraved alongside previous winners on the wall of Founder's Garden.

2016 award winners
The Great Teacher Award recognizes outstanding faculty for their continuous excellence and contributions to teaching.
Rebecca T. Alpert, CLA '73, '78, Department of Religion, College of Liberal Arts
Elizabeth Bolman, Department of Art History, Tyler School of Art
The Faculty Research and Creative Achievement Awards recognize outstanding research and creativity, and exceptional contributions to one's field.
The Paul W. Eberman Faculty Research Award
Ellen Unterwald, Department of Pharmacology, Lewis Katz School of Medicine
Temple University Faculty Research Award
Nora S. Newcombe, Department of Psychology, College of Liberal Arts

Temple University Faculty Award for Creative Achievement
Joyce Lindorff, Department of Keyboard Studies, Boyer College of Music and Dance
The Christian R. and Mary F. Lindback Foundation Awards for Distinguished Teaching honor faculty who epitomize the highest levels of sustained teaching excellence in the classroom, research lab or clinical setting.
Jeffrey R. Boles, CLA '00, Department of Legal Studies, Fox School of Business
LeAnn A. Erickson, Department of Film and Media Arts, School of Theater, Film and Media Arts
Steven A. Fleming, Department of Chemistry, College of Science and Technology
Salil K. Mehra, Beasley School of Law
George W. Miller III, Department of Journalism, School of Media and Communication
Bryant Simon, Department of History, College of Liberal Arts
—Hedy Taub Baker