Temple breaks ground on bold, new library
The building was called one of the most important projects the university has undertaken in decades.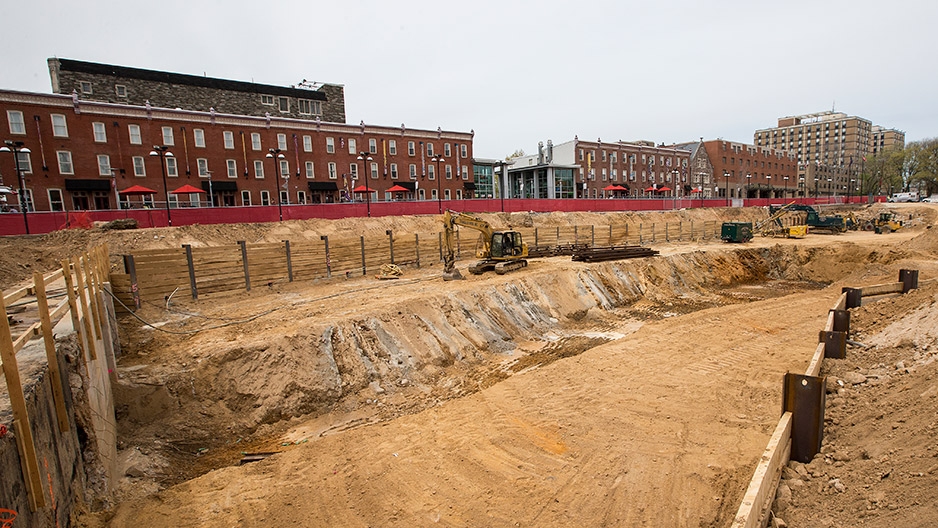 University leaders and supporters of Temple's new library gathered at a corner of the vast construction site at the heart of Main Campus last week to celebrate the groundbreaking of what Temple Board of Trustees Chair Patrick O'Connor called "one of the most important projects this university has undertaken in decades."
Scheduled to be completed in late 2018, the four-story, 225,000-square-foot, $170 million library will occupy a space approximately the size of a city block, bounded by Polett Walk to the south, Liacouras Walk to the west, Norris Street to the north and a new quadrangle—the largest green space in Temple's history—to the east.
The library will become a new, state-of-the-art academic commons that will redefine the Temple experience, said Temple President Neil D. Theobald.
"This stunning library will help our students and the Philadelphia region thrive in the knowledge-based economy," Theobald said. "It will replace the model of a repository [for books] with that of information exchange. Library buildings are no longer designed around books; they're designed around people."
Dean of University Libraries Joseph Lucia said the structure will have "a varied ecosystem" of spaces, ranging from those devoted to activities traditionally associated with libraries (such as quiet study and reading) to spaces for collaborative activities, special events, data visualization, 3-D printing, academic advising, a 24/7 café, a vast balcony and one of the state's largest green roofs.
Temple's library is being designed by Snøhetta, an architectural firm renowned for its innovative library designs, in partnership with Philadelphia-based Stantec. The firm recently made the list of finalists to design the Obama Presidential Center in Hawaii.
The design and function of the new library will be "unique to this student body as well as future generations," Snøhetta Project Manager Nathan McRae told Philadelphia Magazine during the groundbreaking ceremony.
"Libraries are in an evolutionary state constantly," McRae said. Temple's will be "notable for its focus beyond books as the core of the library." To pull this off, "we had to reinvent the wheel" in terms of what libraries should look like and how they should function.