Class of 2016 boasts Temple's first Fly in 4 graduates
Meghan Flack and Dominque Owens-Pinkney are leading the charge on Temple's innovative plan to fast-track students' futures and limit their debt.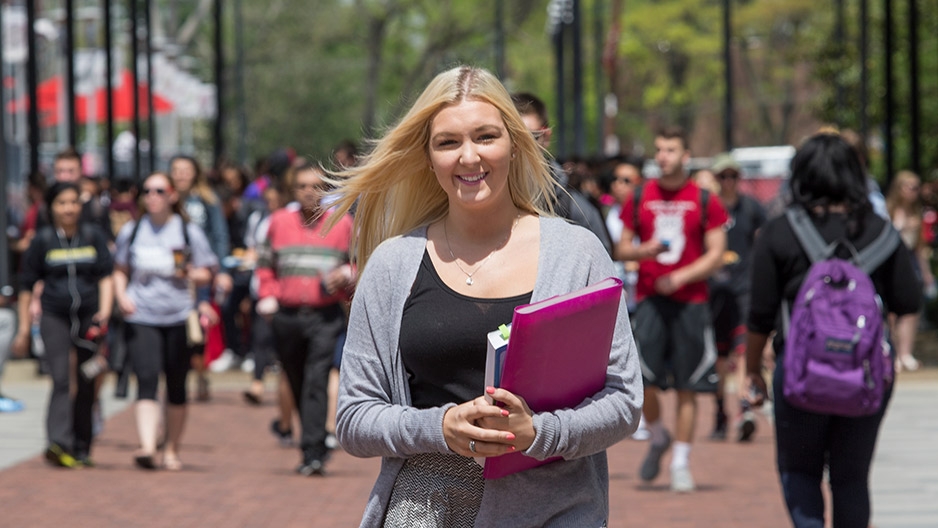 The Class of 2016 is full of pioneers. But only two graduates this year are at the forefront of Temple's effort to fast-track students' futures and limit their debt.
When they receive their degrees, Meghan Flack and Dominque Owens-Pinkney will become the first students to complete Fly in 4. They signed up for the groundbreaking program when it launched in 2014.
As transfer students, Flack and Owens-Pinkney had to earn their bachelor degrees in a total of four years, combining the credits they earned at Temple with their credits from previous institutions.
"When we created Fly in 4, the point was to reduce the time it takes students to graduate so they could limit their debt and enter the higher-paid, college-educated workforce more quickly," said Jodi Levine Laufgraben, EDU '95, vice provost for academic affairs, assessment and institutional research. "For transfers, that meant signing up for Fly in 4 if they had a path to graduate in a total of four years."
Laufgraben said the initiative is helping students progress toward their degrees. About 600 more sophomores this year compared to last are on track to graduate in four years. If they stay the course, they're expected to save more than $15 million in college costs.
Owens-Pinkney, who transferred from Montgomery County Community College, said she signed up for Fly in 4 because "it seemed like a good program to be involved in that would also help me finish my bachelor's degree on time."
A Spanish major from Eagleville, Pennsylvania, Owens-Pinkney has made the most of her time at Temple. She has studied abroad twice, including in Oviedo, Spain this semester.
Her next stop: a pre-med, post-baccalaureate program at La Salle University. "It's been such an honor to be an Owl," she said.
Flack, a psychology major from Cinnaminson, New Jersey, said she joined Fly in 4 because she wanted to save money.
The first person in her family to graduate from college, Flack credits Temple's academic advisors with keeping her on track—so it's no surprise that her future goal is to work as a college advisor. "Every institution I've been with has done nothing but help me achieve more and more and give me opportunities," she said. "I want to be there to help other students get those opportunities."
After high school, Flack felt unsure of what she wanted to do next. She enrolled at Rowan College at Burlington County and earned a 4.0 GPA in her first semester. With increased confidence, she transferred to Temple, where she's graduating summa cum laude with a 3.9 GPA.
"The best part of this whole process has been how supportive Temple has been of me and my goals," Flack said. "It has really been rewarding to be one of first students to graduate through Fly in 4."
She added: "I love the feel of going to a big school that's up and coming. It feels like Temple is constantly doing new things to improve. My degree is just going to get more valuable over time."