Longtime men's crew coach to retire
Gavin White's impressive four-decade career includes coaching rowers for the Olympics.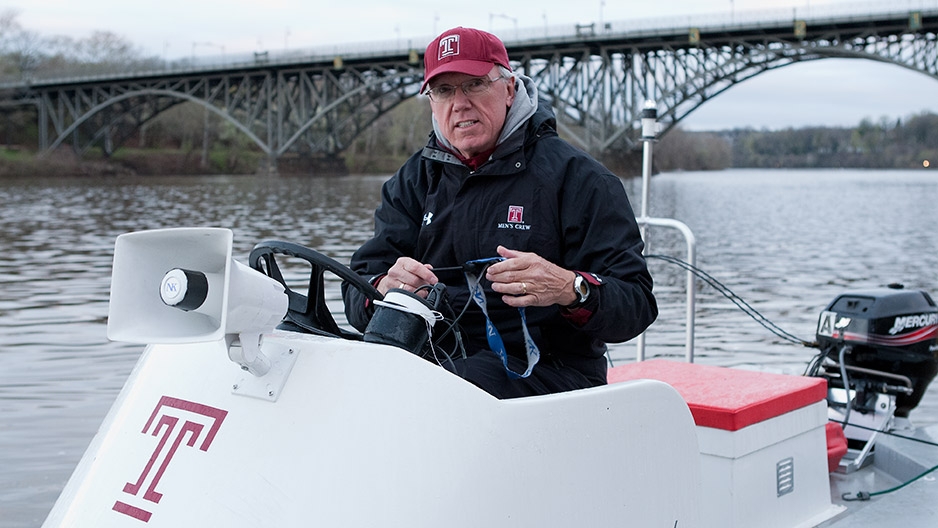 After 37 years at the helm, Temple men's crew head coach Gavin White, EDU '73, CPH '86, will retire following this season.
The second coach in the team's history, White led the Owls to 20 Dad Vail Regatta Varsity 8 titles, secured invitations to compete internationally, groomed members to compete in the Olympics and became a fixture in the rowing community. He will transition to coach emeritus for the team.
"I have been so very fortunate to be able to do what I love for four decades," White said. "There are so many people to thank, starting with the late great Temple coach Tom 'Bear' Curran, who gave me my start. I am also thankful for the Temple administration through the years that has supported my efforts and the program."
White succeeded Curran in 1979 after serving as an assistant coach for three seasons.
But his ties to the program started years earlier, when he spent three years rowing for the Owls during his undergraduate studies, beginning in 1971. After earning a bachelor's degree in physical education, he earned a master's degree in the same field from the University of Maryland.
With the exception of the 1984–1985 season—during which he worked to earn a doctoral degree—White has served as head coach.
Among his many accomplishments, he was named the 2003 Schuylkill Navy Coach of the Year; coached the men's four at the 2000 Olympic Games in Sydney, which finished fifth in the finals; and brought the Owls to compete in Great Britain's premier regatta seven times. He was also inducted into the Temple Athletic Hall of Fame in 1985.