Temple celebrates the life of Peter Liacouras
Peter J. Liacouras, 1931-2016, was remembered at an intimate ceremony in the Temple Performing Arts Center.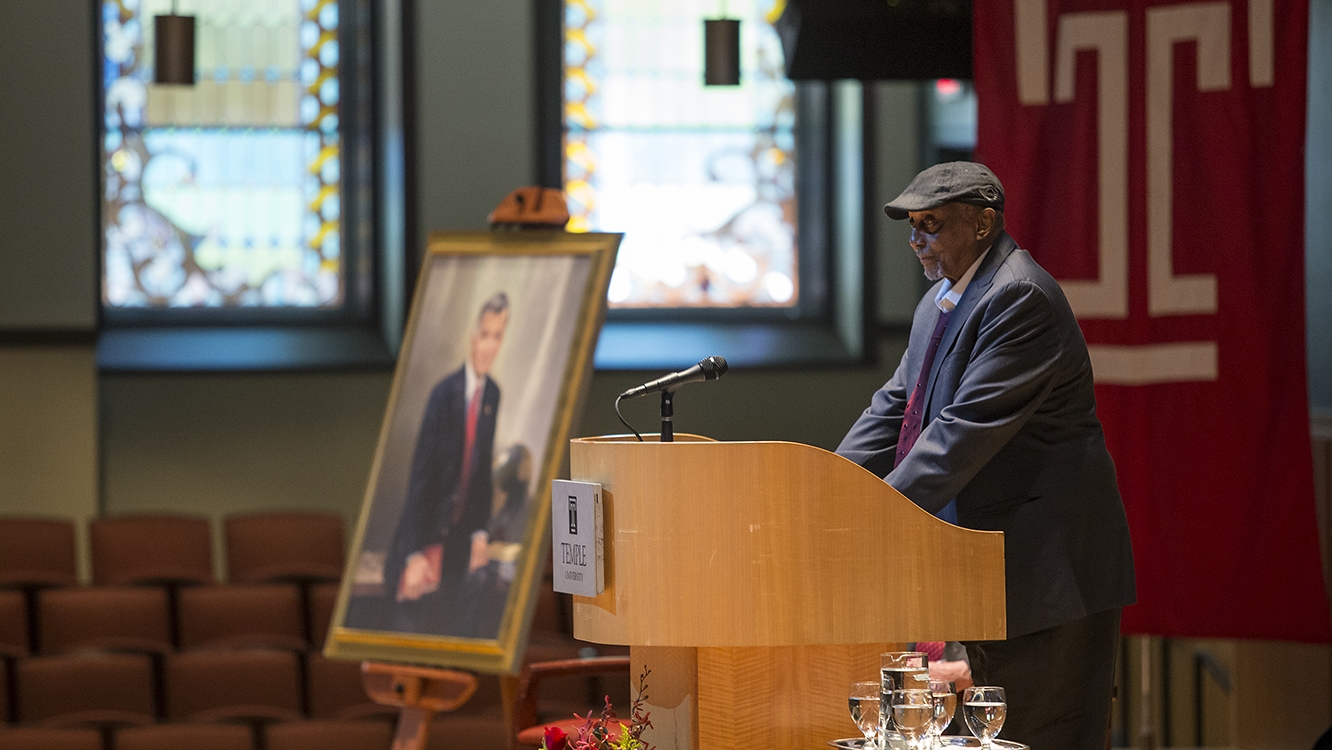 Peter Liacouras was a man of many achievements. And at a celebration of his life last week, Temple's seventh president was remembered as a man with many facets to his personality.
The intimate ceremony in the Temple Performing Arts Center brought together faculty, former students, staff and trustees. Many of them worked with Liacouras during his 18-year presidency and helped him transform Temple into the university it is today.
Chancellor Richard Englert said Liacouras was "a remarkable, inspiring, engaging, complex leader with numerous personas." There was a combative Liacouras, and a Liacouras who was uncommonly kind. The prophetic president who led Temple's evolution from a local commuter school into a blooming global university. The regular guy from Philly who grew up the child of Greek immigrants.
Liacouras' oldest son, Gregory, had a list of descriptions for his father, who passed away at 85 on May 12: "The consummate Philadelphian. The ultimate Owl. Champion of the underdog. All terms used to describe my dad. And he was all these things and more."
Liacouras' combination of compassion and conviction helped define him. And as much as anyone in the university's history, he helped define the modern Temple.
"He was someone who believed that this university could make a difference," said former men's basketball Coach John Chaney, adding, "the name Peter resonates and reverberates throughout this campus."
The May 20 celebration featured remarks from many of Liacouras' family members and his closest colleagues.
Liacouras' son, Stephen, read aloud the poem "Ithaka" by C. P. Cavafy, based on the Greek myth of Odysseus. Liacouras' granddaughter, Nicole, read "When Great Trees Fall" by Maya Angelou.
Serving as Temple's president from 1982 to 2000, Liacouras' tenure was exceeded in length only by the university's founder, Russell Conwell. He was also dean of Beasley School of Law for 10 years and a law professor. He later became a university chancellor.
Under his leadership, Temple grew its reputation, became more diverse and evolved into a residential community. It also excelled in athletics, with Chaney's basketball program ranking number one in the nation.
"So many of us shy away from setting ambitious goals because we fear a difficult path, or that the journey might end in disappointment," Stephen Liacouras said. "Dad was different."
Trustee Daniel Polett said "to know Peter Liacouras was to respect him and to love him."
"For Peter, every barrier was a doorway, every rejection was a second chance, every challenge was just another opportunity," Polett said.
Liacouras had indomitable determination, but he also seemed to have a magic touch. He was "perhaps the best parallel parker that has ever lived," Gregory Liacouras said, but he was also "uncannily lucky, with spaces opening up right when he came by."
Chaney said Liacouras was just as good at guessing NCAA tournament brackets.
"Even when we were in the tournaments, he'd figure out where we were going to go, who we were going to play," Chaney said. "And he was always right."

Memorial donations may be made to the Peter and Ann Liacouras Scholarship Fund at Temple University, which provides scholarships for undergraduate students based on academic merit and financial need.