Great Teacher Award winner Elizabeth Bolman has made a career of sharing her passion for appreciating and preserving art.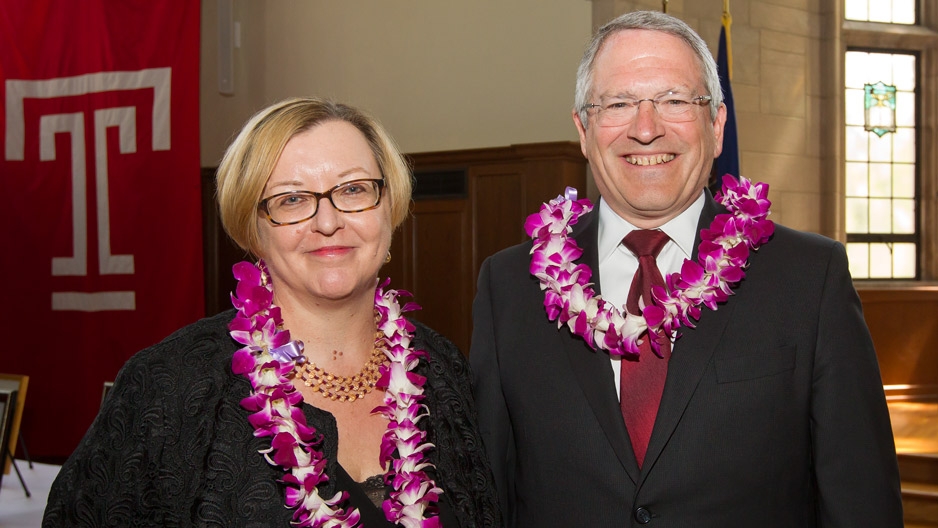 It's difficult to imagine a time when Elizabeth Bolman, chair and professor of art history and renowned art historian, would question the value of a career in her field.
She earned a bachelor's degree in art history and went on to immediately pursue an M.A. After one semester in her graduate program, she left to pursue a career as a feminist political activist—a decidedly different route.
"I feared the study of art history was self-indulgent and that it didn't have relevance for larger society," she said.
After seven years of working for a nonprofit and much contemplation, Bolman made peace with her desire to pursue her passion.
"The real world isn't just about poverty and violence and competition and getting ahead," she said. "The real world is also about beauty and art and culture, and so teaching art history and making sure that students are clearly aware of the relevance of art history in their own lives—that for me is a socially valuable activity."
That realization led Bolman to complete her master's degree and PhD in art history. She was hired as an assistant professor of art history at Temple—her first full-time job—and she hasn't looked back.
Validation
Sixteen years later, she was nominated for and received the 2016 Great Teacher Award—affirming that she made the correct career choice. The honor reflects Bolman's commitment to forging connections with students and staying active in the field as an art historian.
To build rapport with her students, Bolman starts every course she teaches by asking her students why we study art history.
"I get a range of responses, and they're very interesting," she said. "Then I tell them a little bit about my own personal journey—that I questioned the validity of studying art history and that after much soul searching I came to the conclusion that it was a real contribution to society." 
Her goal is to help her students take possession of the study of art history.
Agnieszka Szymańska, TYL '10, an art history PhD candidate, described learning from Bolman as "a source of perpetual intellectual joy and stimulation."
"She encouraged and continues to encourage [her students] to conceive of our studies as intellectual explorations and dialogues with other scholars, rather than as a straightforward internalization of factual information," she added.
Embracing opportunities
Szymańska has had the opportunity to travel to Sohag, Egypt, where Bolman was directing the conservation of a Coptic monument, the Red Monastery. It added a layer to her appreciation of Bolman's approach to teaching and working.
"I had not only the unique opportunity to study this captivating monument, but also to witness Dr. Bolman's passion and poise in a completely different setting," she said.
Another aspect of Bolman's teaching that sets her apart is her willingness to embrace emerging technologies. She's a firm believer in the potential for digital humanities to inform instruction. For example, when she completed the Red Monastery conservation project, she commissioned a laser scan of the monument.
"Laser scanning enables us to look at the monument from different angles but also it enables us to create, if necessary or if interested, an actual 3-D replica, to scale, that is high quality," she said.
Kaelin Jewell, an art history PhD candidate at Temple, has benefitted from this form of scholarship.
"Not only does Dr. Bolman's work sit at the cutting edge of theoretical approaches to art history, but she is also at the forefront of how the emerging field of digital humanities can impact our discipline," said Jewell.