Antarctic images reveal four decades of ice loss
Research conducted by Temple University and the University of Edinburgh will improve estimates of global sea level rise caused by ice melt.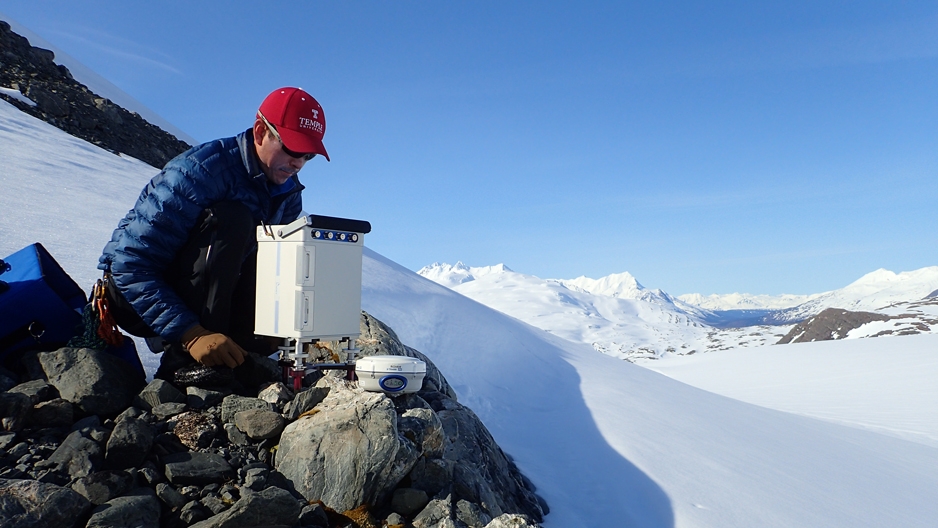 Part of Antarctica has been losing ice to the ocean for far longer than had been expected, satellite pictures reveal. A study of images along 2000 kilometers of West Antarctica's coastline has shown the loss of about 1000 square kilometers of ice—an area equivalent to the city of Berlin—over the past 40 years.
Researchers from Temple University's College of Science and Technology and the University of Edinburgh's School of GeoSciences were surprised to find that the region has been losing ice for such a length of time. Their findings will help improve estimates of global sea level rise caused by ice melt.
"We didn't know the ice there has been retreating for nearly half a century," said Atsuhiro Muto, assistant professor in the Department of Earth & Environmental Science. "We had seen similar trends around the coast of the Antarctic Peninsula to the east and the Amundsen Sea to the west, but this study showed that the long-term ice retreat in West Antarctica has been more widespread than we thought."
The research team analyzed hundreds of satellite photographs of the ice margin captured by NASA, the U.S. Geological Survey and European Space Agency. They found that ice has been retreating consistently along almost the entire coastline of Antarctica's Bellingshausen Sea since satellite records began. The study was published in Geophysical Research Letters.
Muto's role in the project was to analyze and interpret the airborne gravity data, which revealed that the ice in some parts of the Bellingshausen Sea coast lie in a trough below sea level and deepens toward the center of the ice sheet. "Such a configuration makes the ice potentially unstable and the ice loss could accelerate in the future," said Muto.
"We suspect the cause of widespread ice retreat is the warmer ocean waters reaching the West Antarctic coast and melting ice from the bottom," said Muto. "We don't know exactly how the ice sheet and the ocean interact and lead to ice loss. So monitoring of the West Antarctic coast using satellite data is important, but at the same time we need to collect more data on the ground, cooperating with oceanographers."
—Greg Fornia, SMC '92