Temple community will have a presence at both the RNC and the DNC
Temple students are participating in internships at both conventions, while a Temple K-9 will help keep the delegates safe.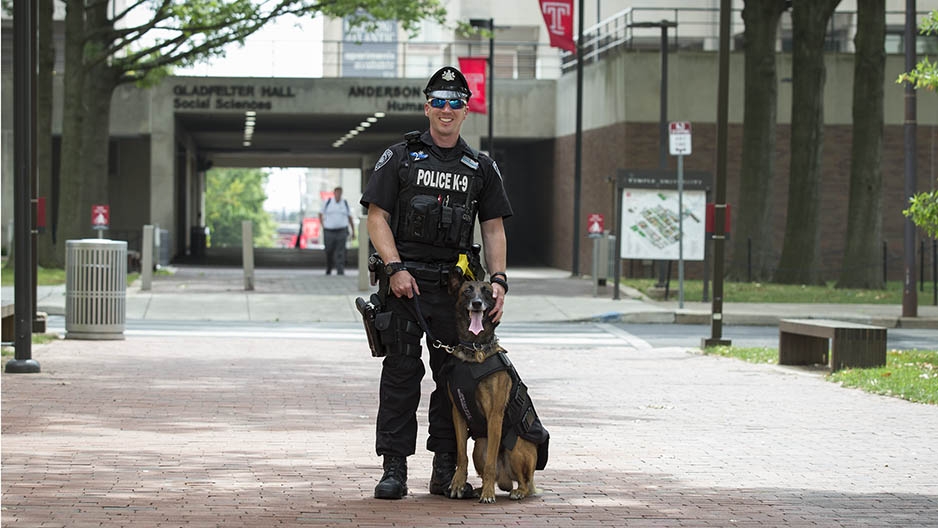 As a public university that produces many political leaders and political experts, it's no surprise that Temple will have a presence at both this week's Republican National Convention in Cleveland and next week's Democratic National Convention in Philadelphia.
Students helping at both conventions
The university has partnered with The Washington Center, a nonprofit, nonpartisan organization that provides students with opportunities in politics and government, to host 160 students―including 18 from Temple―who are interning at the DNC. The students will stay in Morgan Hall and take classes before the convention with Temple faculty and visiting professors from other institutions.
Six Temple students are also participating in internships at the RNC as part of The Washington Center's programs.
Anh Nguyen, Class of 2018, said her job as an intern is to help foreign journalists navigate the convention venue and make their way to press briefings.
"It's cool to get into the convention and see what's going on inside," she said.
A native of Ho Chi Minh City, Vietnam, Nguyen said working at the RNC is exactly the kind of experience that brought her to Temple. Coming from a country that she says restricts free speech and freedom of the press, she wanted to see American democracy in action.
"I am always curious about how democracy can work in other places," she said. "That's originally the reason I chose to study journalism in America. It's perfect timing for me to be in the U.S. during the election cycle."
After completing her degree, Nguyen said she wants to return to Vietnam to support the growth of democracy there.
In the meantime, she is happy to be among other Owls in Cleveland. Nguyen said one of her favorite experiences so far was meeting John Kosich, SMC '88, a journalist with an ABC affiliate in Cleveland.
"I felt very good knowing he's capable of doing something great so far from where he's from," Nguyen said. "That's what I want to do as well."
K-9 on duty
Temple University Police Department Officer Doug Hotchkiss and his K-9 partner, Baron, will be on duty at the DNC from Monday to Thursday. Hotchkiss said he won't know their exact assignment until the event begins.
"It's exciting," he said, "cause it's something big that I've never done before. It's nice to see something different."
Hotchkiss, a five-year veteran of the department, said he is proud to represent Temple at the convention.
His partner, Baron, is a 4-year-old Belgian malinois who is certified in patrol and explosive detection. Baron has a ballistic vest that helps protect him during his law enforcement duties.
As part of Temple's K-9 unit, Baron and Hotchkiss assisted federal and state agencies in their 48-day search for fugitive Eric Frein in the fall of 2014.
The pair has worked together for three years.
"It's hard to explain, but you become very bonded," Hotchkiss said. "I'm with him more than I am my wife."