All over campus, Temple is building and renovating
A dozen construction and renovation projects continue to transform campus.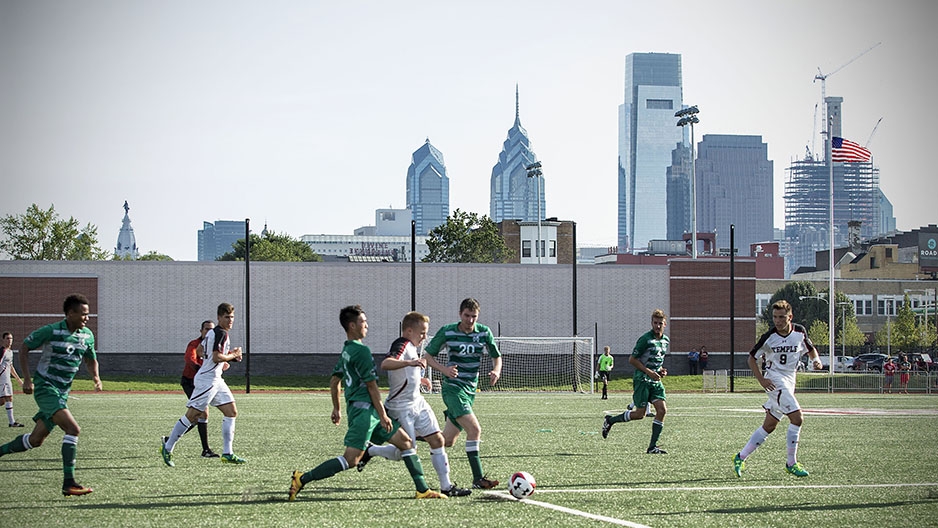 New construction and renovation projects continue to hum along across campus. The Temple University Sports Complex recently opened for play, a stunning new library is steadily emerging, numerous public spaces in academic buildings received upgrades, and a forthcoming Student Health and Wellness Center is only a year away.

Campus changes are practically everywhere, but this is the spot for details on all of the latest projects that are transforming Temple.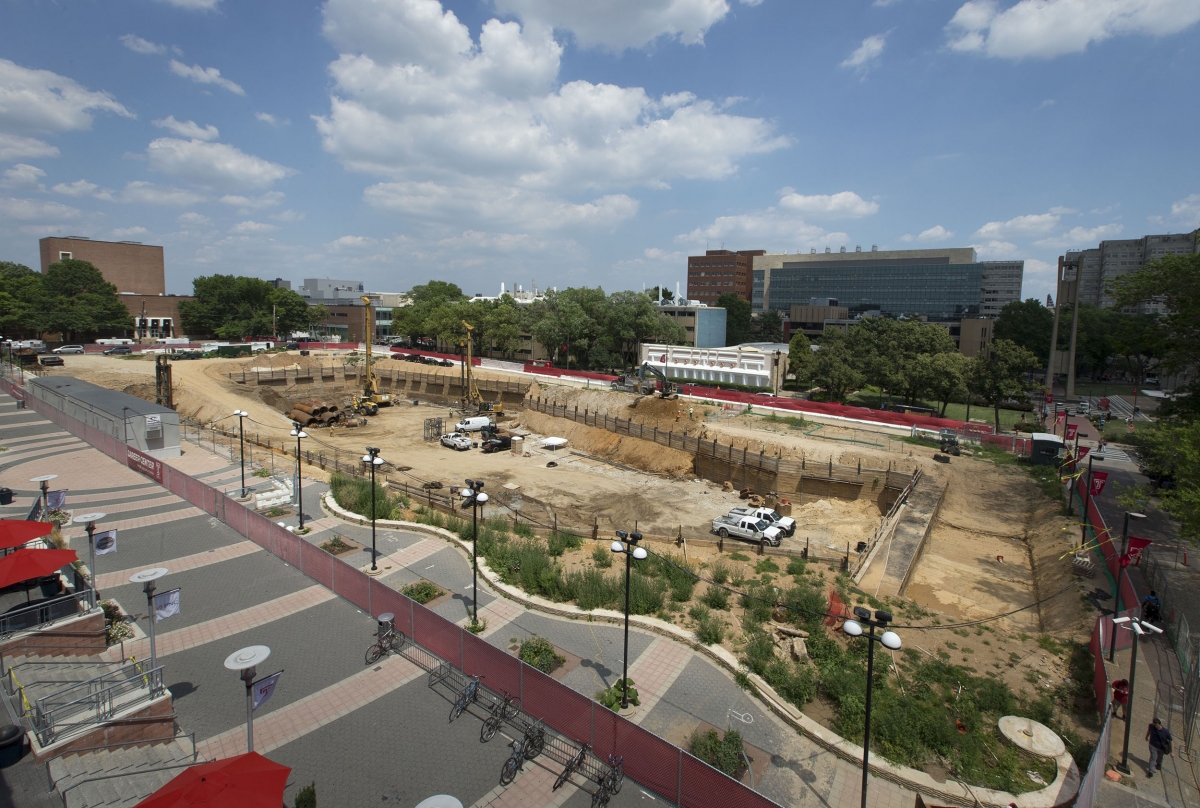 Photography by: Betsy Manning 

Project: New library
Location: 13th Street at Polett and Liacouras walks
What's changing: Temple's new four-story library—which will be about the size of a city block—will include 24/7 study space, storage and display of the university's special collections, offices for library administration, the Center for Learning and Student Success, the Writing Center, an outdoor balcony and a food service area. Excavation of the site was completed over summer break, and the deep foundation installation is in progress. Construction of the basement slab and walls will begin during the fall semester and is expected to be completed by February 2017.

Photography by: Joseph V. Labolito

Project: Temple University Sports Complex
Location: Girard Avenue to Master Street, between 13th and Broad streets
What's changing: Nicknamed the Owlplex, this new facility features two playing fields. One is for field hockey and lacrosse at the southern end of the property, and the northern field, ringed by a publicly accessible track, serves men's and women's soccer, women's track and field, and men's and women's cross country. The 10-acre property also provides much-needed space for intramural and club sports.
Temple is also collaborating closely with the Laborers' District Council Education and Training Apprenticeship Fund on the development of a training facility for council members on a portion of the property fronting North Broad Street. In addition to practical job training, Temple and the council are working together to define additional educational services that will be provided at the facility to council members and the surrounding community.
Project: Student Health and Wellness Center
Location: 15th Street and Montgomery Avenue
What's changing: Temple recently broke ground on a new Student Health and Wellness Center—an academic, athletics and recreation facility that will provide enhanced space for students in the College of Public Health to hone their clinical skills along with areas for all students to play recreational sports and weight train. The project is expected to finish in fall 2017.
Project: 1810 Liacouras Walk relocation and renovation project  
Location: Liacouras Walk at Montgomery Avenue
What's changing: During the 2016–2017 academic year, the current occupants of 1810 Liacouras Walk will be moved to new homes on Main Campus. This will enable the complete renovation of the building for a needed expansion of the Fox School of Business. As part of this effort, construction has begun in Paley Library on the east side of the first floor for a new home for the advising offices of the College of Science and Technology and College of Liberal Arts. Both advising groups are expected to be operational in Paley in January 2017 for the spring semester.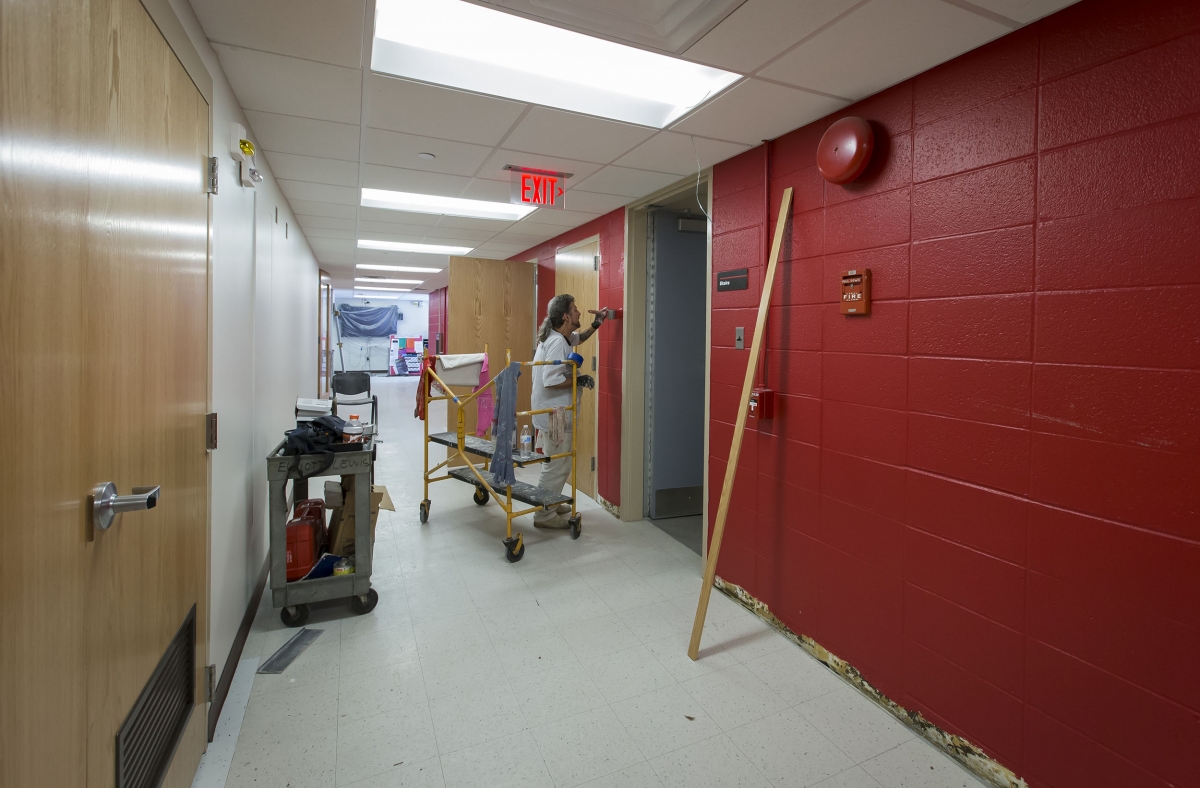 Photography by: Betsy Manning 

Project: Annenberg Hall interior renovation
Location: 2020 N. 13th St.
What's changing: Public-area upgrades throughout the building include new ceilings, lighting, painting, furniture, departmental entries and signage, and trash receptacles. In addition to modernized public spaces and corridors, elevators and restrooms have been upgraded, with an all-gender, ADA-compliant restroom on each floor.
Project: Conwell and Carnell halls renovations
Location: North Broad Street at Montgomery Avenue
What's changing: The first floors of Conwell and Carnell halls—home to the Bursar's Office and Undergraduate Admissions—have been upgraded with new lobbies, lighting, furniture, carpeting, doorways, finishings and signage.
Due to an ongoing renovation project, Student Financial Services (SFS) has moved from the ground floor of Carnell and Conwell to the second floor of 1700 N. Broad St. SFS will remain at this temporary location until the renovation is completed in May 2017.

Both buildings are having their historic façades repointed and repaired, and every window is being replaced for energy efficiency and to historically match the originals.

Photography by: Betsy Manning 

Project: Verdant Temple landscape implementation
Location: Polett and Liacouras walk
What's changing: New landscaping that was already installed on Liacouras Walk (from Montgomery Avenue to Shusterman Hall) was extended this summer to the intersection with Polett Walk, which was redone west from Liacouras to the gates facing Broad Street. Upgrades in the area include permeable pavement to soak up rainfall and lessen the impact of stormwater on the city's drainage systems, more social spaces with new seating, new planters, LED lighting and a widening of the walkway.

Additional phases of the Verdant Temple landscape implementation are expected to include Founder's Garden, the area around the Bell Tower and the mezzanine of Gladfelter and Anderson halls (see next project.)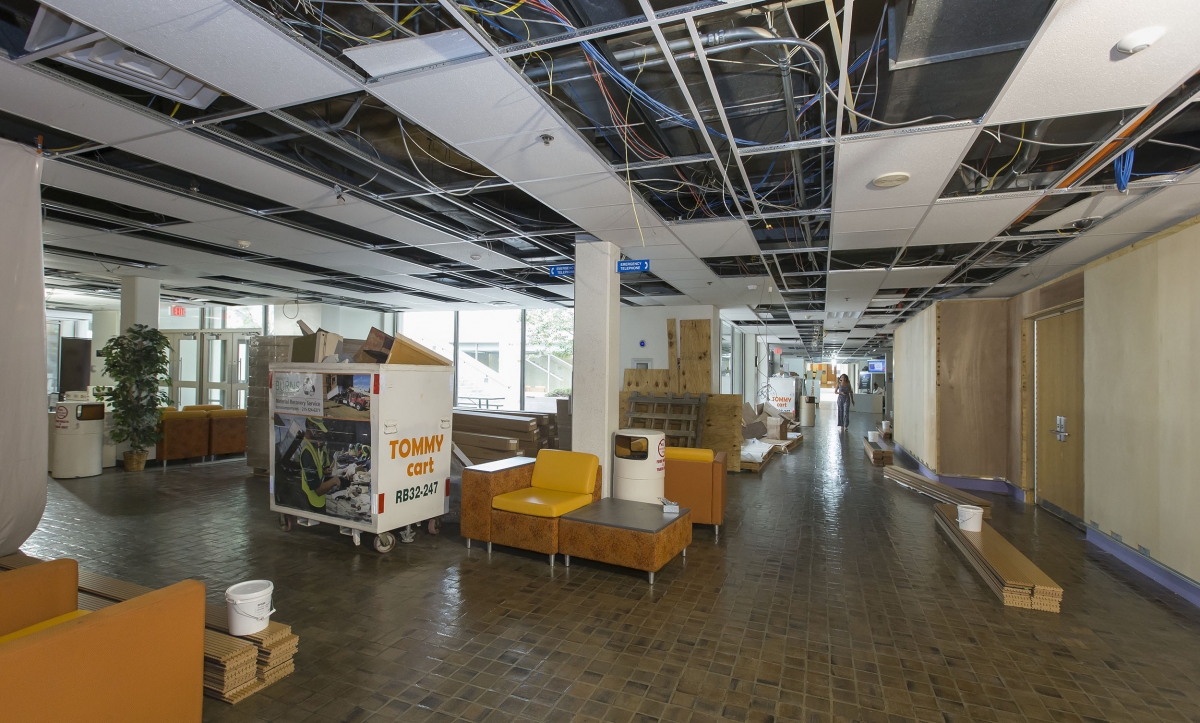 Photography by: Betsy Manning 

Project: Anderson and Gladfelter halls lobby renovations, mezzanine roof replacement
Location: Polett Walk between 12th and 11th streets
What's changing: Comprehensive lobby upgrades in both buildings include new ceilings and lighting, furniture, wood paneling, interior signage and trash receptacles. In addition, the fifth, ninth and 10th floors of Gladfelter Hall have been renovated in the first phase of an ongoing interior renovation initiative throughout the building.

A future project will be to replace and reimagine the mezzanine roof over Polett that connects both buildings. Both the Visualize Temple campus plan and Verdant Temple landscape plan recommend making the mezzanine more accessible and inviting.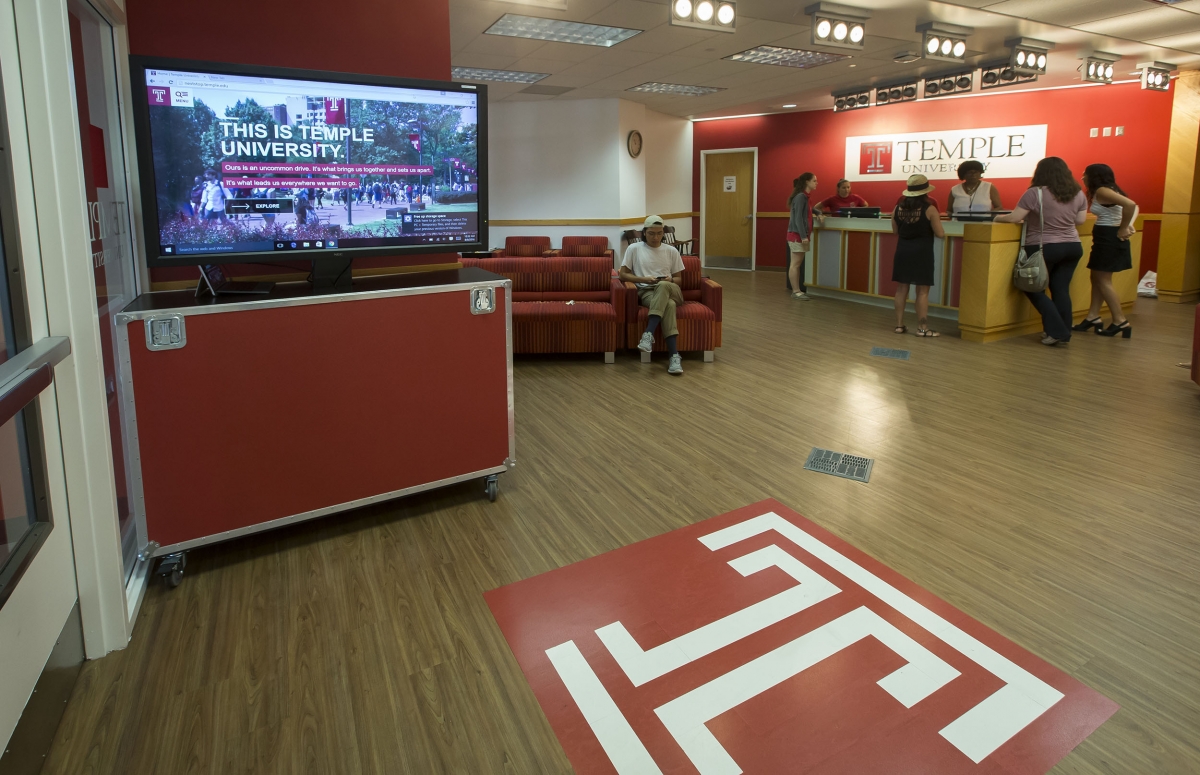 Photography by: Betsy Manning 

Project: Welcome Center upgrades; College of Public Health administrative offices
Location: TECH Center (Bell Building), 1101 W. Montgomery Ave.
What's changing: Temple's Welcome Center, on the first floor, received cosmetic upgrades over the last year. These include painting in the waiting area and presentation room and new vinyl wood flooring with a Temple "T" logo at the entrance. This fall, wall graphics will be installed in the conference room, creating a dynamic, welcoming experience for prospective students.

The third floor of the building received a major renovation to create 15,000 square feet of modern space for the College of Public Health dean and other senior administrative offices.
Project: Pearson-McGonigle Hall locker room upgrades
Location: Basement level, 1800 N. Broad St.  
What's changing: The men's and women's general and faculty locker rooms are being transformed into more vibrant, accessible and welcoming spaces. The renovations include new epoxy floors, wall tile, LED lighting, renovated restrooms and new shower systems. The project also includes updated lockers, benches and rubber flooring. New spin dryers in the general locker rooms will help dry out swimwear. The men's and women's general locker rooms will be open around the start of the academic year. Faculty locker rooms are expected to be completed by winter break.
Project: Temple Towers and 1300 residence hall improvements
Location: 1200 and 1300 Cecil B. Moore avenues
What's changing: The first phase of restroom replacements in Temple Towers was completed over the summer. A second phase is planned for next summer. This fall, the front courtyard of the 1300 residence hall will be upgraded to create a pleasant park area for students.
Project: New eateries
Location: 1601 N. Broad Street (Morgan Hall North) and 2012 N. Broad St.
What's changing: A Paesano's Philly Style hoagies is open at 2012 N. Broad St. across from Johnson and Hardwick residence halls. Justin Rosenberg, FOX '09, is opening a location of his fast-casual Honeygrow restaurant of customizable stir-fries and salads in retail space on the ground floor of Morgan Hall North at Broad Street and Cecil B. Moore Avenue. Honeygrow will be joined next door by an Insomnia cookies location, which has already opened. In addition, the Saxby's Coffee location at Liacouras and Polett walks underwent extensive interior renovations this summer.