Posted
September 13, 2016
Richard Deeg appointed Dean at College of Liberal Arts
The longtime Temple faculty member and expert on political economy is honored to be appointed to the leadership position.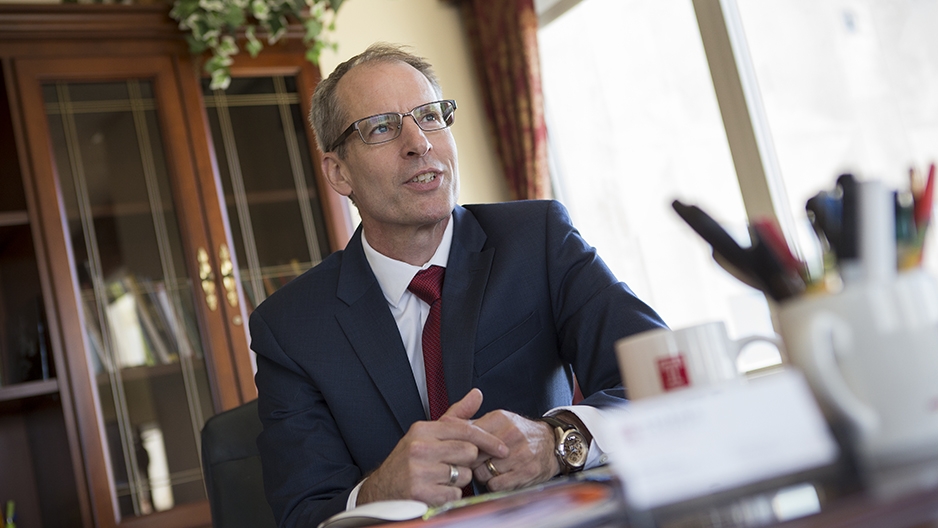 Richard Deeg, a celebrated teacher and widely published scholar with more than 25 years of Temple experience, has been appointed dean of the university's College of Liberal Arts, President Richard M. Englert announced today.
"Professor Deeg has the perfect combination for a Liberal Arts dean: He is an excellent teacher, an active researcher and has been both a department chair and senior associate dean for faculty and research," said Englert. "He is the right person at the right time for our outstanding college."
Englert's praise was echoed by Provost JoAnne A. Epps.
"I have every confidence in Richard Deeg, who will bring great energy and ideas to the dean's office. He is a thoughtful and vocal advocate for the value of the liberal arts in today's world," the provost said. "I look forward to working with him, as he joins the ranks of Temple's extraordinary group of deans."
Deeg said he was eager to begin.
"I am honored to serve as the dean of the College of Liberal Arts. I very much appreciate the confidence Provost Epps and President Englert have placed in me and the investment Temple University is making in the future of the College of Liberal Arts," said Deeg.
"As a first generation college student born to immigrant parents without high school diplomas, I hold a deep commitment to the Conwellian tradition of providing access to the transformative potential of a high-quality university education," he said.
An expert on political economy, Deeg served as chair of the Political Science department for five years, where he established a department-based alumni board to support fundraising efforts, sponsor internship scholarships and assist in organizing career-oriented programs for political science majors. He also developed and implemented 4+1 BA/MA joint degree program in political science with Meiji University in Japan.
As senior associate dean for faculty and research, his duties included faculty affairs, research promotion and strategic budget management.
He joined Temple University in 1991, becoming a full professor in 2009. 
"I hold a deep commitment to the Conwellian tradition of providing access to the transformative potential of a high-quality university education." —Richard Deeg, dean of the College of Liberal Arts
Deeg earned an undergraduate degree from Macalester College where he was elected to Phi Beta Kappa and earned a PhD from Massachusetts Institute of Technology. He was a postdoctoral fellow and visiting scholar at the Max Planck Institute for the Study of Societies in Cologne, Germany, as well as the Social Science Research Centre, Berlin.
He has received numerous awards and fellowships, including Fulbright and Jacob K. Javits fellowships. 
Deeg received the Outstanding Teaching Award in 2003 from the American Political Science Association and Pi Sigma Alpha.  From 2011 to 2014 he served as treasurer and executive officer of the Society for the Advancement of Socio-Economics. 
His research focuses on German and European political economy, with a particular focus on the causes and mechanisms of change in financial market regulation and governance. He has published several authored and edited books, including Finance Capitalism Unveiled: Banks and the German Political Economy (University of Michigan, 1999) and numerous articles in political science, business and sociology journals. In addition, he co-edited The Oxford Handbook of Employment Relations, published in 2014 by Oxford University Press.
His current research is on the politics of forming a banking union in the European Union.
Deeg succeeds William Stull, who became interim dean in the spring of 2015.
"I want to especially thank Professor Stull for his outstanding leadership over the past year as interim dean. The tradition of excellence at CLA continued through Bill's guidance and sets the stage for a smooth transition," said Provost Epps. "Great days are ahead for the College of Liberal Arts."