Posted
September 15, 2016
Homecoming 2016 will bring together Owls of all ages with a week full of events that offer something for everyone.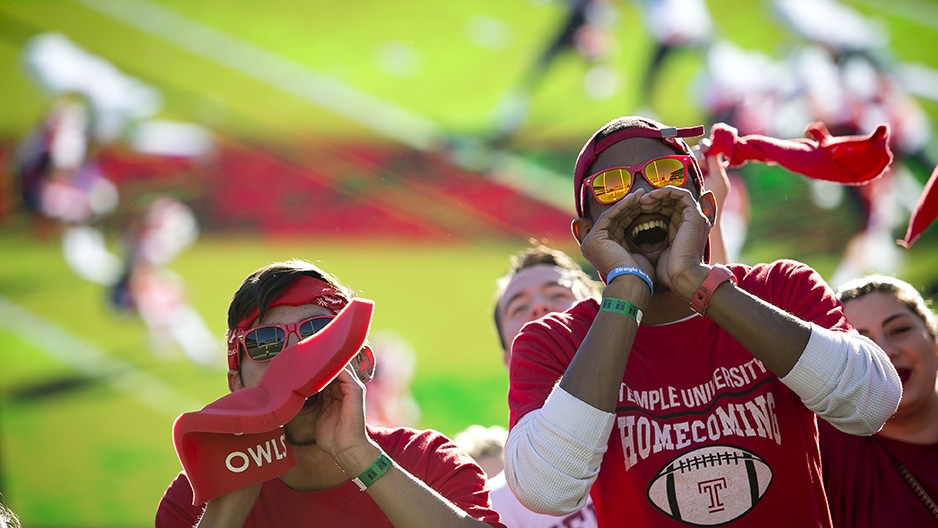 Ahh, fall. The air becomes crisper, the leaves begin to change and Owls everywhere return to the nest for One. Major. Event. That's right… it's almost time for Temple's Homecoming 2016. From crafts to concerts to football, there are activities scheduled throughout the week that cater to every interest and allow all Owls to unite in Temple pride. Here's a day-by-day breakdown.
Explore the full Homecoming 2016 schedule.
Monday, Sept. 19
Ever wanted to be part of a Guinness Book of World Records attempt? Well here's your chance! Join more than 1,000 volunteers as Temple attempts to break the world record for the most peanut butter and jelly sandwiches made in one hour. The goal is 40,000, which will break the current record of 39,303 set in June 2016. All sandwiches will be distributed to food banks in the Philadelphia region. Wins all around.
Wednesday, Sept. 21
Make like the good old days and hang out by the Bell Tower for Temple Libraries' pop-up concert. The event is free of charge and open to all.
Friday, Sept. 23
Get in touch with your artistic side. The Art Market at Tyler returns for the fifth year, offering the opportunity to shop for handmade goods from dozens of Philadelphia's finest artists from 12–8 p.m. at the Tyler School of Art. Also returning? Crafts & Drafts Happy Hour. Both events are free, but registration is encouraged for the art market and required for happy hour.
If a performance art is more your taste, you've got your pick. Temple Theater's production of Crumbs from the Table of Joy, a play by Pulitzer Prize winning playwright Lynn Nottage, is taking the stage at the Randall Theater. The performance begins at 7:30 p.m. and tickets range in price from $10–25. The sweet sounds of the Boyer Mosaic Concert will fill the Temple Performing Arts Center, beginning at 7:30 p.m. The performance is free of charge.
If you want to channel your school spirit in different way, you're in luck. The golf cart parade is back, along with the more traditional pep rally. You can make sure you remember all the words to "T for Temple U" before heading to any of the weekend's games.
Remember when Temple football beat Tulane during last year's homecoming? Relive the glory as volleyball hosts Tulane at 7 p.m. in McGonigle Hall. The event is free of charge.
Saturday, Sept. 24
Rise and shine! Put on your game face and head to Lincoln Financial Field, where the Owls host the 49ers of UNC Charlotte. Start the experience at Tailgate Village, which features games, giveaways, food and friends of all ages. The fun kicks off at 8:30 a.m. Actual kickoff is at noon, and tickets are going fast. Get yours here.