Philly's art scene powered by Temple
Five Owls are among Billy Penn's list of young heavy hitters on the city's art scene.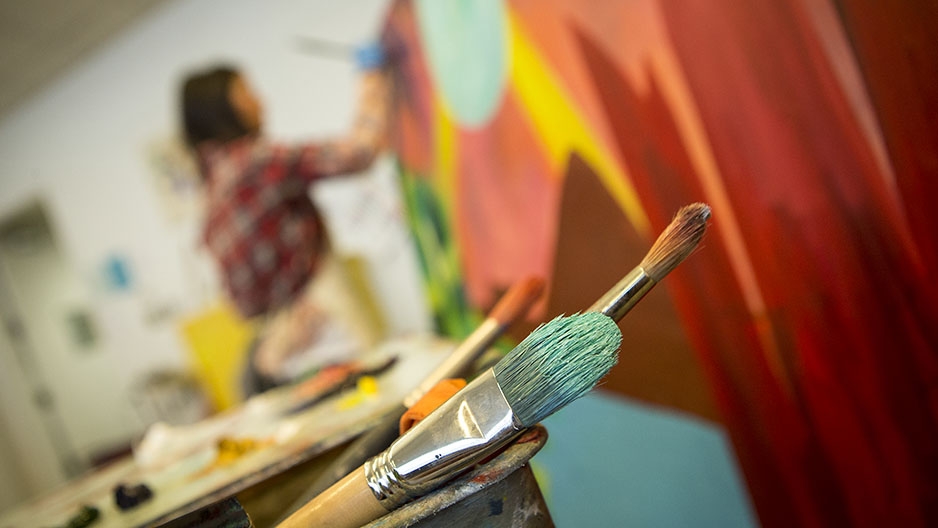 Creativity flourishes in Philadelphia. From world-renowned art museums and cultural institutions to a vibrant mural culture, the city is a haven for aspiring artists. It's no wonder the website Billy Penn was flooded with nominations when it put out a call for its Who's Next: Arts list. It's also unsurprising that five of the 18 young artists to make the cut are Temple alumni.

The Owls named to the list include graduates of the College of Liberal Arts and the Tyler School of Art. Their media might be different, but each is contributing to the city's arts scene in exciting and unique ways.
Meet the artists

Kate Abercrombie, TYL '00
Painter and master printer
Abercrombie's works have been exhibited at the Institute of Contemporary Art, the Pennsylvania Academy of the Fine Arts, the Philadelphia Museum of Art and Vox Populi. She works at the Fabric Workshop and Museum and told Billy Penn she is proud of "working with a supportive and inspiring art community and collaborating with artists."

Kai Davis, CLA '16
Poet
Davis, a recent graduate of the African American Studies and English programs, expresses her art through spoken word. Her poetry deals with the topics of gender, race and sexuality, and her performances have gone viral on YouTube. She told Billy Penn that "she's glad for the 'small impacts I've had on young people, specifically other young Black queer women.'"
Marissa Johnson-Valenzuela, CLA '04
Writer
Much of Johnson-Valenzuela's writing is political, and she has become known for her focus on prison literature. She currently teaches at the Community College of Philadelphia and has had works published in a number of literary journals. She also runs Thread Makes Blanket, a small press that "exists to provide a home for excellent writing that may otherwise have trouble finding a home."
José  Ortiz-Pagán, TYL '11
Artist
Ortiz-Pagán creates his art using rust-on-steel canvases, inspired by the decaying and rusting post-industrial structures he grew up around in Puerto Rico. He is also the exhibition manager of the Fleisher Art Memorial.
Lauren Zalut, TYL '00
Director of education and tour programs at Eastern State Penitentiary
Zalut has been instrumental in establishing programming at Eastern State Penitentiary that goes beyond the complex's history to thoughtfully discuss mass incarceration in the U.S. Among her accomplishments at the penitentiary, she spearheaded and researched the effort to hire previously imprisoned people as tour guides. "I'm currently working on a project to engage Philadelphia youth in dialogues about the overlap of race, mass incarceration and the school-to-prison pipeline," she told the website.