Symphony for a Broken Orchestra
Temple Contemporary turns broken instruments from the School District of Philadelphia into a compelling exhibit.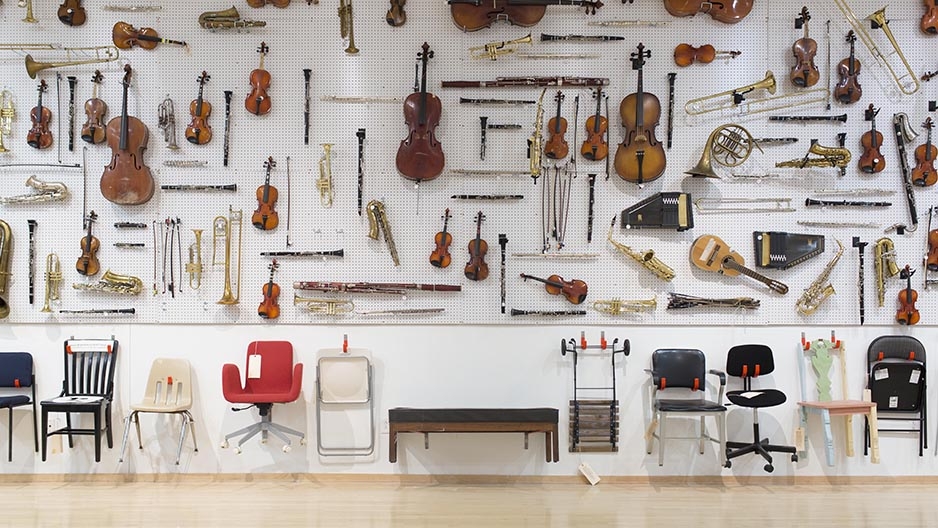 More than a 1,000 broken instruments once sat unused in basements and storage closets and on back shelves across the Philadelphia school district.
Instead of letting the broken instruments go to waste, "Symphony for a Broken Orchestra," a two-year project initiated at Temple Contemporary, seeks to give them a second chance.
The idea for the exhibit evolved out of conversations with members of Temple Contemporary's North Philadelphia Youth Advisory Council.
"Cuts to arts funding came up during a planning session," said Robert Blackson, director of exhibitions at Temple Contemporary. "The students were really concerned with the budget cuts, which led to a decline in arts education programing in public schools."
A violin with broken strings, a trombone that was carried to-and-from school by a fifth grader and a bass that was played in a school concert are among hundreds of broken instruments that now adorn the walls of the gallery.
Sounds from the instruments currently on display will be recorded and sent to Pulitzer Prize-winning musician composer David Lang, who will use the sounds to create an original composition.
The new work will premiere in October 2017, when it's performed by a specially assembled orchestra of 600 musicians from the classical, contemporary, jazz, hip hop and improvisational music communities in Philadelphia.
Following the performances, Temple Contemporary, in collaboration with instrument repair professionals, will repair all of the fixable instruments and return them back to the school district in the fall of 2018.
In addition, instrument repair kits will be installed in every public school offering instrumental music classes, allowing any instruments broken in the future to be repaired.
Support for "Symphony for a Broken Orchestra" is provided by The Pew Center for Arts & Heritage, with additional support from the Barra Foundation.