The Temple volleyball team is winning on the court—and their raucous theme nights at McGonigle Hall are winning fans' hearts.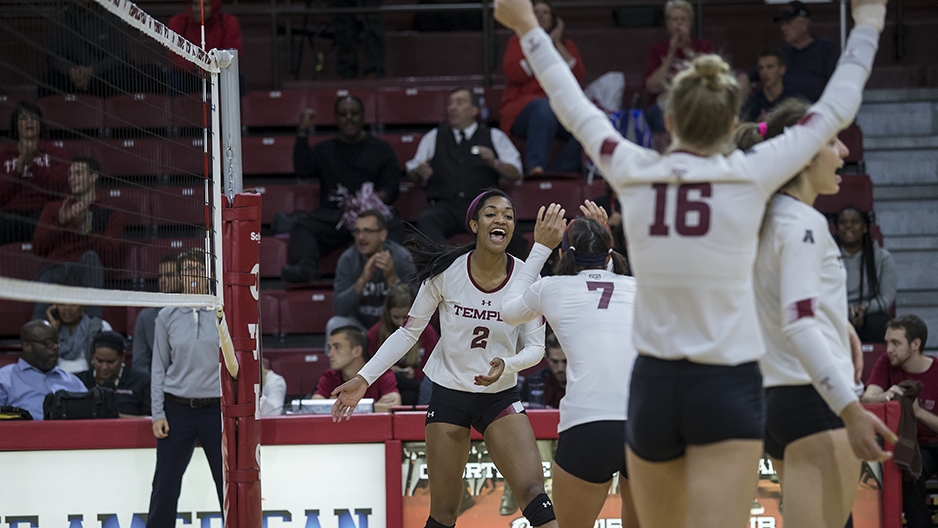 Quick, what Temple team has earned the status of being both the university's winningest Athletics program of the last three years and the creators of arguably the school's most raucous home-game atmosphere?

The answer: Temple women's volleyball. And now you know what to do on Fridays in the late fall.

Fueled by on-the-court success since the arrival of head coach Bakeer Ganesharatnam in 2011 and a tradition of loud, quirky "theme nights" for home matches on Friday evenings, the volleyball court at McGonigle Hall is building a reputation as a great place on Main Campus to spend part of your weekend.

"We love our Friday night matches," said senior co-captain and middle blocker Kirsten Overton, a media studies and production major from Royersford, Pennsylvania. "McGonigle is a great gym for us. The crowd gets pumped up. There's so much noise—the acoustics are great. Fans love it, and so do we. We feed off of the energy. And there's even more energy when we have theme nights."

"When people come to our games, they always come back."
-- Kirsten Overton, Class of 2017 and Temple volleyball co-captain
The first Friday theme night of the season is tomorrow (Friday, Oct. 28, 7 p.m.), when Temple hosts Memphis on Hawaiian Night, an annual tradition inspired by former Temple star Gabriella Matautia,
CPH '13
, a proud native of Hawaii, and fellow Hawaiian Mia Heirakuji, a sophomore on the current team. Fans should wear Hawaiian garb (Hawaiian shirts, leis and even grass skirts are encouraged), a DJ will be playing Hawaiian music and Athletics will be giving away Temple travel coolers.
Two weeks later, Temple volleyball will host American Athletic Conference power Cincinnati for another Cherry Out T-shirt Giveaway Night (Friday, Nov. 11, 7 p.m.), when fans will get cherry t-shirts to match the team, which will forego its usual white home jerseys for the evening.
"The atmosphere at home games—the fun that our fans have and that we have—is what separates us from other sports," Overton said. "When people come to our games, they always come back."
One of those fans who keeps coming back is President Richard M. Englert, who has been faithfully attending home volleyball matches for years.
With a 7-3 record in conference play, the Owls are tied for third in the American and still have a shot at finishing first. Because there's no conference tournament, every game matters. The regular-season champion will represent the American in the NCAA tournament.
Check out Temple volleyball's complete schedule
, which includes upcoming International Students Day and Senior Day games.