OwlCrowd campaign kicks off
Six Temple Made projects that will benefit both Temple and the community are seeking donations via the crowdfunding campaign through Dec. 15.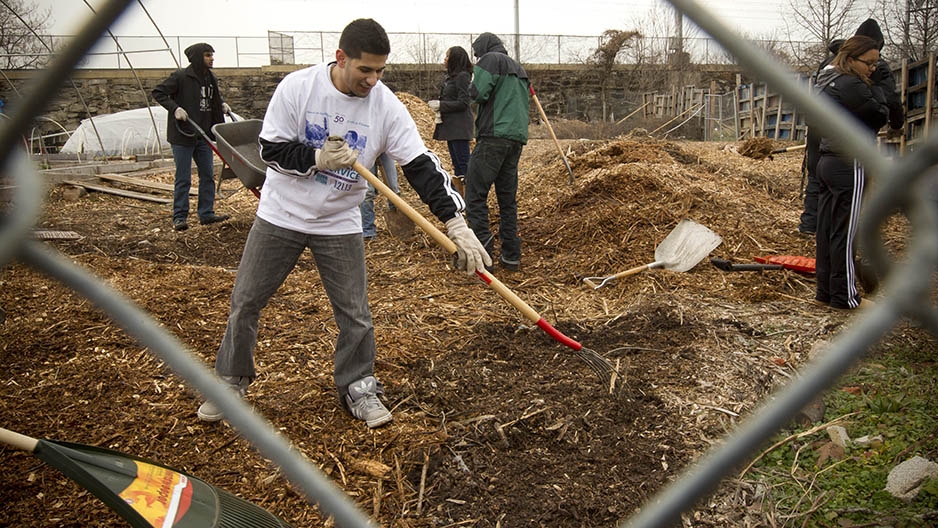 On Tuesday, Nov. 1, OwlCrowd, a crowdfunding service for Temple University students, faculty and staff, kicked off a campaign to benefit six community projects. Modeled after funding platforms like GoFundMe and KickStarter, OwlCrowd launched in 2013 to provide fundraising services for innovative Owls.

Each of the projects selected for this semester's campaign maintains a connection to Temple, while also helping the surrounding North Philadelphia community thrive.

"These projects are trying to affect positive change not just within the Temple community, but throughout the wider Philadelphia community," said Nicola Torchon, STH '08, assistant director of young alumni and student philanthropy.

The projects center on everything from providing fresh produce to neighborhood families to creating scholarships for children to attend a special summer camp.
Diamond Band Uniform Drive
The 2016–2017 school year brings the largest Diamond Marching Band in Temple's history—which means the need for more uniforms. The OwlCrowd campaign seeks funds to dress the more than 200 members of the band so they can continue to hype up crowds at games and represent Temple on the big screen (see the Annie remake and Wolf of Wall Street).
All money donated to this campaign will go toward uniforms, from trousers and shako hats to raincoats and garment bags.
Farm to Families
With Farm to Families, the Lewis Katz School of Medicine partners with the Lancaster Farm Fresh Cooperative and St. Christopher's Foundation to provide boxes of fresh food to North Philadelphia families.

"We have a distribution site at the hospital, and people are referred there by our doctors," said Victoria Vicente, FOX '12, project manager for Farm to Families. "They have a prescription pad, which they use to write a prescription that the patient can use to order a box of fresh produce."

Since the program began, more than 48,000 boxes have been purchased and consumed by more than 6,400 families. The campaign also seeks to offer opportunities for cooking classes and health education.
On-Campus Emergency Medical Services Advancement
Temple's Emergency Medical Services organization is looking to digitize its Patient Care Report system to enhance care. The student-run, volunteer group provides treatment during medical emergencies on Main Campus and its surrounding area. The goal of the fundraiser is to equip TUEMS crews with tablets and electronic patient care software. This upgrade would ensure all care providers are fully informed.

"The software seamlessly provides information to further health care providers," said Catherine Gibbs, sophomore neuroscience major and EMS volunteer.
Speak Now Summer Camp for Adolescents who Stutter
The Speak Now Summer Camp is using OwlCrowd for the second time to pay for tuition for 10 Philadelphia children to attend a camp that provides a supportive community for youth who stutter. The organization is raising funds for campers who would benefit from attending, but whose families might not be able to afford it.

"The biggest impact for the kids is that they see themselves in the other campers—they feel normal, smart, creative, athletic," said Kim Sabourin, clinical instructor in communication sciences and disorders at Temple.
College Bound Academy of Foster Care Youth
Another campaign focused on furthering the futures of area youth is this fundraiser from Temple's Center for Social Policy and Community Development. The College Bound Academy will provide multiple resources to rising 9th and 10th grade youth in foster care, who are at critical stages of their development—when they are more likely to drop out of school and be influenced negatively by peers.

The Academy's resources will include a year-round pre-college program; a weeklong overnight summer camp program; mentoring from college-age former foster care youth; and workshops promoting self-discovery led by Temple faculty and staff.
Educational Community Garden Restoration
After facing a break-in over the summer, resulting in the loss of nearly $500 worth of power tools, the Temple Community Garden is looking to restore the full operation of the garden as well as continue to be an educational resource for community members.

Along with replacing the lost tools, the garden is seeking to beautify the garden, provide seating for visitors and volunteers, and expand opportunities for workshops and community engagement.

"We've been working hard this summer and semester to build a network," said Alyssa Buitrago, a junior marketing major and treasurer of Temple Community Garden.

Learn more about the campaigns and donate here.

—Hayley Chenoweth