Creative change for community development
Summer interns use art as a tool to develop new ideas for the community.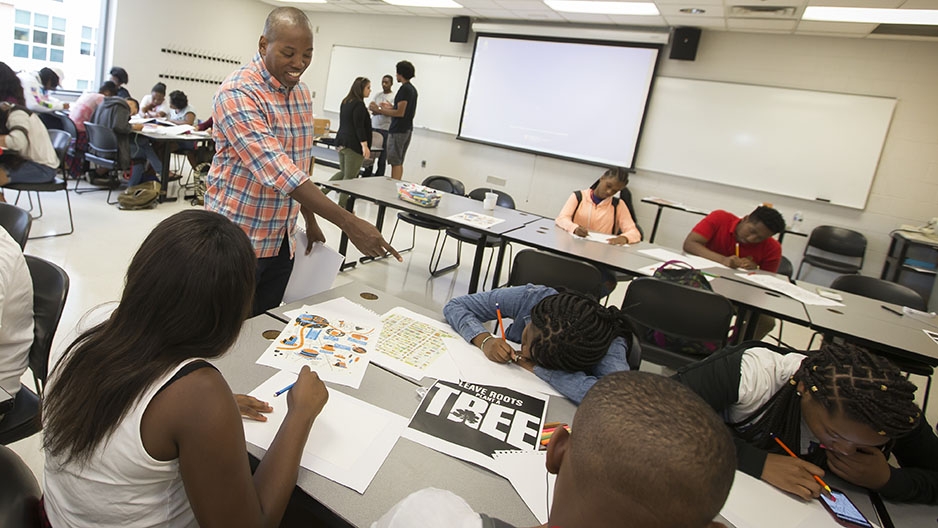 What does it take to improve a community?

"Creativity," said Cey Adams, the founding creative director of Def Jams Records. "Gentrification, violence and poverty are heavy issues for teenagers to deal with, but sit them down with paper and allow them to sketch through their thoughts and you'd be surprised with what they come up with."

Adams, who is known for designing some of Def Jams most iconic album covers, led more than 30 Apps and Maps summer high school interns through their final project at Temple's Apps and Maps studio, which was focused on coming up with creative ways to help improve North Philadelphia.

The final project was a culmination of summer activities based on community development and service learning. Throughout the summer interns were introduced to how the environment, housing stock, politics, workforce development and other variables play into building a sustainable community.

Using the concept "handmade for the community," Cey worked with the interns, who were referred to the program by the Philadelphia Youth Network, to design posters that represent the ideal livable neighborhood.  From there students were able to design a poster and present it to the group.

"I see things differently now," said Alexis Tucker, a sophomore at Mastery Charter School, Pickett Campus. "I travel through this part of the city a lot and just didn't pay attention."

A new way of seeing the world is the main focus of Apps and Maps, said Michele Masucci, vice president for Research Administration.

As the leading researcher on Temple's Urban Apps and Maps Studios, Masucci works to  examine how environmental quality and a lack of access to education, health and social services contribute to the digital divide.

"We have to meet students where they are," said Masucci. "Through Apps and Maps we're working to build a teaching style that's engaging to youth and leads to a greater interest in how they can create equality in the field for underrepresented populations."

Students took day trips through the neighborhood and studied how the disappearance of large employers like the Stetson Hat Factory, which was located in the Kensington section of the city, changed the face of North Philadelphia.

"When the factory jobs leave, they take a huge segment of the community with them," said Sarah Heck, doctoral candidate in the Geography and Urban Studies department who works with students in the Apps and Maps Studio. "We tried to impress to the interns that North Philadelphia is a neighborhood in transition. Changes are going to take the work of the entire community."

The program also connects Temple undergraduates who act as mentors to the high school student interns.

"Our goal this summer was to help these youth learn more about themselves. They're tech kids, so a lot of what they learn and experience is through a screen," said Michele Holland, Class of 2019. "We got them out into the neighborhoods, got them talking to other people and helped them start thinking about their role as the next generation of leaders."

Urban Apps and Maps Studios, is a six-week program that helps student learn the basics of digital design and business skills. Students focus on working with the university and developers to create apps that solve the challenges of urban communities.

The program is supported by a Knight Foundation grant designed to engage more young residents in the city's creative industries and in solving some of the problems faced by their community.