"One-of-a-kind" Gerard Sweeney honored as Musser Award recipient
The commercial real estate executive received the 2016 Musser Award for Excellence in Leadership—the highest honor given by the Fox School of Business.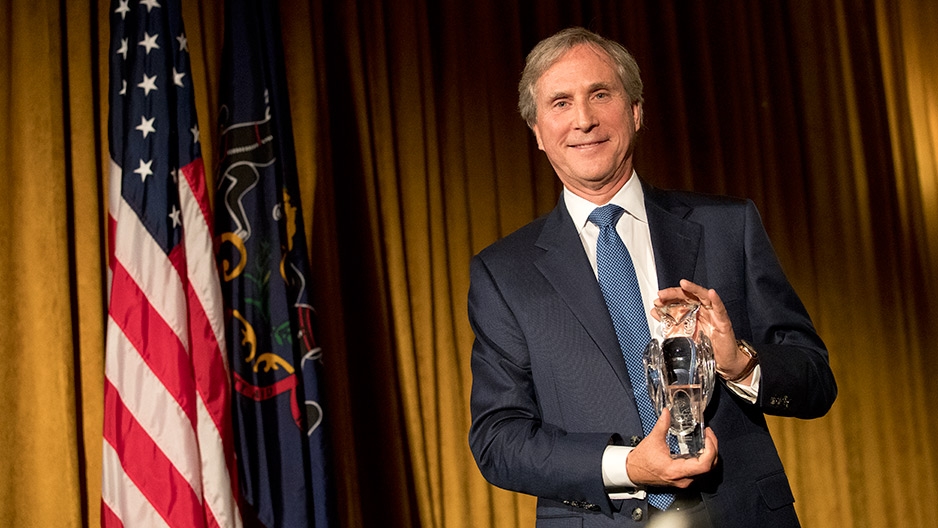 A short trip to the boardwalk taught Gerard H. "Jerry" Sweeney a lifelong lesson about professional drive.

As a child, Sweeney would walk two miles of boardwalk planks in Wildwood, New Jersey, until he had secured a job for the summer. And only then would Sweeney's father provide a ride home.

"I have found that persistence defines us, motivates us and relentlessly pushes us forward," said Sweeney, who received the 2016 Musser Award for Excellence in Leadership.

Temple University's Fox School of Business honored Sweeney as the recipient of the Musser Award, the highest honor conferred by the School, during a Nov. 16 dinner and reception at Mitten Hall. This year's event marked the 20th anniversary of the award ceremony, which has recognized a litany of Philadelphia's leading businesspeople.

Our legacy is in how many lives we touch, how many smiles we make and how much cheer we bring.
-- Gerard H. "Jerry" Sweeney
The evening paid homage to Sweeney, who is president, chief executive officer, and trustee of Brandywine Realty Trust, which develops, builds and manages the nation's leading Class A office and mixed-use properties. He has overseen the growth of Brandywine Realty Trust from four properties and a total market capitalization of less than $5 million to more than 33 million square feet and a total market capitalization of close to $5 billion.
"Jerry is a fresh-thinking, innovative leader who is helping to elevate Philadelphia's reputation into the upper echelon of the world's greatest cities," said M. Moshe Porat, dean of the Fox School. "His commitments to community, civic change and professional leadership are unmatched, and we are proud to honor him."
Sweeney is credited for coining the term "vertical neighborhood," which has been used to describe the 50-story FMC Tower at Cira Centre South and its premier amenities.
"Our true legacy is not in the money we make or the buildings we build," Sweeney said, upon accepting the Musser Award. "Our legacy is in how many lives we touch, how many smiles we make and how much cheer we bring."
Tyler Mathisen, the managing editor of CNBC Business News and co-host of CNBC's
Power Lunch
, once again served as the event's master of ceremonies. He introduced attendees to one of Sweeney's earliest business ventures, when he developed a business plan to sell rabbits as a fourth-grader. Mathisen then welcomed to the stage a rabbit named Tony, from Philadelphia's Morris Animal Refuge.
"He's yours to take home, Jerry, if you'd like to reestablish your first business conquest," Mathisen joked.
The Musser Awards dinner and reception gathers Philadelphia's leading business executives under one roof. Past top honorees in attendance included Warren V. "Pete" Musser, Robert Fox and Steven Korman, and Temple Trustees Dennis Alter, Chair Patrick J. O'Connor and Daniel H. Polett.
O'Connor called Sweeney "a one-of-a-kind businessman, community servant, and leader. The Fox School of Business could not have chosen a more-deserving honoree for this 20th anniversary event."
Sweeney credited his success to his supportive professional colleagues and loving family.
"The only limit on our capacity to dream and grow are those that are self-imposed," said Sweeney. "And to achieve this recognition from the Fox School, the vanguard of Philadelphia's renaissance, is truly special."
—Christopher Vito