Behind the scenes of 'Create TU'
Meet the students who brought Temple's latest video to life. 
Video Production:
Gina Benigno and Louis Peluyera
When Temple University wanted to show alumni the immense impact of giving, the possibilities were endless. But what could be more meaningful than to see and hear from current students—those who benefit the most from the alumni gifts that fund scholarships?
Meet the student artists and voices who share what Temple means to them in our latest video.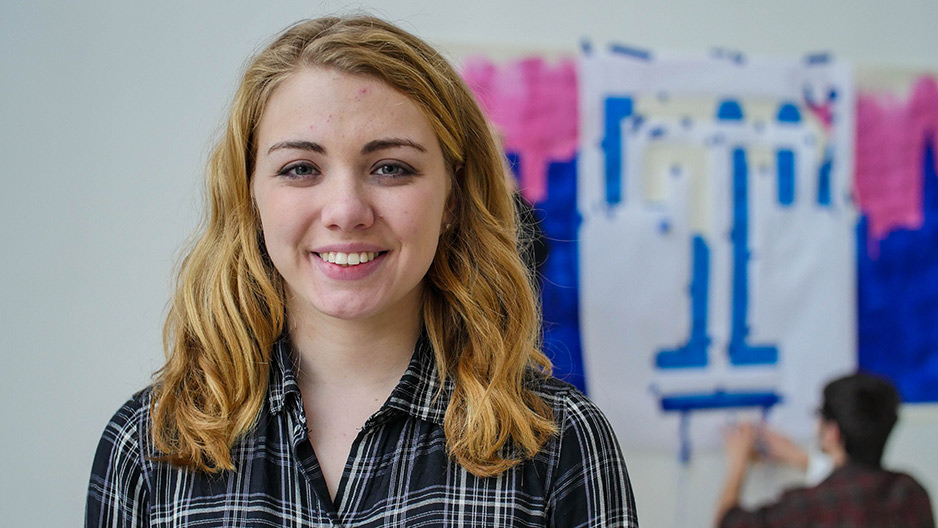 Kelly Antonacci, voiceover
Communication Studies
Class of 2018
Kelly Antonacci chose Temple because of its Philadelphia location. Originally from Lancaster, Pennsylvania, the aspiring television reporter wanted to get real-world experience that would prepare her well.
"Getting experience in a large media market like Philly's is the best way to jumpstart your career," she said.
Antonacci has taken full advantage of the opportunities available to her at Temple and in Philadelphia. She works on the student-run Temple Update television program and is a junior reporter for Fox 29. She also hones her professional skills as a student worker in the Office of International Affairs, where she helps market the university to prospective international students.
Assistant Professor Peter Jaroff encouraged her to audition for the chance to provide voiceover for the video. She likes public speaking and was excited for the opportunity to lend her skill to the university.
"It means a lot to me that I was chosen for this and it's cool that I can say that I'm doing something to help my school," she said of the experience.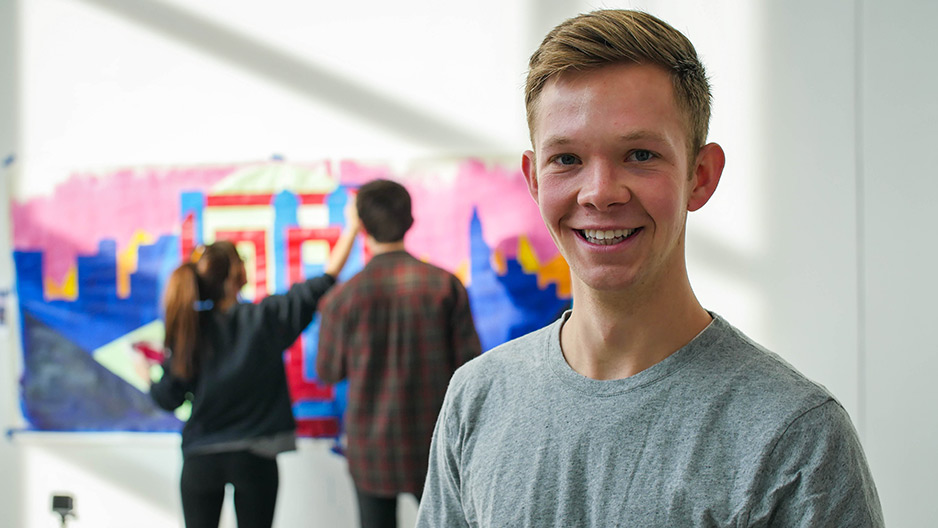 Nick Charles, voiceover
Media Studies and Production
Class of 2017
Scholarship recipient
Like his classmate Kelly Antonacci, Nick Charles is a Lancaster, Pennsylvania native who chose Temple for its urban location in Philadelphia and its diverse student body.
"Temple is a mixing pot of people, there are students who are from right down the street and international students," he said. "It's a really neat atmosphere that helps you diversify the way you look at the world."
Charles started out at Temple as a music major. Although he switched his major to media studies and production, he remained active musically as a member of the Diamond Marching Band. One of his favorite experiences as a student was playing at Lincoln Financial Field when Temple football beat Penn State in 2015. He described sharing that moment of immense school spirit with his fellow Owls as "overwhelming in the best way."
In addition to marching in the band and keeping up with his classes, Charles has been active in the School of Media and Communication through his involvement in the production of Temple Update and as a representative on the dean's student advisory council.
He enjoyed being selected to use his voiceover skills for the video project.
"It's quite an honor to be involved," he said.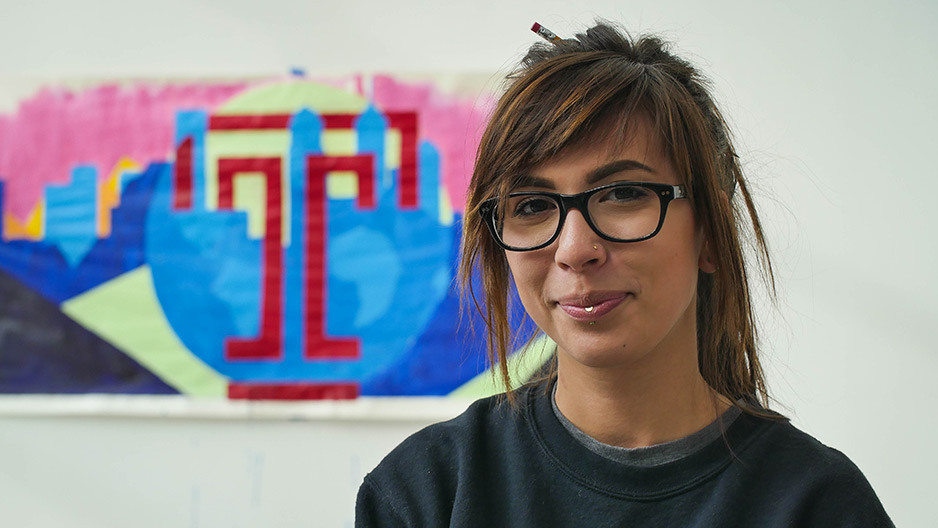 Maryam Hallaj, painter
Architecture
Class of 2017
Scholarship recipient
For artist Maryam Hallaj, Temple represents opportunity, growth and diversity. She said choosing to attend Temple has opened a lot of doors for her and proven to her that she's capable of doing things she previously didn't think were possible.
"I've never been told 'no' at Temple, which is something I've been told a lot in my life," she said. "Everything I've proposed as a student has been received with a 'yes, how do we make it happen?'"
That supportive environment is what attracted the Syrian native to the university. She said when she visited the campus prior to enrolling, she felt that she belonged.
"I could be myself here," she said.
Financial considerations were also big reason she chose Temple. As she nears graduation, she is currently loan-free, thanks to scholarships and her own hard work.
Hallaj has been active on and off campus. She founded the university's chapter of the Architecture Lobby and in her spare time she provides freelance graphic design services to the Narenj Tree Foundation, a nonprofit refugee aid organization.

Juan Hurtado Salazar, painter
Ceramics
Class of 2019
Scholarship recipient
Juan Hurtado Salazar was involved at Temple through the Tyler School of Art long before he was a student. In high school, he was a part of the Youth Advisory Council, which exposed him to and embedded him in the culture of the university.
When it was time for him to choose a college, it was only natural that he selected Temple.
He hasn't been disappointed and loves being challenged by his courses and faculty members. One assignment from his mosaic class, in particular, stands out: reading Pedagogy of the Oppressed by Paulo Freire.
"It taught me to be critical of my education and the importance of learning through discourse and conversation rather than just the information that has been deposited," he said.
It's been an important lesson for Salazar, who is a first-generation college student. Also important has been the financial support he's received to attend Temple, without which he said his education wouldn't be possible.
He doesn't take that reality lightly and knows the importance of giving back himself. He teaches at South Philadelphia's Fleisher Art Memorial, volunteers with the Pennsylvania Immigration & Citizenship Coalition and serves the university as part of Tyler's Dean's Advisory Council and as the undergraduate representative for the search for Tyler's dean.
Salazar embraced the opportunity to participate in the video as one more way for him to make an impact at Temple.
"I've received so much support that it would be great if somebody else could get the same support because of something I was a part of," he said.