Owls gave big on Giving Tuesday this year, more than doubling university goals by raising $146,089.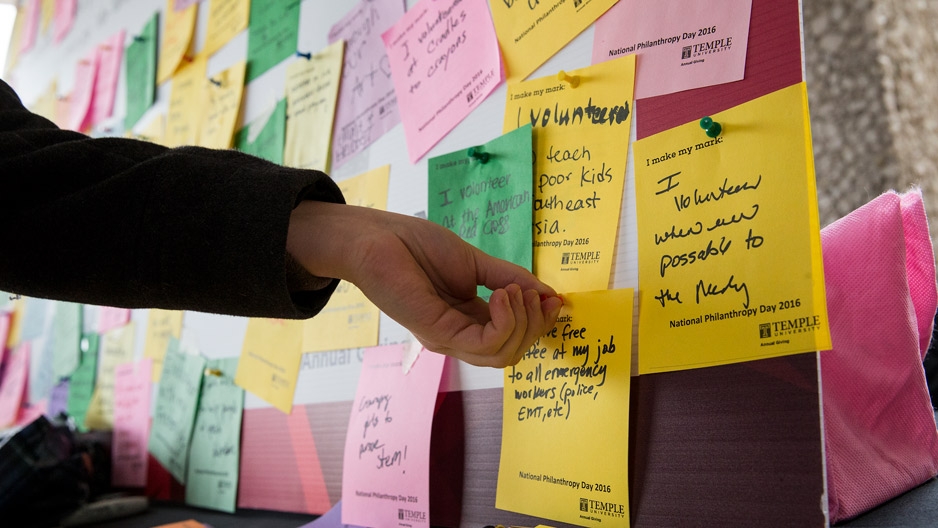 With a swell of pride, Owls gave big on Giving Tuesday. So big that we more than doubled university goals of reaching 200 donors and raising $70,000.
The annual event, held on the Tuesday after Thanksgiving, drew 432 donors who gave $146,089 to support Temple students, faculty and programs, up from 351 donors who gave $104,306 last year.
Alumni were the largest group of donors, while faculty, staff, parents, students and friends were also generous, earmarking gifts for every school and college, as well as scholarships, research, athletics and the library.
"The success of this campaign demonstrates the strong support of our alumni, so many of whom invested in the future of Temple by making a gift on Giving Tuesday," said James Dicker, vice president for institutional advancement. "Temple continues to build incredible momentum across many areas of the university, and our alumni are taking notice."
As gifts were coming in online, the campus community was celebrating a different kind of giving on the ground. At the entrance to Paley Library, students, faculty and staff posted notes on how they make their mark at Temple and in the community through volunteering and other kinds of service.
Every day, Owls give of themselves in incalculable ways. And when it comes to financial support, our reasons for giving can vary widely. What rings true for many is the desire to give back to the place that made so much possible—and to give that same opportunity to future Temple students.
"We have a responsibility to make sure that we stay involved… It gives us the opportunity to put our money where our mouth is—to pay it forward so we can help someone else who might not otherwise have an opportunity to experience Temple," said Cheretta Clerkley, SMC '05.