Engineering seniors design innovations to improve life
At least one senior design project created by engineering majors over the last two semesters may be commercialized soon.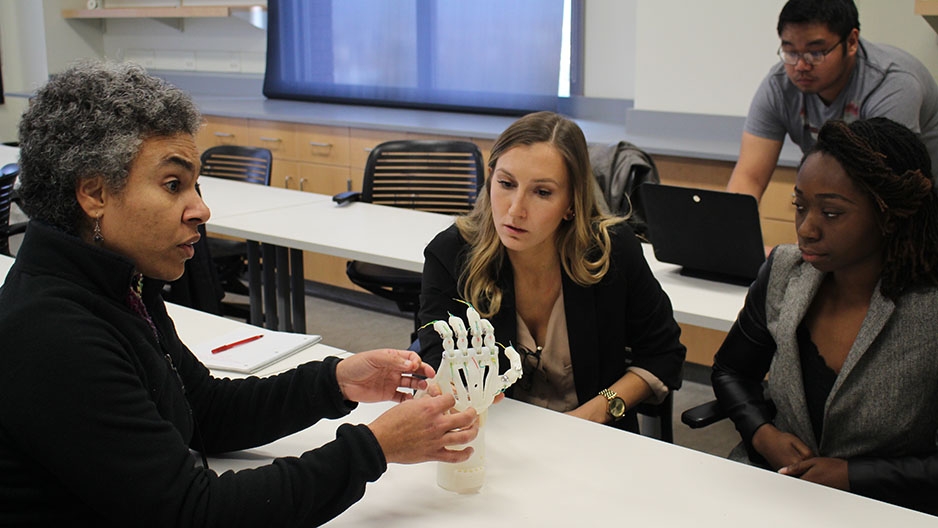 From potential medical breakthroughs to innovative solutions for everyday problems, the projects designed over the last two semesters by College of Engineering seniors all sought to improve people's lives.

At the end of the fall semester, students presented their senior design projects at a contest and poster session. Cool It TempStent, a system engineered to cause hypothermia in the pancreas to reduce damage caused by pancreatitis by slowing the disease's spread, took top honors during the contest.

Cool It TempStent, designed by senior mechanical engineering majors Daniel Meckes and Keith Wilkins, is based on similar processes already used in the heart and brain. Meckes and Wilkins tested their work with doctors at Brigham Hospital in Boston and previously earned a design excellence award from the Institutes of Biomedical Imaging and Bioengineering.

"It's just like cooling your hand after you get a burn," explained Meckes, who has seen the process used while working at Jefferson University Hospital. "It slows down cellular metabolism and blunts the process of cellular death."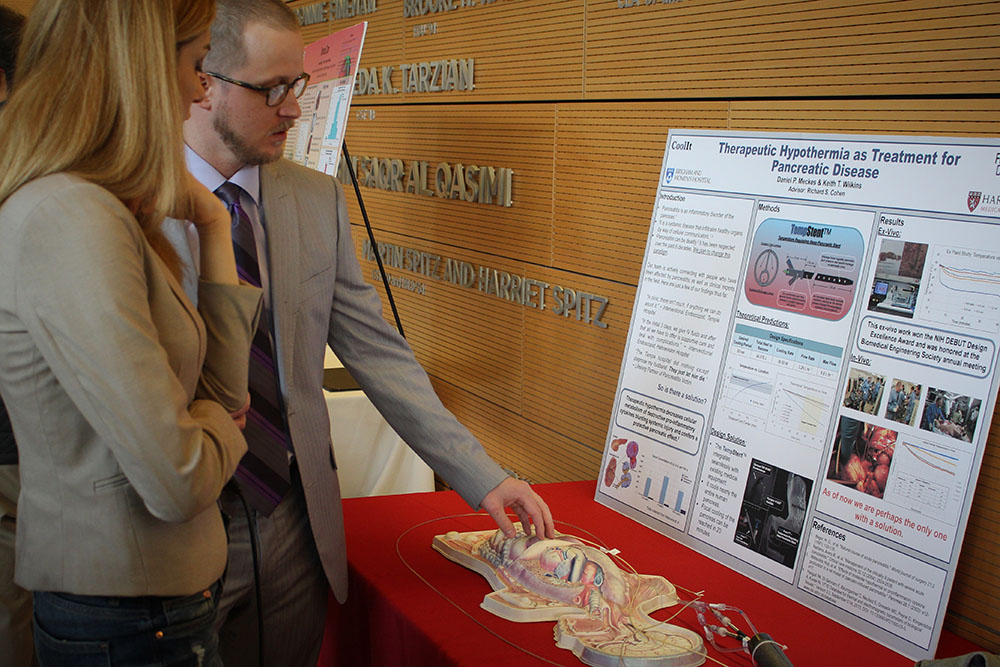 Photography by: Yael Branscom 
 
Another group of seniors designed a lighter, more cost-effective version of a prosthetic hand for their project. Bioengineering majors Oreoluwa Alonge, Bria Coaxum, Kayleigh Ross and Cassandre Beauzil used a spring made of nitinol and 3-D printed parts for their model.

"We had to make a heat-resistant prosthetic and we took some ideas from our biomaterials class ... for the best possible result," Alonge said.  

Beyond medical innovations, one group of senior electrical engineering majors came up with a way to cure one of the biggest complaints about WiFi in large spaces. Ever notice that your connection slows down in certain rooms of your house? Vincent Wijaya, Nhim Roeung and James Novino's innovation, the IP v6 Mesh Network, can solve that by expanding network capacity using small mesh nodes for Internet access.

"Instead of having a single router and a bunch of devices connected to that one router, basically every device can be a router," Novino said. "Instead of buying one big, clunky router that you sit wherever your modem is, you have these small devices, three in the Google WiFi pack … [then they] are placed around your house and connect together, like a chain, until they reach the Internet. The benefit is you get better Internet connectivity across your house."

The technology has already drawn significant attention. The group is working with Comcast to turn their innovation into a commercial product.


Another group focused their project on finding a way to use sidewalks to harvest solar energy cost-effectively. Erik Belous, Ali Dahbali, Alexey Finashin and Igor Shum's innovation embeds panels into concrete.
"With concrete, there's a large initial cost that goes into creating sidewalks, but there's no return on it," Belous said. "We want to take that amount of area that's taken up by sidewalks now and provide a return on energy, creating energy and making money. The technology should pay for itself in its life cycle."

The civil engineering majors' energy-generating sidewalk won an honorable mention at the Senior Design contest. Read more about the senior design projects.
—Marco Cerino