Professor's bone-repair technology moves closer to the OR
OrthoMend Research Inc. acquired rights from Temple University to commercialize an innovative material developed by Bioengineering Chair Peter Lelkes that could revolutionize orthopedic surgery.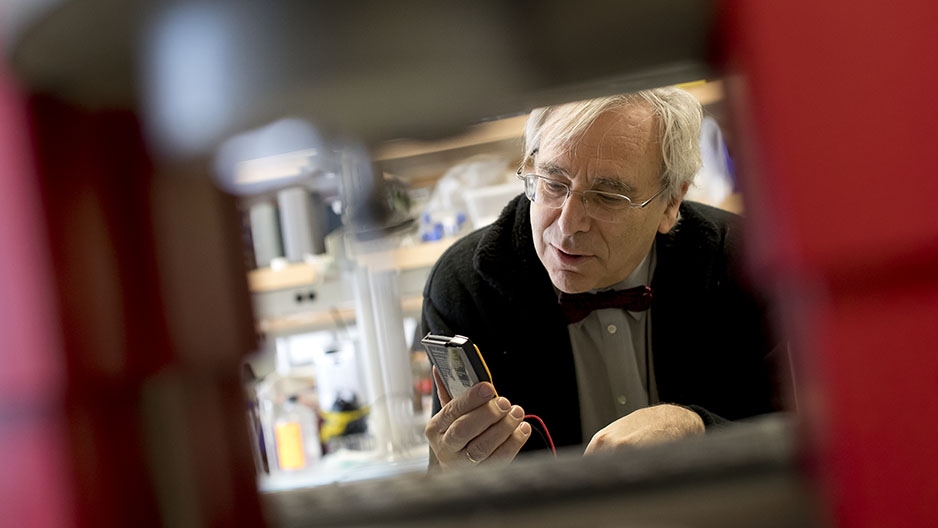 Joseph Connell knows the pitfalls of repairing broken bones with metal. Nearly two decades ago, when his son was 10, he fractured his arm in a fall off his bicycle and had to have a plate and screws inserted to repair it.

"To this day, I feel the plate under his skin and the screws in the plate, and he's 27 years old," Connell said. "I thought, there has to be a better way."

Connell's inkling was correct, and now his company, OrthoMend Research, Inc., is partnering with Temple to develop, test and make available a new material that could make a better way possible. The material, developed by Temple researcher and Laura H. Carnell Professor Peter Lelkes, chair of the Bioengineering Department, uses nanodiamond technology to create novel orthopedic fixation screws with improved mechanical properties that dissolve in bones over time and promote bone healing.

OrthoMend recently acquired rights from Temple to develop Lelkes' material for commercial use. Both Connell and Lelkes said it could revolutionize the way broken bones are surgically repaired while drastically improving patient outcomes and reducing healthcare costs.

"With our technology, we can secure a bone and allow it to heal while the polymer screws dissolve and are eliminated within six to nine months," Connell explained. "This is good for everyone, because you minimize the risk of infection; you don't have the sensitivities to heat and cold [as with metal]; you don't feel the screws, pins and plates under the skin; and the insurance companies don't have to pay for or endure a subsequent surgery to remove the screws and pins."

Lelkes, director of Temple's Institute for Regenerative Medicine and Engineering and also a professor of mechanical engineering and of surgery, said the material, which contains microscopic diamonds, improves upon a current biodegradable material used in orthopedic repairs because the nanodiamond-studded screws are stronger and promote healing. He likened the polymeric material to what is used in biodegradable sutures.

"The innovation here is that you can increase both the mechanical strength and the ductility, so they don't break off when you insert them," Lelkes said. "The problem with [other biodegradable screws] that surgeons find is they are not strong enough, and they are not ductile enough, which means when you screw them in, they often break because they're so brittle."

This can benefit humanity. Engineering healthcare and engineering for human betterment—this is what bioengineering is about.
-- Bioengineering Chair and Laura H. Carnell Professor Peter Lelkes
Since securing the licensing agreement with Temple to commercialize the material, Connell said, OrthoMend leased space in the University City Science Center to continue its development. He said the company is in search of a partner or investors to join OrthoMend and Temple in developing and commercializing the technology. He and Lelkes hope to obtain funding soon to test prototypes and eventually submit the material to the Food and Drug Administration for approval to conduct clinical trials.
Orthopedic pins or screws will be the first items tested and manufactured, but Connell said they plan to eventually look into making plates and other bone-repair technologies, including hollow screws made of the same material that will be able to deliver medications directly into damaged bones to help them heal.
The partnership between OrthoMend and Temple could pay dividends in what Connell described as a multi-billion-dollar market. "We expect to make a pretty substantial entrance into it once we prove the science," he said. "We think it's a true winner, and we're really excited about it."
Lelkes, who previously worked with Connell when he developed a wound dressing made of soy protein that promotes faster healing, echoed Connell's enthusiasm.
"This can benefit humanity," Lelkes said. "Engineering healthcare and engineering for human betterment—this is what bioengineering is about."