Temple's presence hundreds strong in MLK service efforts
Temple's presence was felt on Martin Luther King Jr. Day, as students, faculty and staff joined forces with the community to lend a hand in several service projects in the area.
Gregory Bonaparte stood in front of a group of Temple students and laid out the ground rules for a day of cleaning, painting and pew polishing at Berean Presbyterian Church.

"We need help cleaning a few of the rooms on the first floor. There are painting projects throughout the church and donated clothes that need to be sorted," he told a group of Temple University students gathered at the church, on Diamond Street near Broad, the day before the spring semester began.

Berean Church, on the northern perimeter of Main Campus, served as one of Temple's signature volunteerism sites on Monday during this year's Martin Luther King Jr. Day of Service. The church service project—headed up in part by Bonaparte, who also works as a mechanic in the university's facilities management department—drew several students and staff, including Temple President Richard M. Englert.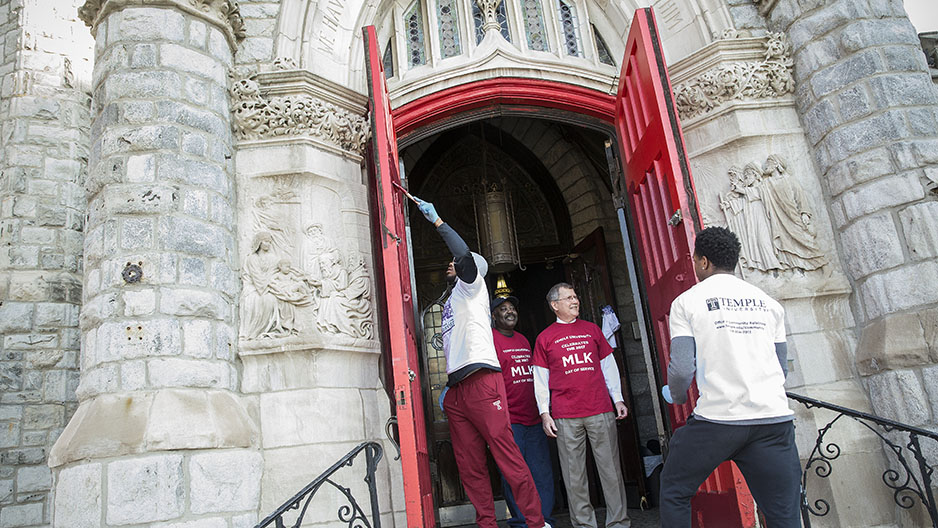 Photography by: Joseph V. Labolito 
Gregory Bonaparte (center, left), a mechanic in Temple's facilities management department, joined students, President Richard M. Englert, and other members of the university community for a day-long MLK service project at Berean Presbyterian Church, where he is also on the board.

Volunteer projects aren't the only ways to connect with the church, Bonaparte told the group.

"This is about fellowship, not just work." said Bonaparte, a member of Berean's board of trustees. "We want you to know that you have friends here at Broad and Diamond. You're welcome to continue your relationship with us after King Day."

Jamai Barros, Class of 2017, spent most of the afternoon cleaning the church sanctuary. This year was Barros' second participating in Martin Luther King Jr. Day volunteerism efforts near campus.
"It's important to be involved in the communities we live in," Barros said. "There's always work to be done and ways to help, especially in a community like North Philadelphia. I feel a responsibility to do what I can and get involved with projects like this that help the community, even in a small way."

In a small room in the lower level of the church, volunteers from Temple's Computer Recycling Center busied themselves with installing 10 gently used computers for use by youth and elderly members of the church, Bonaparte said.

For many students, especially members of the Temple University Community Service Association, volunteering at nonprofits and other agencies is a year-round endeavor.

"It just makes sense to give back," said Jasmine Hay, Class of 2018, president of TUCSA. "It's important that we do our part to make North Philadelphia a better place. There are so many ways to get involved through events like this or other programs. All it really takes is an interest and a sense of responsibility."