'Changed my life': Program graduates step closer to dreams
Students who graduated from Temple's WELL program say it changed their lives by helping them advance in education and find jobs.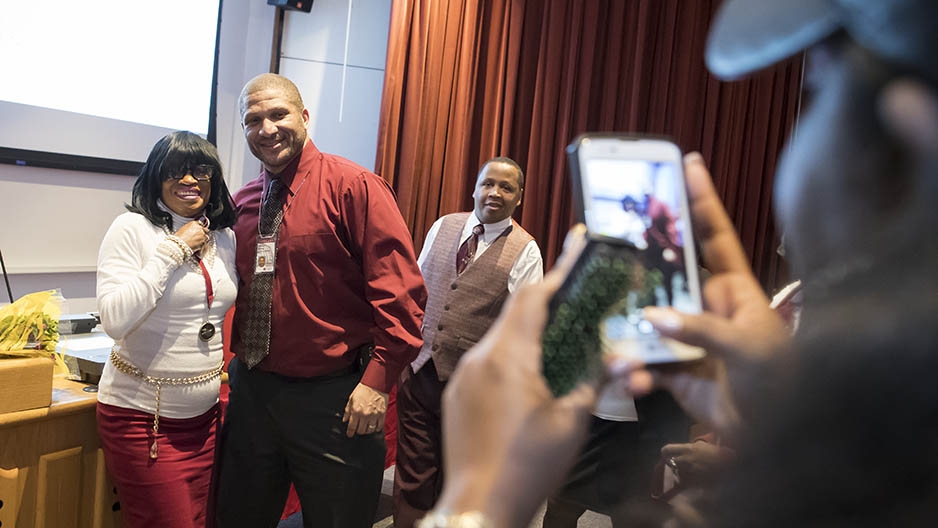 Martin Luther King Jr. Day was a quiet day at Temple University's Main Campus, with one exception. In Ritter Annex's Kiva Auditorium, a few dozen adult students and their proud families gathered to celebrate the biggest and hardest-won academic achievement of the students' lives—completing their high-school equivalencies and workforce-training programs.

The 36 people called to the podium to receive their certificates that day are among thousands of local residents who have taken advantage of the free services offered to Philadelphians by the Workforce Education and Lifelong Learning program. The program, commonly referred to as WELL, began in the early 1980s and is run by the Center for Social Policy and Community Development, housed in Temple's College of Public Health.

The WELL program at Temple changed my life.
-- Shameka Thomas
"Our adult literacy and workforce development programs are set up to help adult students achieve their goals of education and employment," said Shirley Moy, director of the center. "As the research bears out, the more education you have, the more likely you are to find and keep employment and have greater earnings in your lifetime. It's a health and welfare determinant."
Last Monday's grads ranged in age from 20s to their 50s. They all live within walking distance or a short bus or train ride of campus. And like many WELL students past and present, they have overcome formidable obstacles on the journey toward jump-starting their educations and earning their certificates.
For WELL graduate Margarita Simmons, those obstacles included the challenges of caring for her mother, a fire that destroyed her home and a period of time she spent living with her two children in a family shelter. For graduate Kevin Grant, the roadblocks included being shot in the eye with a dart gun as a teen and struggling to learn math, a subject that he said filled him with fear and self-doubt at times. With the help of WELL's instructors, Simmons and Grant persisted, and now both have completed high-school equivalencies and are attending the Community College of Philadelphia (Simmons plans to take advantage of the dual admission program and transfer to Temple).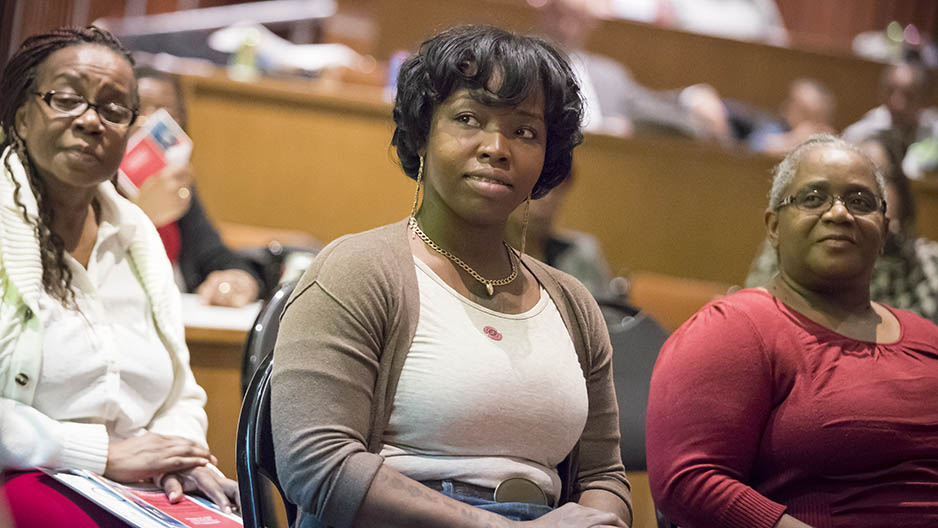 Photography by: Betsy Manning
Shameka Thomas (center) was honored at Monday's ceremony. 
According to Moy, WELL is more than just a one-and-done high-school equivalency completion factory. WELL, which has been funded by Pennsylvania's Department of Education since 1997, has a broad range of programs for adults at different stages of re-engaging education and preparing for the workforce. WELL offers courses at all levels, helping to bridge its students from basic grade-level equivalency to high-school equivalency, and then college and the workforce. The goal, she says, is keeping adult learners on track toward satisfying and sustainable employment by moving them from one program to the next, with encouragement and mentorship along the way.
For WELL graduates, the payoff is profound.
"The WELL program at Temple changed my life," said Shameka Thomas, who was honored on Monday for completing both her high-school equivalency and the
Community Health Workers Training Program
.
Thomas said she enrolled in college and is studying health and human services, and recently completed her first semester with honors. She said she received three job offers and plans to began work as a community health worker at a city hospital.
"The WELL program was the launching pad of my success," Thomas said. "That's where it started."