TV, film stars share advice on success in showbiz
Zosia Mamet of HBO's Girls and Evan Jonigkeit, SMC '05, known for his roles in the films X-Men: Days of Future Past and Whiskey Tango Foxtrot stopped by Temple to share their stories and advice with students.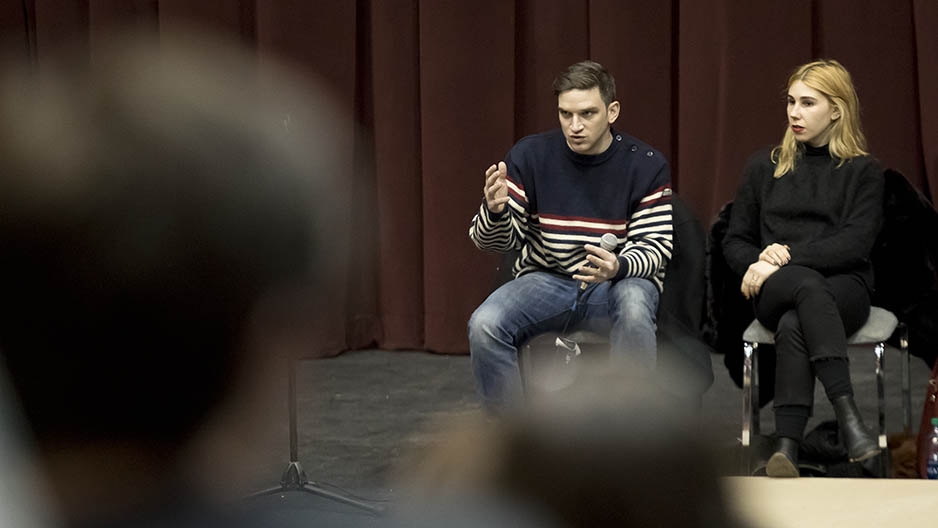 If actor and producer Evan Jonigkeit, SMC '05, could return to his days as a Temple student, there's one thing he'd be sure to do.

"You guys have this amazing opportunity here that I didn't ever capitalize on as much as I should have," Jonigkeit—who appeared opposite Tina Fey in Whiskey Tango Foxtrot and played Toad in X-Men: Days of Future Past—told an audience of students at Tomlinson Theater on Friday. "You have all the things you need here in this building to make whatever you want."

Jonigkeit visited campus with Zosia Mamet, known for her roles as Shoshanna in HBO's Girls and Sasha in The Kids Are All Right. The couple, both of whom have carved out prolific careers in acting and producing, shared candid advice with students about making it in show business.

"Continue to be tenacious and dedicated, and work 10 times harder," Mamet said. "The dedication is what's going to make success."

Mamet said her path was different than that of Jonigkeit, a native of Bucks County who came to Temple to play baseball, but fell in love with theater when tendonitis sidelined him from the field. She grew up in a showbiz family, she said, and started going on auditions at a young age.

"My mom was literally on stage with me in her stomach," Mamet joked.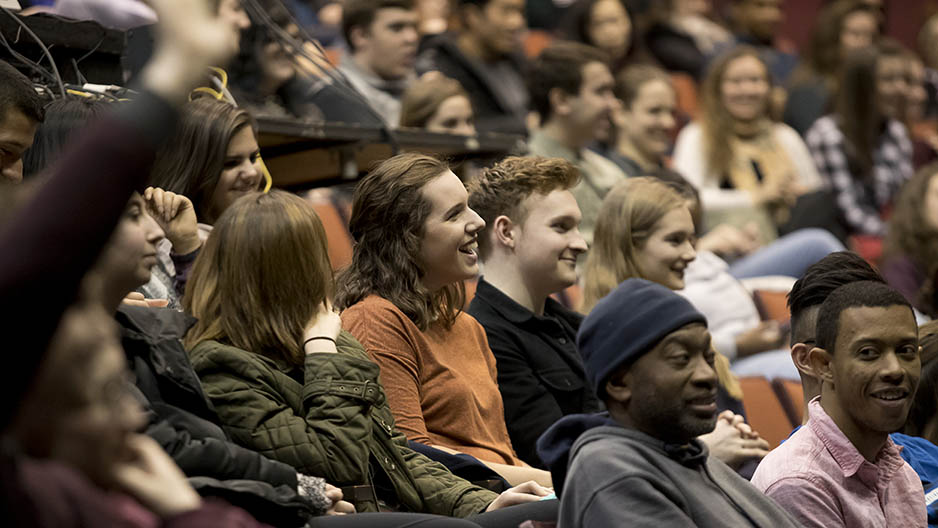 Photography by: Ryan Brandenberg

Despite their differing journeys to success, both Jonigkeit and Mamet agreed that the key is dedication to the art.

Mamet shared advice her father gave her to "keep knocking on the door" even when nobody is opening it, and to be the one person who waits long enough to be there when they finally do.

In response to a student's question about how to get by until the big break, Jonigkeit said he lived "hand to mouth" for a few years after college, and that it was tough, but his persistence paid off.

"There's no right answer," he said. "It's about the situation you make for yourself."

Jonigkeit said he keeps in touch with several people he met at Temple, including former classmates he recently produced a small film project with purely for its artistic value and to build his skills. He keeps in touch with theater professors, too—two of whom, Associate Professor David Ingram and Associate Professor and Assistant Chair Peter Reynolds, the head of the musical theater department, had a hand in bringing him back to campus.

"[Reynolds and I] had been talking about it for awhile. I said I would love to come back," Jonigkeit said. During his talk, he gave Ingram, who sat with him, Mamet, and Assistant Professor Amina Robinson on stage, a shout out as the first acting professor he had at Temple.

During her and Jonigkeit's talk, Mamet also took time to reflect on the last season of Girls, which premiered this week on HBO.

"The ending feels real for the first time, and it's really sad," she said. "But it's also exciting, because for the first time [in six years], I'm available to do other things … I'm taking my time to figure out what to do next."

What's her dream role? One student asked.

"I'm looking for something I feel is going to challenge me … and something I haven't done before," Mamet said. "Something that I read and I feel a little bit terrified of because it's going to force me to rise to it and make me a better artist."