Meet Titus Knox, a senior criminal justice major, who represented the student voice in the charge for gender-inclusive housing option on campus.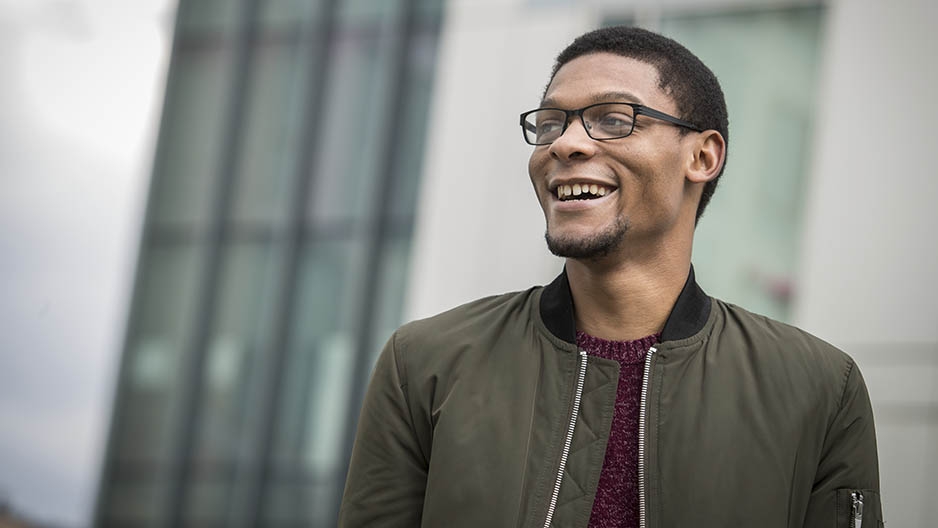 Titus Knox has been involved with residential life almost his entire college career. Commuting from Southwest Philadelphia his first year at Temple didn't hold back the senior, now a resident assistant in Morgan Hall South, from getting involved right away.

As Knox, Class of 2017, says, he almost "instantly" joined the Queer Student Union as a freshman. That's where he began to make friends and where his passion sparked.

"[At QSU] you always hear conversations about issues that LGBT students have on campus. And gender-inclusive housing came up a lot," Knox said. "Trans students would share their stories of living by themselves in Morgan Hall or [how] they didn't feel like there were any options. This population of students wasn't having a great experience."

Each story left Knox feeling like he should take action to make gender-inclusive housing an option on Temple's campus. After years of his dedication, a new policy was announced earlier this week. Beginning in the fall semester, Temple will offer gender-inclusive housing that will allow students to share a suite or apartment regardless of gender identity, biological sex or sexual orientation.

"As I learned more about the needs of the students, and as I joined the executive board of QSU, I thought I should be advocating for these housing issues and serving as a voice for them," Knox said.

He explained that having a comfortable living space that the student prefers is something that most students already have. Not having that because of your identity or whom you connect with is wrong, he said.

As I learned more about the needs of the students, and as I joined the executive board of QSU, I thought I should be advocating for these housing issues and serving as a voice for them.
-- Titus Knox, Class of 2017
"If you're a freshman—that's the main population who lives on campus and is looking for this gender-inclusive housing—to be told that your only choice is living by yourself is limiting," Knox said. "Especially as a freshman when the first thing you do is make friends and the first people you associate with friends are your roommates."
From his leadership experience in QSU and his role as a resident assistant, Knox possesses a unique understanding of the student body, which is one of the key reasons he was elected to be the director of student affairs for Temple Student Government.
"I decided to move from QSU to TSG because I thought I would have more options in terms of pushing diversity and student inclusion throughout the campus. That was my main goal," Knox said.
Hayley Williams, a senior and QSU's external events coordinator, remembers Knox coming to a QSU meeting and to discuss his efforts to advocate for an inclusive housing option. She sees far-reaching benefits for all students.
"There's more freedom with this new option. Wanting to be comfortable in your living situation doesn't mean that you have to be part of the LGBT community. Putting men and women and everything in between together demystifies gender in a way," she said.
During discussions around gender-inclusive housing with Kevin W. Williams, interim assistant vice president for University Housing and Residential Life, and the Board of Trustees, Knox provided extra input about the student voice and was able to help administrators get an idea of what the students were thinking.
Reflecting on the board meeting where the new policy was approved, Knox looked around the lounge in the Howard Gittis Student Center and inhaled deeply as a smile spread across his face. He could only say one word about how he felt as he sat across from Temple's trustees after a decision was made: "Finally."
This initiative has been a work in progress for years, and Knox said that seeing gender-inclusive housing become a reality was a great experience.
"It was nice to know that this was an initiative that they [University Housing and Residential Life] were already working on," Knox said. "Even though we were lagging behind, it's not because no one was doing anything. We were lagging behind because it takes time, a process. It shows that they are listening to the needs of students and fighting for things that we want."  
Students can apply for gender-inclusive housing by visiting the
online housing application
. More information and answers to
frequently asked questions
are available at the
University Housing and Residential Life website
.