Fox graduate wants to 'Repair U'
Your phone, that is. Meet Jesse DiLaura, a 2016 graduate of Fox's Innovation and Entrepreneurship Institute who has a big vision to bring an affordable phone repair truck to Temple's campus.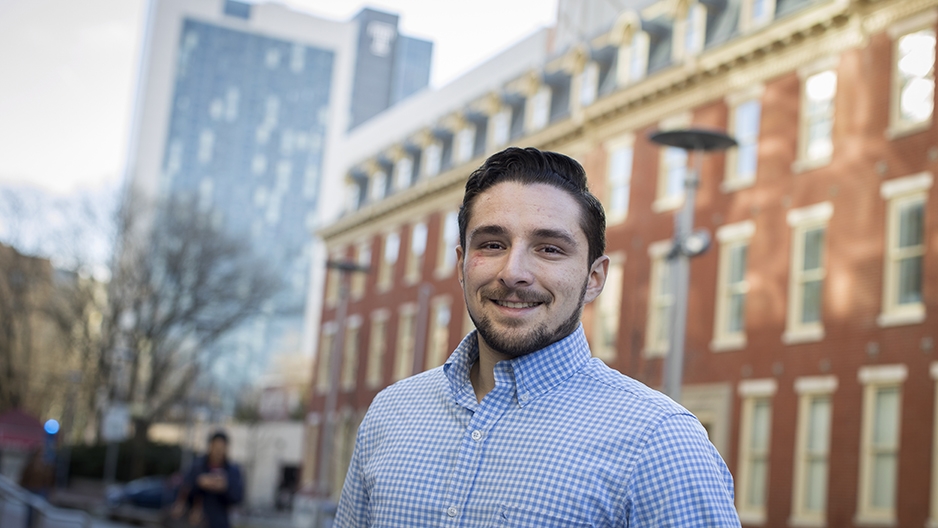 When Jesse DiLaura, FOX '16, took a job at a phone repair kiosk in the King of Prussia Mall his freshman year at Temple, he never imagined his part-time job would someday lead to his own innovative startup.

Now, DiLaura is running a fundraising campaign to purchase a mobile truck so that he can bring his business, Repair U—a phone repair service geared toward college students—to Temple's campus.

Early in his college career, DiLaura noticed there was a problem to be solved among students: affordable and accessible phone repair was not easy to come by around campus.

"There were phone repair vendors, but the prices were so high, students couldn't afford them," DiLaura said. "They're also far from campus or have no web presence; for a millennial, if you're not on Google, you don't exist."

He first offered his services to friends out of his dorm room. Once he began to advertise on Facebook, along with friends tagging him in posts about fixing cracked screens, he began receiving positive reviews on his repairs.

Over the past five years, DiLaura has fixed nearly 4,000 phones. When his side business became hard to balance with his risk management classes, he sought the advice of Temple alumnus and Habitat founder Andrew Nakkache, who recommended he switch to the entrepreneurship major.

There were phone repair vendors, but the prices were so high, students couldn't afford them. They're also far from campus or have no web presence; for a millennial, if you're not on Google, you don't exist.
-- Jesse DiLaura
After taking a few classes at the Innovation and Entrepreneurship Institute, and under the guidance of mentors, DiLaura realized he could make his money-making hobby a real business.
"I started getting really great reviews on Facebook, and I just had a lot of encouragement, a lot of good mentors and friends that are also entrepreneurs telling me, 'You can do this,'" DiLaura said.
Once he rebranded his phone repair service to Repair U, he got serious, building a team of technicians, finessing his business model and starting the process to acquire a truck.
So why base the business out of a mobile cart? For DiLaura, the truck fits well with Repair U's business model of providing cheap phone repair. Owning a store would mean charging higher prices.
"Everyone has their favorite food trucks, and they want to take people to that truck," DiLaura said. "There's a lot of loyalty there, and awareness. As a business, that's all you want—for everyone to know about your business and for people to be repeat customers."
The phone repair truck would be the first of its kind not only on Temple's campus, but in Philadelphia.
"Every single cart here is selling food," DiLaura said. "Not one person is doing what I'm doing."
The Repair U team chose to raise funds for their venture using
Kiva
, a lender system similar to Kickstarter, but with a provision that those who "lend" money to the borrower will be paid back eventually.
Once again, DiLaura used social media to spread word of his campaign, with the added help of the
campaign being
covered
by Technically Philly
.
DiLaura, who graduated in December, also works full-time on various other projects, including an app called Philly Next along with entrepreneur Jon Gosier and the Philadelphia Visitor and Convention Bureau.
Despite the stress of starting a business, DiLaura said he's having a lot of fun thanks to the team he has assembled and the support he has received.
"Attending the Innovation and Entrepreneurship Institute, it eliminates the lack of resources available to entrepreneurs," he said. "The network and the resources make this not necessarily a safe place to start a business, but it makes it doable."
The first major milestone for Repair U will be to get the repair truck up and running on Temple's campus as soon as they can purchase the truck and iron out vendor licensing, though they do have hopes for expansion beyond that.
For now, the team of technicians led by DiLaura is finding out what works, scouting out trucks and developing fun marketing strategies, including their sponsorship by a local Chipotle branch for a "fix your phone, get a burrito" special.
Learn how you can lend to the Repair U campaign
.
—Hayley Chenoweth