For fourth year in a row, Temple breaks record for applications
Nearly 37,000 applied for a spot in the Class of 2021.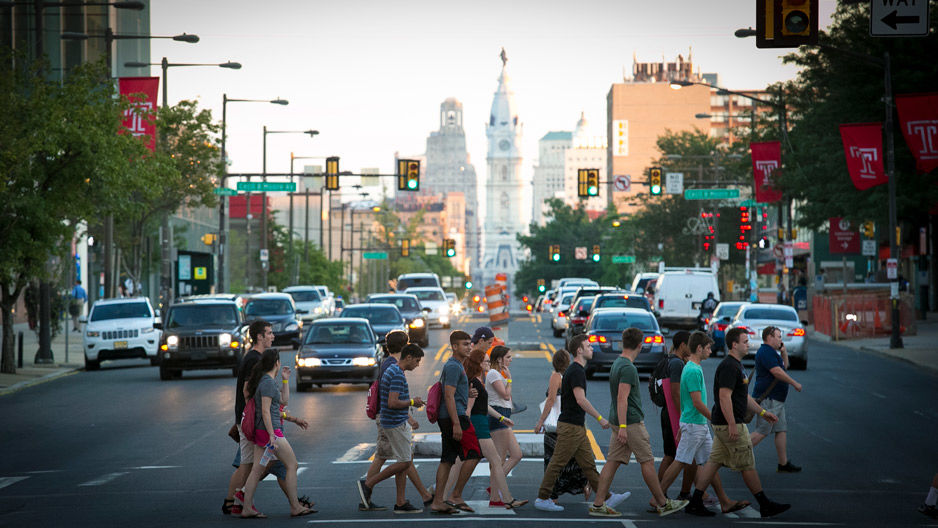 It may sound like a broken record, but that's because records keep breaking at Temple University. For the fourth straight year, the number of freshman applications has reached a new all-time high.

As of the March 1 application deadline, Temple received 36,840 applications, beating last year's record of 34,504. The year before that, Temple received just more than 30,000 applications, which at that time was a record. The university enrolls about 5,100 freshmen each year.

To President Richard M. Englert, the numbers are welcome but not surprising. When he was appointed last summer, Englert described Temple as having "tremendous momentum," which he vowed to push forward. The early admissions figures show that Temple is as hot as ever.

"Temple continues to offer a unique blend of excellence, affordability and diversity in one of our nation's great cities," Englert said. "Although we are still early in the admissions process, the academic strength and diversity of our admitted students gives me confidence that we are poised to welcome an outstanding Class of 2021 to Temple and to Philadelphia."

What's driving all the interest? As in previous record-breaking years, it's a combination of academic reputation—including stellar faculty, hundreds of degree programs, multiple opportunities for meaningful community service and the highest levels of research activity—as well as campus improvements and heightened exposure due to stunning successes in athletics.

Temple continues to offer a unique blend of excellence, affordability and diversity in one of our nation's great cities.
-- President Richard M. Englert
This fall, a national spotlight again shined on Temple as the football team tallied another 10-win season, won the American Athletic Conference championship and went to its second consecutive bowl game. More recently, the women's basketball team has continued to gain prominence as the Owls surged into the national rankings for the first time in more than a decade.
Add to that
continuous upgrades across Temple's campuses
and efforts to limit student debt, such as the innovative
Fly in 4 program
, and the university's appeal and reach continue to expand.
Just a year ago, Karin Mormando,
EDU '04
, director of undergraduate admissions, marveled at the record number of people who attended 2016's first Experience Temple Day, an annual series of open houses. Nearly 2,700 admitted students and their families visited campus that day.
This year, that number surged to 3,100, the biggest group ever to attend the February event.