Faculty join city task force to fight opioid crisis
Four experts from disciplines across the university are serving on the Mayor's Task Force to Combat the Opioid Epidemic.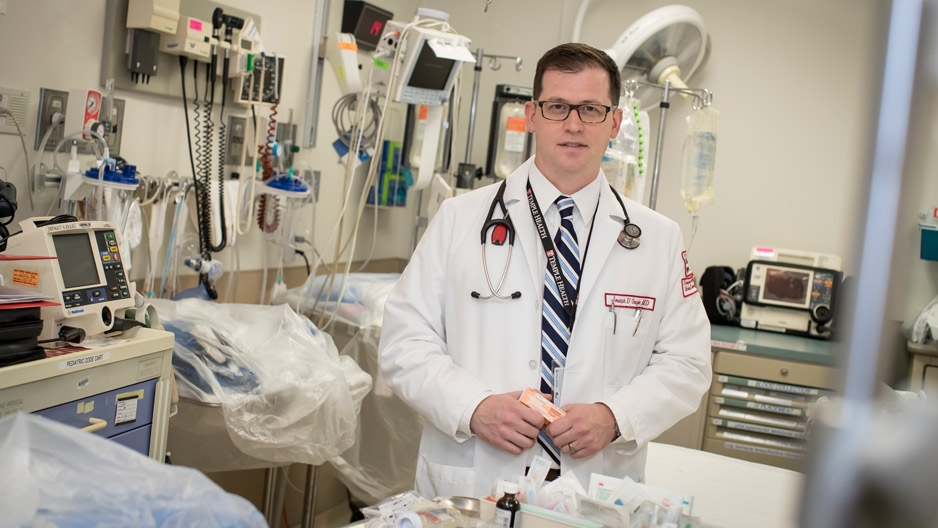 Experts across disciplines at Temple University have spent decades researching substance use disorder and working in the community to address it. So when Philadelphia Mayor Jim Kenney formed a task force to address the city's opioid crisis amid an unprecedented increase in overdoses last year, Temple faculty were among the people he looked to for help.
Four full-time faculty members were tapped to join the task force for their work on substance use treatment and research: Geography and Urban Studies Professor Jerry Stahler, who co-founded Temple's interdisciplinary Substance Abuse Research Consortium with Criminal Justice Professor Steven Belenko; Lewis Katz School of Medicine Assistant Professor of Emergency Medicine Joseph D'Orazio; Associate Professor of Social Work Marsha Zibalese-Crawford, public health coordinator for the Office of National Drug Control Policy's Heroin Response Strategy; and Beasley School of Law Professor Scott Burris, director of Temple's Public Health Law Research Center. They are among more than three dozen Temple alumni and staff serving on the 126-member Mayor's Task Force to Combat the Opioid Epidemic.
"We are at the epicenter of the opioid epidemic [at Temple]," said D'Orazio, a medical toxicologist. "Drug poisoning has surpassed trauma as the leading cause of injury death in the United States."
In an average week, Temple University Hospital and TUH-Episcopal Campus—located in Kensington, where the highest volume of heroin overdoses generally occur—treat dozens of patients with primary diagnoses of overdose, withdrawal or addiction.
D'Orazio, who recently started a toxicology consultation service at the hospitals, said that in one recent week, the hospitals treated more than 70 patients with those diagnoses. But that number underrepresents the opioid crisis' true extent, he cautioned, adding that even more patients come to the hospital for treatment of injuries or infections related to use of heroin or other opioids.
We are at the epicenter of the opioid epidemic [at Temple]."
-- Joseph D'Orazio, assistant professor of emergency medicine
Philadelphia tallied more than 900 drug overdose deaths last year. Roughly 80 percent involved heroin, fentanyl or prescription painkillers, while the rest involved non-opioid substances, such as cocaine.
"It is such a huge health crisis, perhaps one of the worst public health crises in Philadelphia since the flu epidemic of 1918," said Stahler, CLA '78, '83, who has studied substance use disorder for three decades. "Philadelphia has one of the highest rates of overdose deaths in the country for large cities, and last year, overdose deaths were about three times greater than the number of homicides in the city. I believe that Philadelphia should declare a state of emergency for this opioid crisis just like the governor of Maryland has recently done."
Stahler and Zibalese-Crawford both sit on the data analysis and sharing subcommittee of the mayor's task force. D'Orazio serves on the service access, best practice and treatment subcommittee, and Burris is lending his expertise on the overdose prevention and harm reduction subcommittee.
"I'm hoping we're going to have a strategic plan to get on the ground and implement immediately," Zibalese-Crawford said, adding that her role with the Office of National Drug Control Policy and the Centers for Disease Control and Prevention will help to support the plan's implementation in Philadelphia. "We can't wait any longer."
Burris said initiatives around overdose prevention and harm reduction are particularly important.
"I am hoping the city will take steps to develop comprehensive user engagement sites that will provide access to drug treatment, a safe consumption space, HIV testing and other health and social services," he said. "A path to housing is particularly urgent."
Reducing the stigma around opioid use and increasing access to treatment are also key as the task force tackles the daunting issue, D'Orazio said.
"There are not enough beds and not enough doctors, because there's a stigma that goes along with people who are addicted to opioids," he said. "[But] it's a chronic disease just like diabetes or HIV."
Temple alumni and staff also working on the task force include Jose Benitez, SSW '89, and Silvana Mazzella, SSW '00, CLA '05, who oversee Prevention Point Philadelphia, a health clinic and syringe exchange in Kensington; Yasser Al-Khatib, nurse manager at Episcopal Hospital's Crisis Response Center; Jerry Daley, CLA '88, executive director of the federal Philadelphia/Camden High-Intensity Drug Trafficking Area; and Mary Scullion, SSW '87, co-founder and executive director of Project HOME.

"It is a deep honor to be asked to serve," Stahler said. "Hopefully this task force can save some lives and really make a difference."