A guide to 48 hours in Rome
A Temple University Rome alumna serves as your personal guide for your Roman holiday to celebrate the campus' 50th anniversary in May.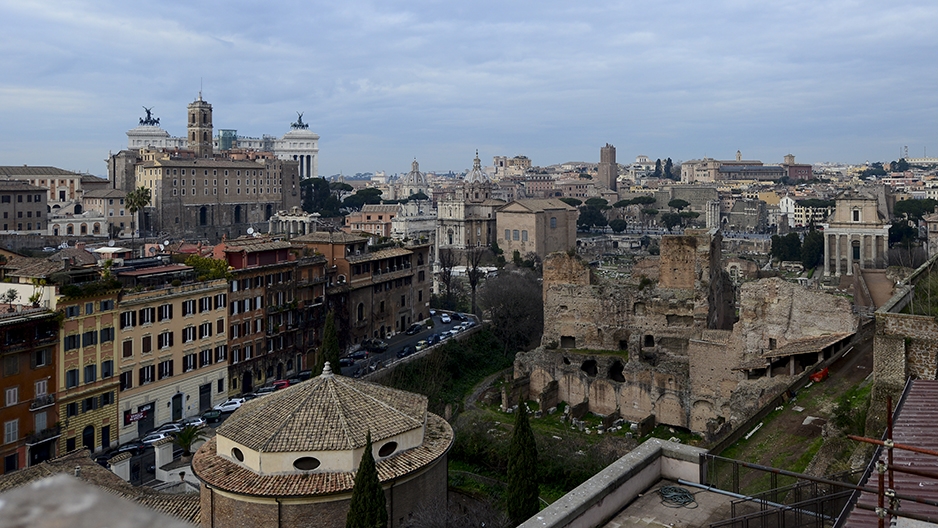 Throughout the year in Philadelphia and Rome, we've been celebrating all that is Italian to honor 50 years of Temple University Rome. In May, the Temple community is invited to revisit—or experience for the first time—the magic of Rome during a weeklong series of events honoring the university's golden anniversary.
Here, Temple Rome alumna Michelle Nicoletto, CLA '05, offers insider knowledge on how to make the most of your trip to the Eternal City, like where to find the best gelato between art gallery visits and museums tours.
Monday, May 15
5 p.m., Temple Rome Block Party and Buffet
What's the first thing that you'll want to do when you arrive in Rome? That's a tricky question. You'll want to see Temple Rome's home, the beautiful Villa Caproni, and you'll want to eat. Deciding between the two is no easy task. Luckily for you, you can do it all at the same time and even unwind from that long hop across the pond long with a glass of that Roman wine that you've been dreaming about since you were a student. Temple President Richard M. Englert and Temple Rome Dean Hilary Link will kick off the 50th anniversary week where it all started in Rome, the Villa Caproni.
7 p.m., Temple Rome Gallery Opening: 50/50/50
Temple Rome Gallery is a longtime player in the Roman art scene, and now it has the reputation of being one of the most exciting and talked about gathering places in the city. Curator and Gallery Director Shara Wasserman will privately show the exhibit—50-centimeter works of 50 prominent Italian artists who have shown in the gallery since its founding—to Temple Rome guests.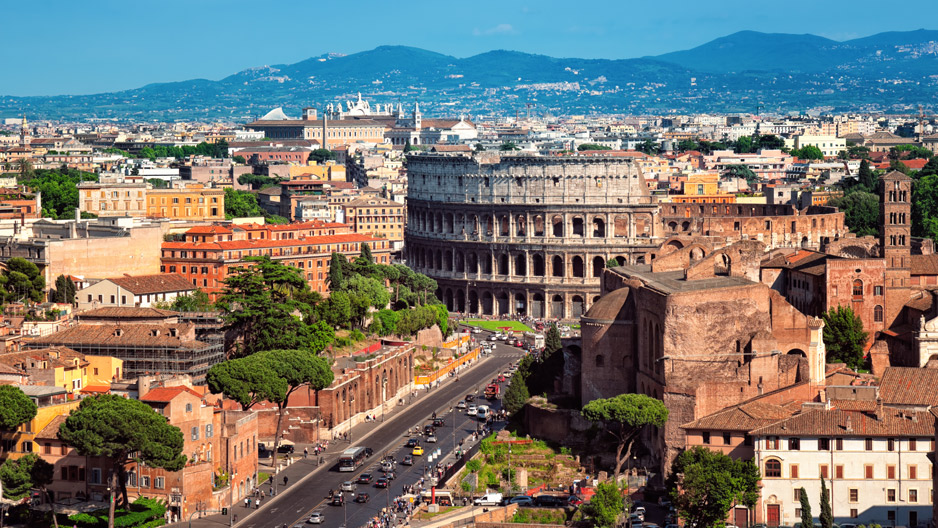 Tuesday, May 16
8 a.m.
As with any trip abroad, you want to experience life as a local, and in Rome that means breakfast at an outdoor café—if not for the food then simply for the people watching. If the idea of eating along street traffic is a bit too stressful for you, seek out a café with seating in a piazza or in a patio or courtyard.
9:30 a.m.
Get ready to hit the streets and dive into the city headfirst with a series of optional tours and classes. Take an Italian survival course with Italian faculty from Temple Rome, let your creative juices flow with a sketchbook course or dig even deeper into the history of Rome at an archeology site. Learn more about all of the activity options to help make your decision.

1 p.m., Mercato Trionfale outdoor market
By now, you've been in the Eternal City for at least 24 hours, so you've undoubtedly spotted one of the city's many outdoor markets. Merchants set up their stalls in the wee hours of morning and offer everything from cleaning products to clothing to luggage, but the real gems are the fresh foodstuffs. Your trip will offer plenty of time to sit and dine indoors, but why not pick up a few items for a picnic lunch? The bread, meats and cheeses, along with the produce you will find are going to be fresher than anything served to you at a local ristorante. To truly summon your Temple Rome memories, hit up Mercato Trionfale, one of Rome's largest outdoor markets.
3 p.m., Auditorium Parco della Musica
Meet at Temple Rome and private coaches will whisk you away to the Auditorium Parco della Musica, the world-famous concert hall designed by Renzo Piano. Tour the building, its museum and the archeological ruins around which the halls were built. Need to rest your feet for a moment? Take in a series of brief micro lectures by local experts in politics, the arts, economics and science in Italy in the 21st century.
5:30 p.m., Aperitivo at the Auditorium Parco della Musica
Ready to feel like a VIP? There will be a private area of the auditorium for Temple Rome guests with a buffet of snacks and prosecco. Lots of prosecco.
7 p.m., Private concert at the Auditorium Parco della Musica
A popular quartet of singers will perform your favorite highlights of Italian music from Bocelli to Verdi exclusively for Temple Rome guests. Feels good being a VIP, right? After the concert coaches will take all guests back to the Villa Caproni.
8:30 p.m., Trastevere neighborhood
By now, you've burned off the snack buffet and are ready for a late dinner. There are many "levels" of dining in Rome, with the ristorante usually offering a formal experience and the family-run "trattoria" offering a warm and inviting casual atmosphere that is not to be missed. Meals in trattorias are usually family recipes—often served by the family themselves—with prices that won't hurt your wallet. Though trattorie are found throughout the city, this meal is a good opportunity for you to explore Trastevere, one of Rome's most exciting neighborhoods. Home to food and drink, the cobblestone streets here have been known to keep locals and tourists alike entertained into the wee hours.
10 p.m., Old Bridge
When people think Italian desserts, they often go straight to the pastries, and understandably so. You can smell the fried dough permeating the streets as you're walking through the neighborhoods. However, you'd be doing yourself a disservice if you didn't at least once visit a Roman gelato shop, or gelateria. Much like the Philly cheesesteak debate, everyone has his or her favorite "go to" place for this cold snack. TripAdvisor will send you to Fatamorgana, a popular chain throughout the city. Yelp! will direct you to try Giolitti, located a few blocks from the Trevi Fountain. If it were up to me, however, I'd make one of my first stops back in Rome the Old Bridge, located steps from the Vatican Walls. And don't forget the panna!


Wednesday, May 17
8 a.m., Pasticceria Regoli
After a night of some of the best Rome has to offer, why not continue the tradition of eating like the locals do with an energizing caffé and breakfast pastry before you hit the road? A typical tasty Roman pastry is the Cornetto, which looks like a croissant … but is definitely not a croissant. Filled or plain, you're going to appreciate this boost of sugar if you stayed out a bit too late last night. When asking for the best around, Pasticceria Regoli, located near the Colosseum, is often the answer.
9 a.m., Centro Studi Americani
Located in Rome's ancient ghetto, the Centro Studi Americani will host panels of alumni and current students who will talk about the deep impact their time at Temple Rome has had on their lives. Between panels, you can enjoy some Italian coffee, snacks and a stroll through the gorgeous library and courtyards on site.

12 p.m.
Understandably, your friends back home will want to know not only what you saw on your trip here, but also what you ate. Missing pizza in the latter will definitely leave you with some regret. After all, it was invented here! Roman pizza is often a thin to medium crust with a ton of flavor, thanks to the addition of olive oil (not found in crust in other parts of Italy). When looking for a slice on the go, you're going to grab pizza al taglio (pizza "by the cut") and direct the person behind the counter just how large of a slice your appetite calls for.
1 p.m.
Was it too difficult to decide what activity to do yesterday after breakfast? Now you can take that sketchbook class if you decided to study Italian earlier, or vice versa. Or sign up for a wine tasting with an expert. We have a feeling that one might fill up pretty quickly… Learn more about all of the activity options to help make your decision.
7 p.m., Villa Miani
Party time! We know the last two days have already felt like a party, but the gala will truly be the meatball on top of your spaghetti. Begin the night with cocktails as you stroll the stunning gardens and grounds of the Villa Miani. The view of the Eternal City from the villa will take your breath away, but hopefully not your appetite. Sit with your fellow Owls and new friends as you indulge in a four-course meal together.
OK, we might have gone over our 48-hour time limit. We're operating on Rome time now, which lends us a touch of flexibility with the clock and more time to celebrate 50 incredible years of Temple Rome. 
Not ready to say goodbye? There are several add-on one and two-day excursions for the Thursday, Friday and Saturday after the gala. Get the full schedule of events and registration information.