Confronting society's conceptions of disabilities in the arts and media
Through panels and interactive art, Temple's annual Disability and Change Symposium attendees join in a day of conversation about representation of the disability community in the arts and media.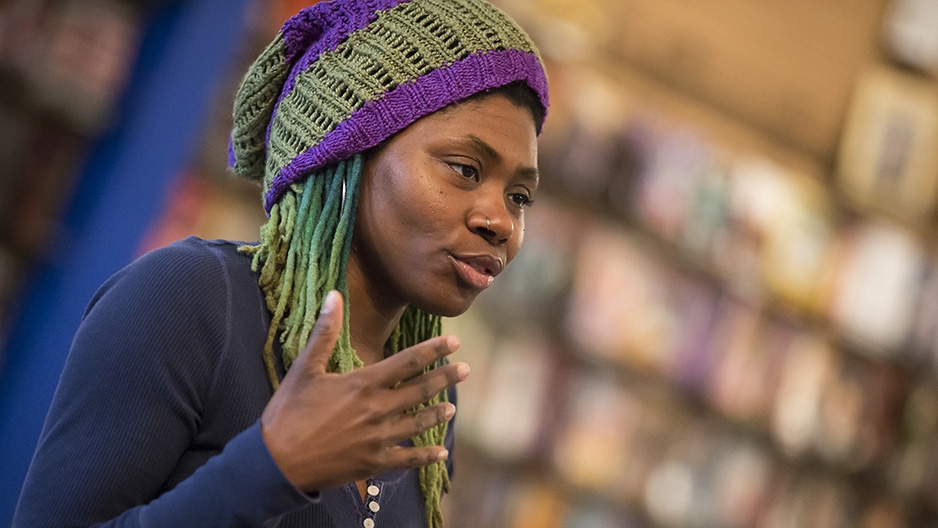 You are a woman and an artist dedicated to empowering girls through social media. This is how you see yourself. But if you have a disability, it is often only through that one lens that the world may see you.

That's how Kate Fialkowski, director of academic programs for the College of Education's Institute on Disabilities, described how many individuals in the disability community do not feel that their disability defines them. Now more than ever, that community is taking to new media, like blogs being picked up by The Huffington Post, and social media to self-represent and have their voices heard.

To explore how identity and disability play out in the arts and media, this year's annual Disability and Change Symposium will take a look at how self-representation differs from conventional representation.

Several Temple faculty, alumni and students, as well as other experts in various fields, will serve on panels to discuss and explore visual and tactile arts, performance art, comic books and graphic novels, and social and new media.

"As a general statement, in art you portray something— in a picture, on stage or in film. Conventional representation is usually based on stereotypes or these preconceived ideas that you have about things," Fialkowski said. "People with disabilities, they are not often a part the equation—how they're portrayed is based off of what other people think or have been taught about people with disabilities. This symposium topic is about how are people representing themselves by being the creators and what it's like being the people who are in the audience accessing the art and media."

This year's symposium features artists with disabilities, organizations interested in cultural equity and scholars in conversation together.

The diversity of the symposium stretches beyond the panel and to the audience. The Institute on Disabilities and the Disability Resource Center partnered to develop the programming in a way that would account for the various learning and presentation styles of the panel and of the audience.
To kick off the event, attendees will be able to interact with the tactile art (art made to be touched) of Carol Saylor,
TYL '76
. At the beginning of the day and during lunch there will be a pop-up expressive interactive art experience from Tyler School of Art Associate Professor Lisa Kay and her students. Also, many Temple alumni will be participating as moderators and presenters.
The most popular panel, comic books and graphic novels, will feature
Ariell Johnson,
FOX '05, owner of Amalgam Comics and Coffeehouse
. The student panel will be moderated by alumna and Adjunct Assistant Professor Amber O'Shea,
EDU '16
, who sat on the student panel in previous years.
From the mix of people involved to the design of the symposium, Fialkowski really does love each detail of this event. If pressed, though, she does say she has a favorite part.
"Having lived and traveled outside of the U.S., you really understand that people are people," Fialkowski said. "You learn how to get beyond stereotypes and give people a safe place to have a conversation, and that's what I love about this symposium—it's exactly that."
The symposium will be in The Underground at the Howard Gittis Student Center on March 29, 9 a.m.–4 p.m. The event is free and open to the public. Learn more and register.