Next stop: Stanford University
Chemistry student Chey Jones, who once met with a Nobel Prize winner, will continue pursuing his passion at Stanford.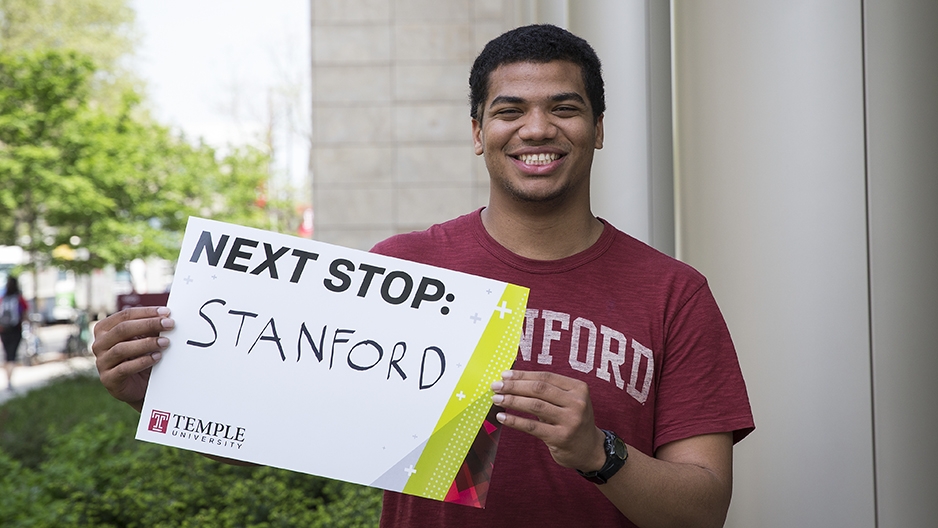 Name: Chey Jones
Hometown: Pottsville, Pennsylvania
Major: Chemistry
Next stop: Stanford University
Why did you choose Temple?
Temple has a strong chemistry faculty, which is what first attracted me to the university. I'm from a small town without much diversity, so I also wanted a big-city school experience that would connect me to all kinds of people.
Why are you attracted to scientific research?
Scientific research is centered on problem solving and critical thinking. I'm not satisfied by vague answers to complex problems. Scientific research allows me to delve into the nuances of a problem and propose explanations to all kinds of interesting phenomena.
Which Temple faculty member had the biggest impact on your education?
Professor Spiridoula Matsika. When I joined her lab, I had no experience in quantum/computational chemistry. Yet, she let me conduct research with her group and mentored me throughout my undergraduate years. Her patience, clarity and excitement toward theoretical chemistry research was an inspiration.
What was it like meeting a Nobel Prize winner?
Mentally, meeting Professor W.E. Moerner was intimidating. But once we talked about our overlapping interests in fluorescent protein research, it became evident that he provides an immense wealth of knowledge without displaying an intimidating demeanor.  
Any advice for Temple's undergraduates studying science?
The best advice is to reject complacency. Temple offers numerous opportunities to thrive in science. If you take advantage of these resources, and put in the time and effort, you'll become successful in your field.
—Greg Fornia