Decades apart, two Owls share aspirations—and a gown
A 1975 College of Education alumna bequeathed her graduation regalia. A doctoral student will wear it this week.
It is long and billowy and that striking red that is identifiably cherry. A soft, black velour panel runs down the doctoral robe from neck to ankle, with three complementary bars adorning each arm. The baby blue hood rests against the neck and cascades down the back like a cool wave.
Inside the gown, a large tag identifies the maker as Cotrell and Leonard, of Albany, New York, established 1832. Three gold script letters identify its owner as "KMK."
While a graduation gown is ubiquitous, it is at the same time distinctive and rich with decorum; one of many, yet charged with novelty in the eyes of its owner. It is representative of perseverance, of achievements, of dreams—timeless ideas, really.
So this particular gown was for Kathleen M. Kies, EDU '75.
When Kies received her doctorate from the College of Education's Department of Psychoeducational Process, wearing the customized Temple gown and her thick-framed glasses, she had already spent years teaching around the world and was beginning to leave her stamp on the higher education landscape.
In the decades that followed, the robe became a trusted and suitable choice for multiple college inaugurals and graduations. All told, she donned the graduation attire more than a dozen times.
Then, on an early April day in Milwaukee, Wisconsin, Kies packed the cherished regalia into a nondescript box, slipped in a note and sent it back to where she first wore it.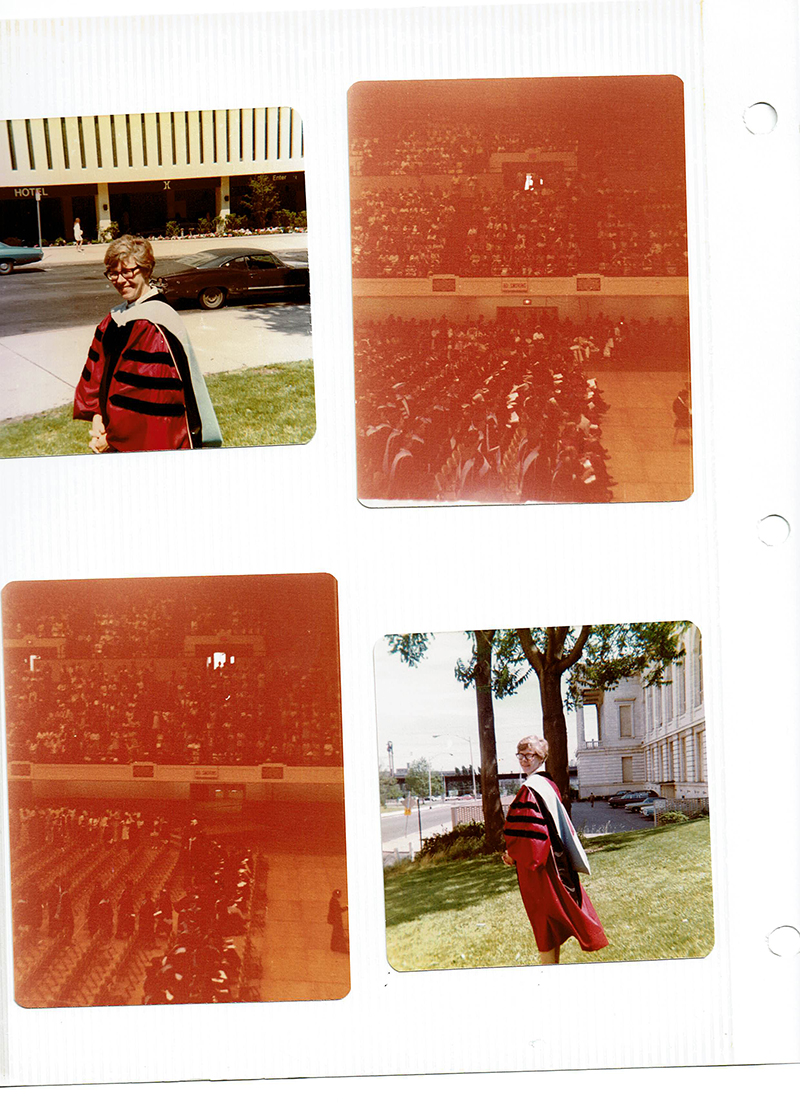 Kathleen Kies wearing the doctoral regalia for her 1975 Commencement.
"I am now 87 years old, and it is doubtful that I will ever wear these robes again," the letter begins. "Therefore, I would like to bequeath them to the College of Education, so that some deserving graduate who is unable to purchase his or her own robes can use them."
It continues: "I would ask that the recipients remember me in prayer, as I am now diagnosed with stage-four lung cancer, and can use a lot of prayer."
The package first landed at the college's Office of Enrollment Management before being transferred to Sofia Bermudez, the school's coordinator for career and student development and special events.
"We were all in shock," Bermudez said. "We were just trying to wrap our heads around that."
No one in the office had ever received such a gift, Bermudez noted, and the team was moved to honor the alumna's request quickly.
With weeks to go before Commencement, Bermudez and Doreen Conway, the school's assistant director of graduate academic and student affairs, turned to a graduation program in hopes of identifying a candidate to receive the regalia.
Conway found herself on the phone with Adrianne Musu Davis, a PhD student in urban education specializing in research on higher education who is also a full-time senior academic adviser in the Honors Program.
"She called and said, 'How tall are you?'" Davis remembered.
Soon after, Davis was en route to the office for an impromptu fitting. "They were these beautiful cherry robes, and they're just so perfect," she recalled. "The cap fits perfectly, and the robe fits perfectly."
The timing was also fitting: Davis was able to bring the gown home to Buffalo, New York, to see her father, who will not be able to attend the ceremony. 
"Receiving your regalia is also special to me because my father will also be 87," she penned in an April 25 letter thanking Kies. "He has end-stage Chronic Obstructive Pulmonary Disease (COPD)...thanks to your gift, he had the chance to see me in the regalia."
Davis, who had long vowed to spend the extra dollars to get the Temple-specific gown, said she wouldn't have been able to pay for the upgraded regalia. Grateful for the gift, she did some searching to learn more about the alumna-benefactor responsible for the gift and found that Kies had a long, successful career in higher education.
The parallels weren't lost on Davis, whose work with Temple Honors students inspired her dissertation on high-achieving undergraduate black women. Davis has worked in the field for 10 years and said she aspires to the kind of work Kies has done.
Kies, a Wisconsin native, grew up with thoughts of one day being an aerospace engineer. But with a nudge from her father, she decided to attend the Milwaukee State Teachers College. That's where she found her passion before launching a career by teaching middle school in numerous states, then countries: Germany, Japan and England.
Later, Kies worked on policy and budgets for Pennsylvania's Department of Education's Office of Higher Education. After Temple, she continued higher education work and moved around—to California, New Mexico, Minnesota and eventually back to Wisconsin.
"I've been an educator my whole adult life," Kies said when reached by phone last week, talking as she prepared to head to her volunteer job tutoring middle school students.
Gifting her robe, she said, was a "small thing."
"But it's big for one person," she figured.
Davis would concur. From her letter to Kies: "I have had you in mind in my morning and evening Buddhist prayers. It is such an honor to inherit your beautiful regalia. I will wear it with pride at the College of Education ceremony next month."
Davis said she has plans to one day serve on a college faculty teaching higher education—a position that would undoubtedly bring more days of pomp and circumstance.
That would mean more plans for the robe, too.