Students lobby for Temple's funding at Owls on the Hill Day
A group of students traveled to Harrisburg to meet with legislators and present their research.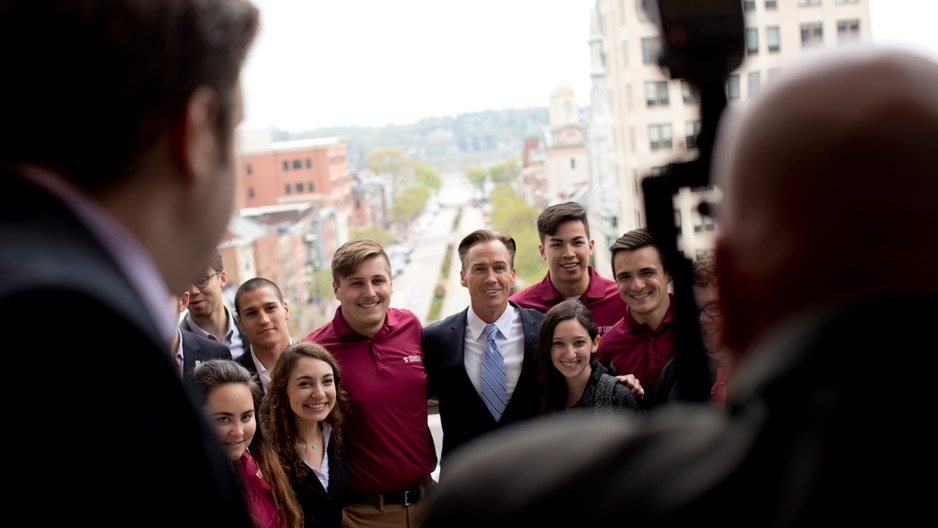 George Basile, Class of 2018, and Mike Kaba, Class of 2019, walked into the Harrisburg office of state Rep. James R. Santora. They greeted the legislator, sat down on a couch and began making the case for continued state funding of Temple University.
Santora, a Republican from Delaware County, had some encouraging words.
"I'm really happy with what's going on [at Temple]," he said. "You do have my support."
Scenes like that took place throughout the state Capitol during Owls on the Hill Day, a recent day of lobbying that gave students the chance to visit legislators and discuss Temple's importance to Pennsylvania residents.
"I'm extremely proud of our students and staff who made the trip to Harrisburg to advocate on Temple's behalf," said university President Richard M. Englert, who joined the contingent in Harrisburg. "Temple's historic mission of access, affordability, diversity and excellence have benefitted the Commonwealth of Pennsylvania for more than 130 years. We are very grateful for the state's ongoing support, and we look forward to continuing our remarkable partnership with the Commonwealth."
Owls on the Hill Day took place as legislators weighed funding for higher education in the new budget year that begins July 1. Under current proposals from Gov. Tom Wolf and the state House of Representatives, Temple would receive $150.6 million, the same amount it received for the current budget year.
In recent months, Temple has taken many steps to ensure continued state support. In March, Englert testified before the state Senate Appropriations Committee alongside the leaders of Pennsylvania's three other state-related universities. Englert has also visited Harrisburg several other times to meet with state legislators.
During Owls on the Hill Day, students visited the offices of every state representative.                       
Aron Cowen, Class of 2017, who was president of Temple Student Government for the 2016-2017 school year, said the event helped show state leaders how much students value Temple.
"Just the act of coming here shows them how important it is to you," said Cowen, who helped organize the day.
This year, Owls on the Hill Day was paired with Commonwealth Research Day. Nine undergraduates set up displays in the Capitol rotunda to show legislators their research projects.
Marni Shore, Class of 2017, said her project, which could help lead to new treatments for anxiety and depression, was an example of research performed at Temple that has the power to impact the entire Commonwealth.
"This research is just so important," she said.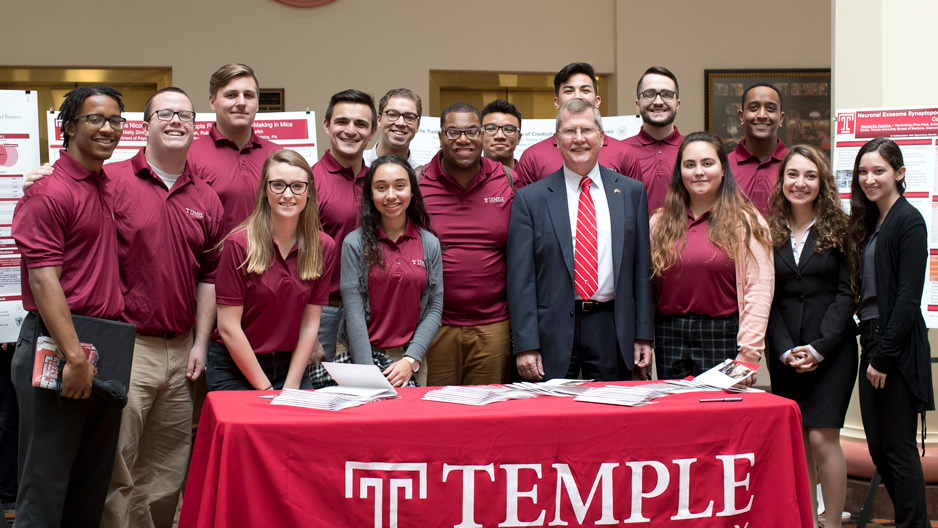 Temple President Richard M. Englert, center, joined students in Harrisburg for Owls on the Hill Day. 
Margarita Faykina, Class of 2017, presented her research on neonatal brain injury.
The experience of going to Harrisburg was exciting, she said. "I've never done anything like this before."
Throughout the day, all the students spent time exploring the Capitol and snapping photos of its architecture.
They even had the opportunity to visit the office of Lt. Gov. Mike Stack, who serves on Temple's Board of Trustees.
Stack shook hands with every student as they entered.
He told them he was impressed.
"It's important to look people in the eye when you meet them," he said. "You guys all had it."