President Englert testifies for Temple at state budget hearing
State funding allows the university to keep tuition as low as possible and to deliver excellent teaching, research and healthcare, Englert said.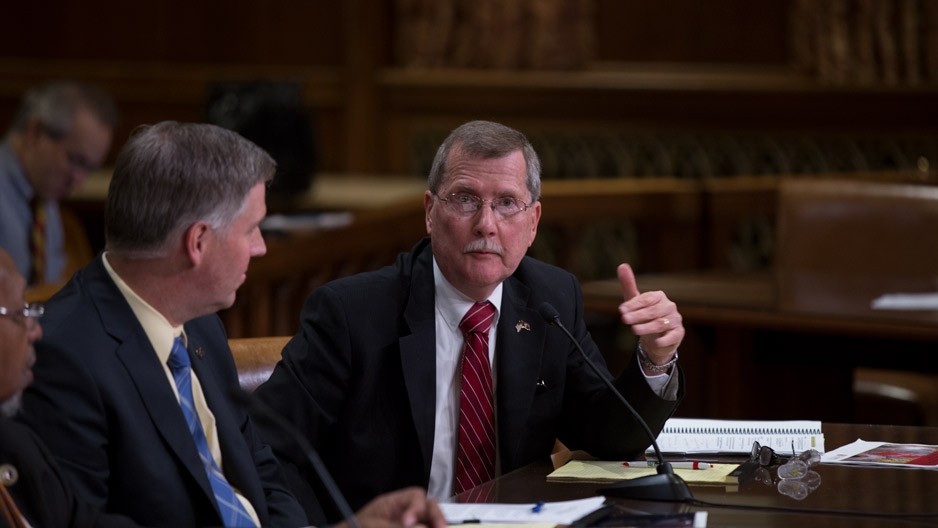 Testifying before elected leaders from across Pennsylvania, Temple President Richard M. Englert made the case for the university's state funding at a budget hearing on Wednesday.

Addressing the state Senate Appropriations Committee, Englert said the money the Commonwealth of Pennsylvania gives to Temple every year allows the university to keep tuition as low as possible; deliver excellent education, research and healthcare; and drive economic growth.

"Everyone at Temple feels privileged to be part of one of the Commonwealth's great state-related research universities," Englert said in a prepared statement submitted to the committee. "The tremendous partnership between the Commonwealth and its state-related schools has benefited both for more than half a century."

Englert's statement acknowledged that while there have been leadership changes at Temple in the last year, "our mission remains the same. Temple University is dedicated to providing an excellent education that is affordable, accessible and diverse."

As proof of the university's growing reputation, Englert noted that Temple broke all records in attracting prospective students for the current school year, with more than 33,000 students completing applications for the class that entered in the fall of 2016. The entering class of more than 7,700 freshmen and transfer students came from 59 of Pennsylvania's 67 counties.

"While we are proud of our Philadelphia roots, Temple has truly become a Pennsylvania university," he said in his statement.

In his budget address last month, Gov. Tom Wolf proposed flat funding for Temple for the 2017-18 budget year, which begins July 1, 2017. That means if the state house and senate approve the governor's plan, Temple would receive the same amount of money from the Commonwealth that it received for this budget year: $150.6 million.

While we are proud of our Philadelphia roots, Temple has truly become a Pennsylvania university.
-- President Richard M. Englert
Overall, Temple's state funding is still significantly below where it was before a more than $30 million cut in the 2011-12 budget year.
Englert's appearance before the Senate Appropriations Committee is the latest step in the university's effort to secure state dollars. In recent months, he has met with state legislators on campus and in Harrisburg.
Englert testified at Wednesday's hearing alongside the leaders of the other state-related universities: Lincoln University, Pennsylvania State University and the University of Pittsburgh.
Throughout his appearance, legislators repeatedly praised Englert for
Fly in 4, Temple's innovative plan to fast-track students' futures and limit their debt
. Englert noted that more than 93 percent of freshmen signed up for the program this school year.
The state senators also commended Temple's work on combating opioid addiction. Englert said Temple's efforts―which include launching an
innovative center to help pregnant women battling addiction
; hosting a
public symposium on the crisis
; and providing
expert testimony to Commonwealth leaders
―were "an example of how universities such as ours can have a major impact not only on the local community but also on the Commonwealth and on the nation."  
Englert also told the legislators that Temple creates about $7 billion in economic impact on the state every year and supports more than 71,000 jobs in the Commonwealth.
Budget discussions are expected to continue through the spring.