Temple researchers extract HIV from infected cells
The team of scientists at the Lewis Katz School of Medicine furthers their breakthrough work by using gene editing technology to remove HIV from cells.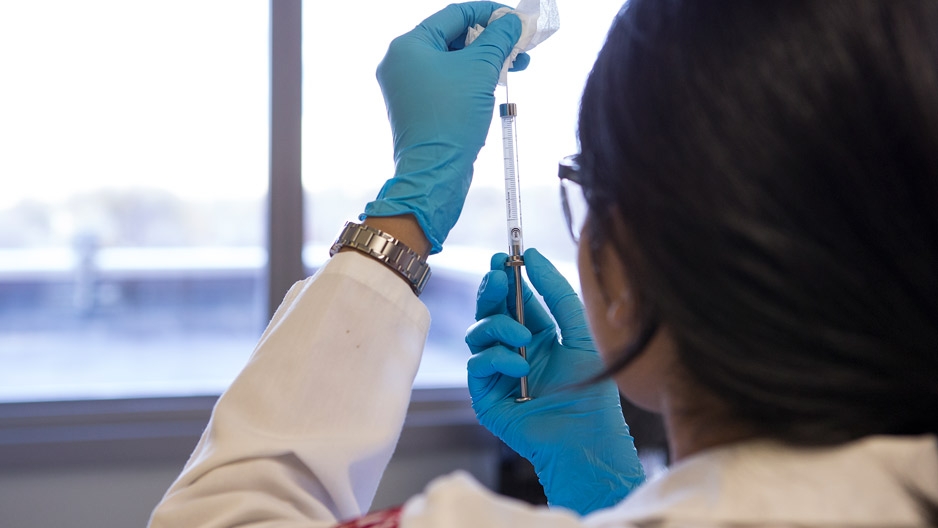 Researchers at the Lewis Katz School of Medicine recently became the first to demonstrate that HIV can be removed from infected cells in animals.

The team of researchers, led by Wenhui Hu, currently an associate professor in the Center for Metabolic Disease Research and the Department of Pathology (previously in the Department of Neuroscience); Laura H. Carnell Professor of Neuroscience Kamel Khalili, chair of the Department of Neurology and director of both the Center for Neurovirology and the Comprehensive NeuroAIDS Center; and Won-Bin Young, who was an assistant professor of radiology at the University of Pittsburgh School of Medicine during the research, but recently joined the staff at Temple's medical school as a senior research scientist published the results of the breakthrough study May 3 in the journal Molecular Therapy.

The scientists successfully excised HIV DNA from genomes of living animals, preventing further infection, including in a "humanized" model in which mice were transplanted with human immune cells and infected with HIV. They used gene editing technology to remove the virus from the cells and are the first researchers to replicate it in three different animal models.

This work built on a previous study published in 2016 in which the researchers demonstrated their strategy could delete targeted fragments of HIV from the genome in most tissues in experimental animals.

"Our new study is more comprehensive," Hu said. "We confirmed the data from our previous work and have improved the efficiency of our gene editing strategy. We also show that the strategy is effective in two additional mouse models, one representing acute infection in mouse cells and the other representing chronic, or latent, infection in human cells."
The new study marks another major step forward in the pursuit of a permanent cure for HIV infection.
"The next stage would be to evaluate the efficacy of our method in curing disease in an animal model where elimination of HIV-1 DNA in latently infected T cells and other sanctuary sites for HIV-1, including brain cells," Khalili said. "Our eventual goal is a clinical trial in human patients."
Read more about the study here.
—Kara Rogers