School of Pharmacy launches IBD treatment startup
Researchers found a promising target tied to serotonin in the gut.
A startup emerging from Temple University's School of Pharmacy builds on the work of two of its medicinal chemists and could potentially change the way inflammatory bowel disease is treated.

The company, Praeventix, is advancing a discovery made by the School of Pharmacy's Daniel Canney and Benjamin Blass of the Moulder Center for Drug Discovery Research. Praeventix was recently recognized as one of the Best University Startups of 2016 by the National Council of Entrepreneurial Tech Transfer.

"My graduate students and I had been working on several series of compounds for decades looking at potential targets that could lead to useful drugs," said Canney, an associate professor and chair of pharmaceutical sciences.  "A couple of years ago, Benjamin [Blass] offered to send some of the compounds to a collaborator for broader screening in hopes of finding some additional paths forward."

The results of the screening showed that several compounds bound to a specific subset of serotonin receptors known as the 5-HT7 receptors.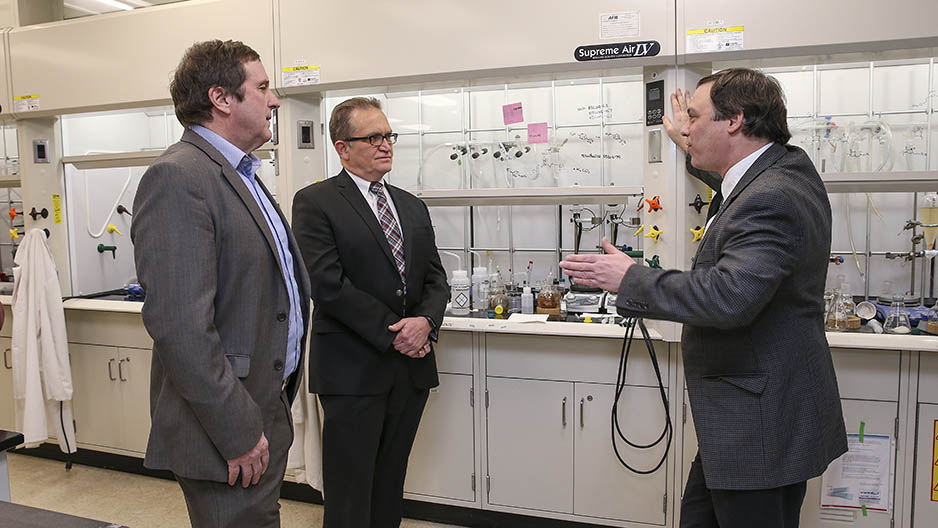 Photography by: Joseph V. Labolito
Research by the School of Pharmacy's Daniel Canney (center) and Benjamin Blass (right) form the crux of a new startup company led by Douglas Pippin (left).

Serotonin is best known for its role in psychiatric disorders like depression, but most of the serotonin in the body is located in the gastrointestinal tract.  While Canney and Blass were investigating potential uses for their discovery, a scientist in Canada, Waliul Khan, published a preclinical study that showed the 5-HT7 receptor was involved in the progression of inflammatory bowel disease, a chronic inflammation of the digestive system that primarily includes Crohn's disease and ulcerative colitis.
"This gave us a clear pathway forward for a promising drug discovery project," said Blass, an assistant professor of medicinal chemistry. "Our compounds are very specific for the target [5-HT7 receptors], possess excellent drug-like properties, and are covered in patent applications, so we immediately started looking for funding."

"We hypothesize that 5-HT7 receptors and serotonin are key to the progression of GI inflammation associated with IBD," said Canney. "By blocking the receptors, the inflammatory signals produced by serotonin binding will be reduced.  No other treatments for IBD target this mechanism of action."

Current treatments for IBD solely treat the symptoms of the disease.  Douglas Pippin, president and CEO of Praeventix, LLC, said, "We believe this technology is disruptive and will treat the disease by reducing the inflammatory process further upstream than the currently available treatments. This should lead to better overall outcomes for IBD patients."

Praeventix was formed in 2015 and is now seeking funding to complete preclinical studies and launch investigational new drug trials.