Connecting the community with careers
Mike Robinson, director of community outreach and hiring, helps community members secure jobs.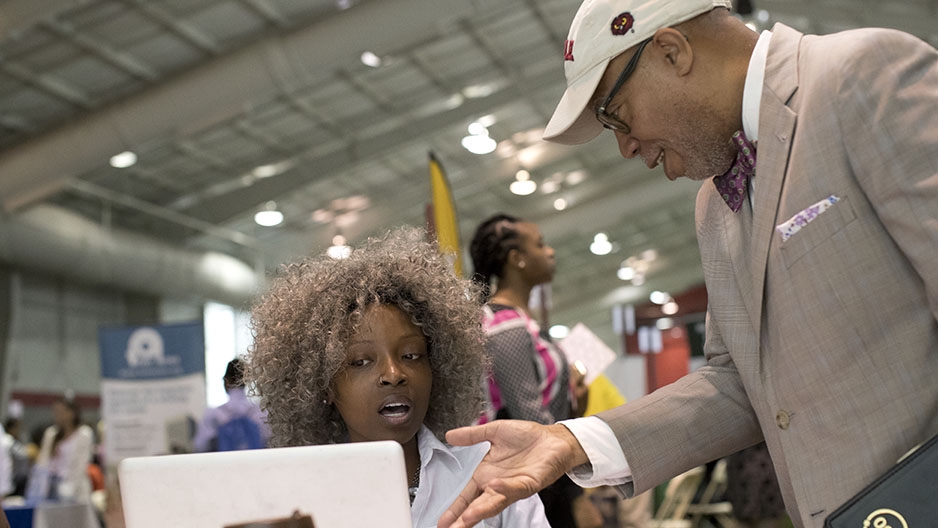 In a city that experiences a high level of poverty, Mike Robinson sees an opportunity to help create change.

As director of community outreach and hiring in the Office of Human Resources for more than a decade, Robinson has worked to connect residents who live close to Main Campus with job opportunities at Temple and around the city through workshops, training programs and community events like the annual Neighborhood Job Fair.

On May 18, more than 2,000 job seekers in search of opportunities to start new careers crowded into the Student Pavilion for this year's fair. The fair is one of the many community-based initiatives Robinson spearheads.

"This year's annual Neighborhood Job Fair was a success," Robinson said. "I am deeply appreciative of all of the support received from our partners across the city and across campus. This annual event is one of Temple University's largest signature community service initiatives, a hugely popular event with residents from our surrounding community and beyond."

During the fair, Robinson surveyed the space, stopping to chat with job seekers who know him as "Rev. Robinson" and others who are familiar with his work in the community.  

While the job fair is one of the largest community initiatives offered by the university, it's just one way Robinson connects with the community at large.

The employment rate at Temple represents a $45 million boon in income for families in North Philadelphia.
-- Mike Robinson, director of community outreach and hiring in Temple's Office of Human Resources
Throughout the year, Robinson works to identify local talent from the surrounding area through a series of offerings, including quarterly job readiness workshops and training courses that help job seekers gain skills to improve their chances of employment. He also spends a lot of time helping local residents navigate the path to gaining employment at Temple.
Of the approximately 8,000 people employed by Temple, at least 10 percent of them are from the surrounding community, Robinson said.
"North Philadelphia is one of the most impoverished areas in our state," Robinson said. "The employment rate at Temple represents a $40 million boon in cumulative income wages earned for families in North Philadelphia." 

He connects the community with employment opportunities through churches, community centers and nonprofit organizations, where he is a familiar face.  

"It's important that job seekers feel like they have access," Robinson said. "I try to make sure that I'm present for community events, so that people have the opportunity to get to know me in person."

Robinson is also the senior pastor of Greater Enon Missionary Baptist Church, at 22nd and Berks streets, just west of Main Campus. Prior to becoming a senior pastor, he served in various ministry leadership roles at Sharon Baptist Church, which has one of the largest African-American congregations in Pennsylvania.