Temple establishes Chairman's Scholarship with neighboring high school
Five graduating seniors from Carver E&S will receive annual scholarships, mentoring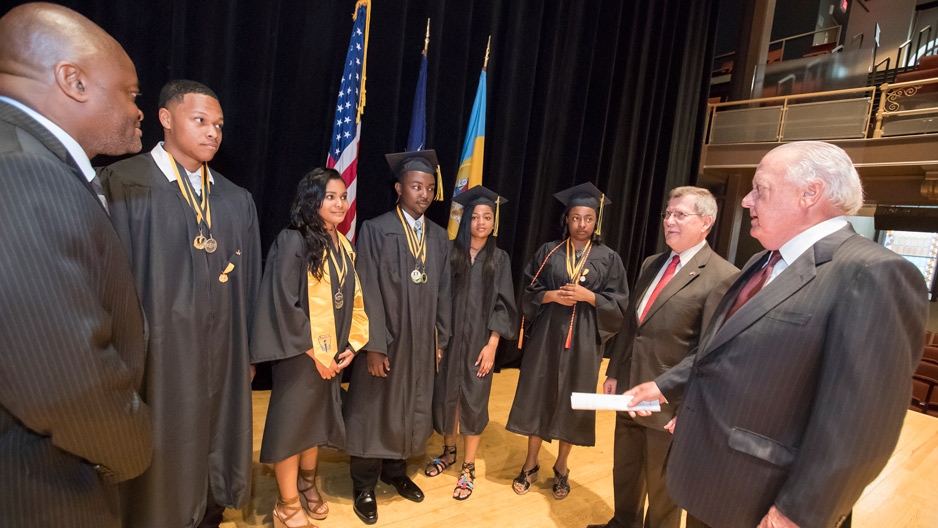 Alexsis Davis founded a mini-library at her church. Ransford Djeagbo was active in an underwater robotics program. Hurriyah Everett-Bey is an industrious self-starter on the yearbook staff.
These high-performing students—along with accomplished student-athlete Keishon Norton and Sumayyah West, who placed first in the forestry and aquatics section of the state Envirothon—are all graduating from George Washington Carver High School of Engineering and Science (E&S) in North Philadelphia.
They also are the recipients of Temple University's new Chairman's Scholarship Program, which provides mentoring, a $10,000 annual scholarship and meal plans to these five incoming Temple freshmen from Carver E&S, a neighbor institution adjacent to Main Campus. The support will be available to each recipient for four consecutive years starting in the 2017–2018 academic year. Temple hopes to continue this program in the future.
"Carver E&S is the ideal partner for this new scholarship and mentoring program," said Temple Board of Trustees Chair Patrick J. O'Connor. "This collaboration strengthens bonds between two institutions that are not only based in North Philadelphia, but also share a commitment to providing a superior education to students of all backgrounds."
Carver E&S offers a STEM-focused curriculum for grades seven through 12. It comprises 900 students from across Philadelphia. The school boasts a 100 percent college-acceptance rate, and a third of its senior class applied to Temple.
"This program directly aligns with Temple's mission of access to an excellent education, as well as our unwavering commitment to the community," said President Richard M. Englert. "Just as Carver E&S has changed these students' lives, Temple will provide many pathways to opportunity."
Another key component of the Chairman's Scholarship is a mentoring program in which each recipient will be paired with a senior administrator in the portfolio of Temple Executive Vice President and Chief Operating Officer Kevin Clark. The scholarship recipients also will be invited to return to Carver E&S to share their college experiences.
"We are honored these five exceptional students were selected for the new Chairman's Scholarship and will remain nearby to our school," said Carver E&S Principal Ted M. Domers. "The mentoring opportunity extends our school's approach to provide well-rounded support for our students. I am grateful to the leadership at Temple University and Coca-Cola for providing this opportunity."
Temple's new beverage partner, The Coca-Cola Co., helped make the Chairman's Scholarship possible.
"Coca-Cola proudly supports the Chairman's Scholarship and recognizes the importance of aiding students in reaching their dreams and aspirations," said Bill Derbyshire, Coca-Cola's vice president of customer, commercial and region sales.  "This year's winners are part of a diverse group of extraordinary students that have shown a steadfast commitment to educational excellence, leadership, and service to the school and community. We are honored to provide this opportunity."