Boyer students pay tribute to Frank Sinatra on new record
Two students who worked on Boyer record label BCM&D Records' most recent release, Luck Be a Lady: A Tribute to Frank, talk about the experience working on the record.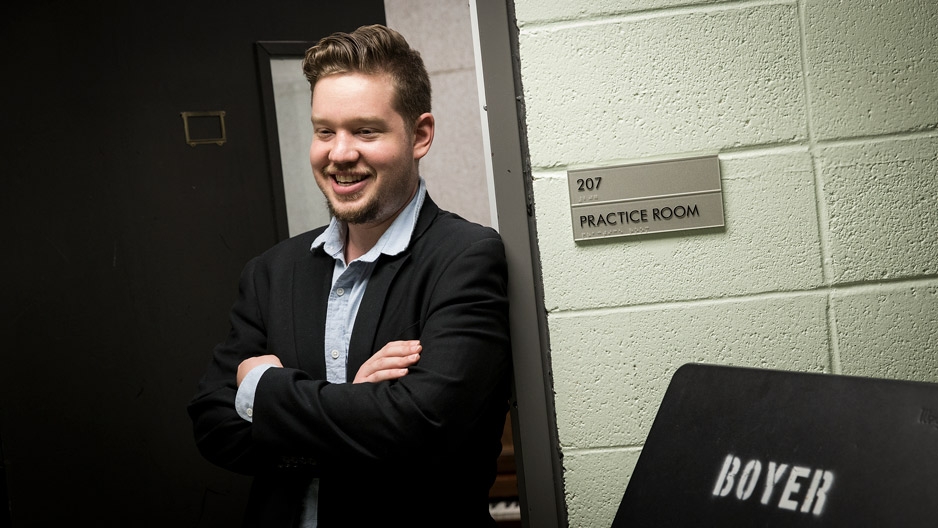 Sean Markey, BYR '16, is just starting out in his career as a musician.

But one of his fondest memories and proudest moments came in his senior year at Temple, when he had a chance to play on a record featuring the Temple University Studio Orchestra released under Boyer College of Music and Dance's label, BCM&D Records.

The record, Luck Be a Lady: A Tribute to Frank, released in April, features Laura H. Carnell Professor, Chair of Instrumental Studies and Director of Jazz Studies Terell Stafford on trumpet and Professor of Jazz Studies Dick Oatts on alto saxophone. Markey, who plays guitar and majored in jazz performance, said members of both the Symphony Orchestra and Jazz Band coming together as the Studio Orchestra on the record made it a unique experience for the young musicians who played on it.

"It was really cool, because for the most part, we don't get to interact with the orchestra too much," said Markey, who lives in South Philly now and plays jazz gigs around the city. "I really enjoyed listening to the orchestra."

Another part of what made Luck Be a Lady, the latest of more than 30 records released by BCM&D, an invaluable experience for the students who worked on the record—besides being on a recording with prominent musicians Stafford and Oatts—was playing an arrangement by Grammy-winning arranger and composer Michael Abene.
Abene arranged it in a way that was fresh, so we felt like we really were putting our mark on this iconic music."
-- Hailey Brinnel, Class of 2018
"I've been growing up listening to these arrangements, so of course taking the music of Sinatra in such iconic arrangements can be really daunting," said Hailey Brinnel, Class of 2018, a jazz education major who played trombone on the record. "But Abene arranged it in a way that was fresh, so we felt like we really were putting our mark on this iconic music."
Brinnel said the record is the result of about two years of work. She joined the jazz band at the Kimmel Center in March and at New York City's Lincoln Center in April to perform some of the music.
Both she and Markey said the experience of playing on a record of iconic music that includes such prominent names in the field will serve them in their careers in music. And it doesn't hurt that BCM&D Records has received Grammy nominations for three of its previous records.
"It's not that common to be on that kind of record, especially with the orchestra and the big [jazz] band," Markey, who plans to return to Temple for a master's degree, said. "Sometimes it's just luck to play on a record. I was really fortunate to be a part of that."
Read more about Luck Be a Lady and download the record on iTunes here
, or listen on
Spotify
.