Alumna leads charge to prevent overdose deaths at library
Chera Kowalski, a 2007 graduate of Temple's College of Liberal Arts, made national news recently for bringing Narcan training to Kensington's McPherson Square Library in a move to prevent deadly heroin overdoses there.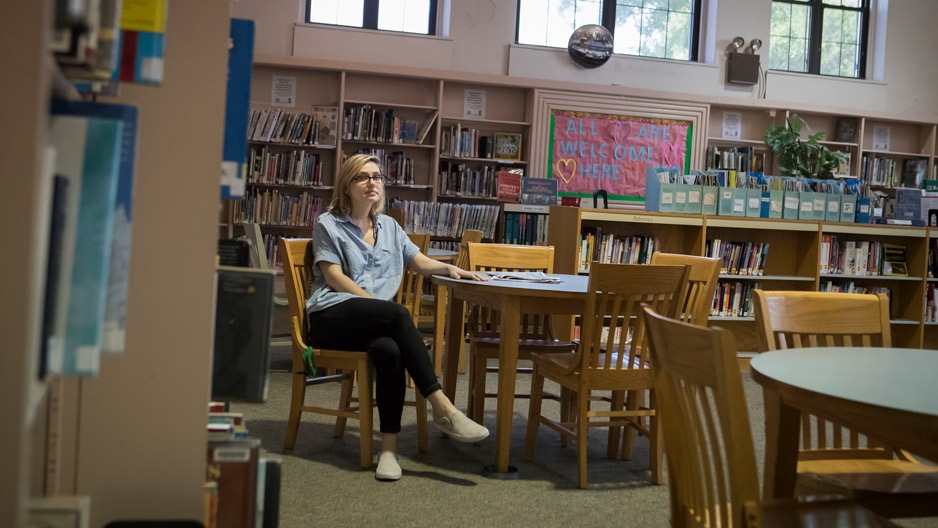 When Temple graduate Chera Kowalski landed a job with the Free Library of Philadelphia in 2013, she knew just where she wanted to work: at the McPherson Square Library in the heart of Kensington, a community long fighting its reputation as the city's open-air drug market.

Kowalski, CLA '07, McPherson's adult and teen librarian, knew she could bring something important to the community around McPherson Square. Growing up, both of her parents, who are now in long-term recovery, battled heroin addiction. So part of Kensington's struggle hits close to home for her.

"Especially with kids who see these things, I felt I could come with an empathetic understanding," Kowalski, an English major, said recently as she sat in the library, which looks out over Kensington from behind a row of regal columns atop a hill in McPherson Square Park. "We really do strive to create a welcoming and safe environment."

For Kowalski and her colleagues, saving lives has become a part of nurturing that safe environment. As the grip of the heroin epidemic tightens and Kensington continues to be its nucleus, the library and park have become the site of an increasing number of overdoses. Frustrated with feeling helpless waiting for paramedics to arrive and revive victims, Kowalski led the charge to bring Narcan training to the staffs of McPherson and five other libraries across North Philadelphia, for any employees who wanted it.

Narcan is an overdose-reversal medication administered via a nasal spray that anyone in Pennsylvania can buy at a pharmacy without a prescription, thanks to a standing order from the state's physician general. As overdoses surge in Philadelphia—they claimed the lives of more than 900 people last year—it's become increasingly important and common.

What Kowalski didn't bargain for in her quest to prevent deadly overdoses at McPherson Square, though, was the media attention it's garnered. After The Philadelphia Inquirer first publicized the library's use of Narcan June 1, Kowalski found herself at the center of a media whirlwind, fielding interview requests and receiving nods in national publications including NPR, NBC News and The Washington Post.

While she appreciates the spotlight on an important and worsening problem, Kowalski said much of the news coverage has missed the mark. An unwavering champion of the community, she's disappointed with the perpetuation of Kensington's stereotypes in some stories, which she said have referred to McPherson Square as "Needle Park" for its reputation as a hangout for people using heroin and sensationalized overdoses, despite her protests.
We need to focus on what the community needs. We need to radically change the way we treat substance use disorder. Until we do that, this epidemic is not going to change."
-- Chera Kowalski, CLA '07
"This is not a hellscape. It's not 'Needle Park.' That's the really frustrating part—that that's become the focal point," Kowalski said. "We need to focus on what the community needs. We need to radically change the way we treat substance use disorder. Until we do that, this epidemic is not going to change."
While preventing overdose deaths is important, Kowalski said, McPherson Square Library, one of the city's busiest branches, serves an even more integral role in the community overall. Last year, more than 56,000 patrons came through the library's doors; it's an important resource for everyone, from kids attending after-school and summer programs to teens looking for help on term papers to adults who need Internet access to job hunt.
Last year, the library hosted 580 programs for more than 16,000 participants, the most of any branch in the city, and served nearly 13,000 free meals to children. Kowalski wants people to know that McPherson Square, its library and its surrounding neighborhood are so much more than ground zero for the heroin epidemic.
"Unfortunately, Kensington and heroin have become synonymous with each other. [But] it's not just heroin here," Kowalski said. "It's a strong community. It's vibrant. They're motivated. There's drive and there's a commitment to want for things to change and improve."