Alumni return to support ProRanger students
Temple graduates who completed the ProRanger program, one of two programs of its kind in the country, took a break from patrolling national parks to help train future rangers.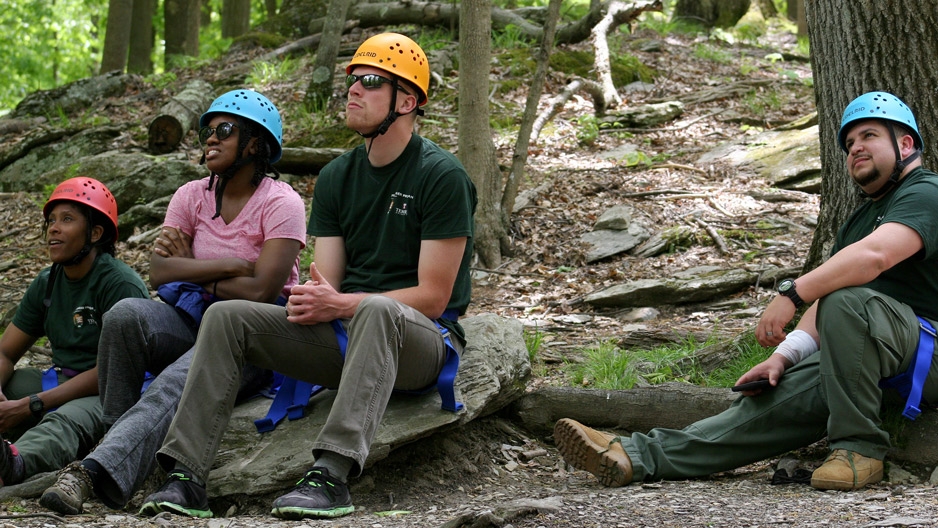 The crisis call came on a recent day in May: A hiker was stranded in the Delaware Water Gap National Recreation Area, unable to find her way out of the densely forested 2,800-acre region.
A group of National Park Service rangers who watch over the area, along with rangers-in-training, sprung into action, launching a rescue mission. They soon located Vicki Lewis McGarvey, Temple's vice provost for University College and program director for the ProRanger Philadelphia program. McGarvey wasn't truly stranded; she was participating in a simulation designed to test future National Park Service rangers' search-and-rescue skills during the annual ProRanger Philadelphia Leadership Training Camp.
Alumni of the ProRanger program often return to help new rangers-in-training, and this year's Philadelphia Leadership Training Camp was no exception: Seven former ProRanger students, all now working for the National Park Service, returned to lend their expertise.
"I felt so fortunate to go through the program that I wanted to give something back. As alumni from the program, we were right where the students are right now not that long ago. We're able to give them honest insight into our experiences," said ProRanger alumnus Jordan Keiffer, CLA '14, who is currently stationed at Harpers Ferry National Park in West Virginia. "Spending the week with the new students felt like coming full circle...The students are able to see the final product, to sit down, talk and discover what a career as a park ranger can and will be. One day these students could be sitting in the car next to me. It only makes sense to help them get ready to hit the ground running."
Jessica Cooper, CLA '14, a self-described "city kid" never thought of a career with the National Park Service as a possibility until she came to Temple and completed the ProRanger program. Now, she works as a law enforcement ranger at Philadelphia's Independence National Historical Park.
The reason I wanted to take part in Leadership Camp as an alumnus is the same reason I became a ranger: to help people."
-- Jessica Cooper, CLA '14
"We have alumni working in Alaska and there are students learning about the National Park Service in St. Croix. How many professions provide such a diversity of opportunities and experiences?" said Cooper, who also returned to help future rangers during this year's Leadership Camp. "The reason I wanted to take part in Leadership Camp as an alumnus is the same reason I became a ranger: to help people."
The ProRanger program, a partnership between Temple and the National Park Service, is one of just two such programs in the nation. It is offered in cooperation with Temple's Criminal Justice Training Programs, which include the Seasonal Law Enforcement Training Program (SLETP)—a key component of ProRanger Philadelphia—at the Ambler Campus.
Temple is the only university in the United States to offer both the ProRanger program and SLETP. It's program boasts a 100 percent job placement rate with recent graduates landing positions at Yosemite National Park, Boston National Historical Park, Fire Island National Seashore, Everglades National Park and Shenandoah National Park.
"We offer a great deal of hands-on training, coupled with two internships, to students majoring in everything from engineering to film to horticulture," said National Park Service ProRanger Program Manager Adrian Fernandez. "And together we're meeting the demand for National Park Service officers."