Putting kids a stroke ahead
Assistant Professor Angela Beale grew up in North Philadelphia and found opportunity through swimming. Now, she's passing that opportunity on to kids in socioeconomically disadvantaged neighborhoods while addressing staggering disparities in childhood drowning rates.
Video Production:
Gina Benigno and Louis Peluyera
For as long as Angela Beale can remember, swimming has been an integral part of her life.
"I grew up swimming in the North Philadelphia area," recalls Beale, an assistant professor of kinesiology in the College of Public Health. "And I had the opportunity through learning to swim to actually go to college on a swimming scholarship at Howard University, to become a Division I swimming coach at Florida A&M University."
Beale hasn't forgotten the way swimming changed the course of her life, so she dedicates her career to ensuring that children—especially those in socioeconomically disadvantaged communities—have access to the same opportunities. Beyond simply teaching kids to swim to expand their opportunities, Beale has taken up the charge of drowning prevention through water safety instruction.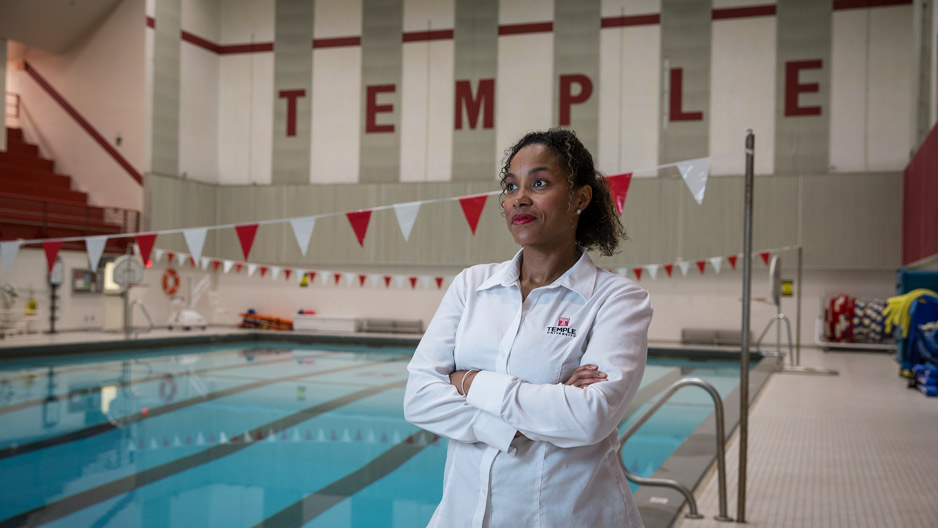 Beale says disparities in childhood drowning rates inspired her to start a program that teaches kids water safety. (Photo by Joseph V. Labolito)
"[Drowning is] the No. 1 cause of [unintentional injury-related] death among children ages 1 to 4, and among school-aged children, it's the second leading cause of [unintentional injury-related] death," Beale says. "When you look at that number on a large scale and break it down demographically, drowning impacts African American and Hispanic and Latino youth at an astronomically different number, with African American youth being impacted at about nine times the rate of white American children."
To combat that disparity, Beale started A Stroke in the Right Direction, a program at Temple in partnership with the American Red Cross that teaches local children water safety and social responsibility. Last summer, the program collaborated with Philadelphia City Youth Rowing, and 150 middle and high school students participated. This summer, the program focused on younger children, educating more than 60 boys and girls ages 5 to 13.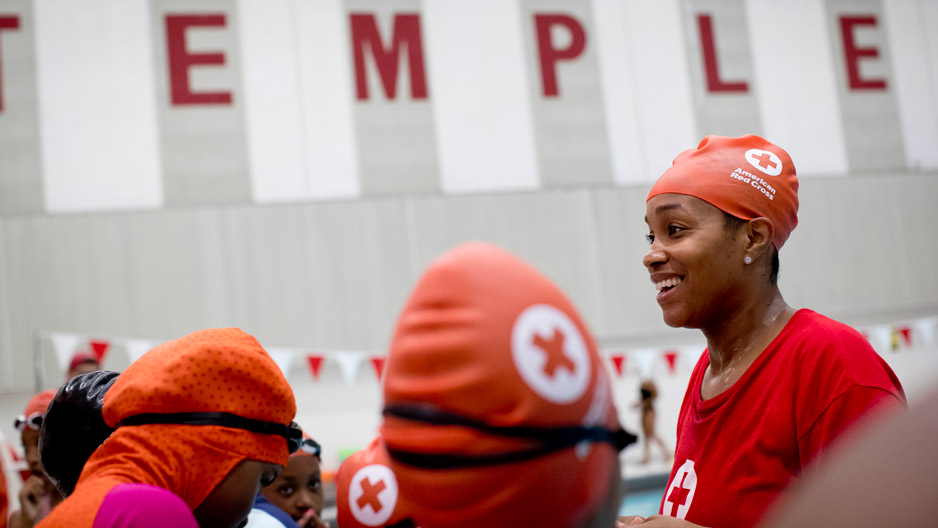 Angela Beale teaches students in July 2017 as part of A Stroke in the Right Direction's second summer program. (Photo by Ryan S. Brandenberg)
A Stroke in the Right Direction stems from an aquatic education curriculum Beale created based on Teaching Personal and Social Responsibility, a physical education curricular model. It is the only program of its kind in the U.S. Beale plans to continue to expand the program and envisions eventually creating a self-sustaining version of it that can be taught in schools.
For Beale, the chance to pass her skills on to children in North Philadelphia, the community where she grew up, is fulfillment of a lifelong dream—and the kids' ability to bring what they learn back to impact their own neighborhoods makes it even more meaningful. 
"Knowing they are learning skills that they can actually take into their communities and become leaders [through] is really empowering," she says.