Teens in foster care visit Temple to experience college
Through the College Bound Academy, 16 youth who are in foster care came to stay on campus for a week, exploring college life and learning about potential career paths through the university's schools, colleges and programs.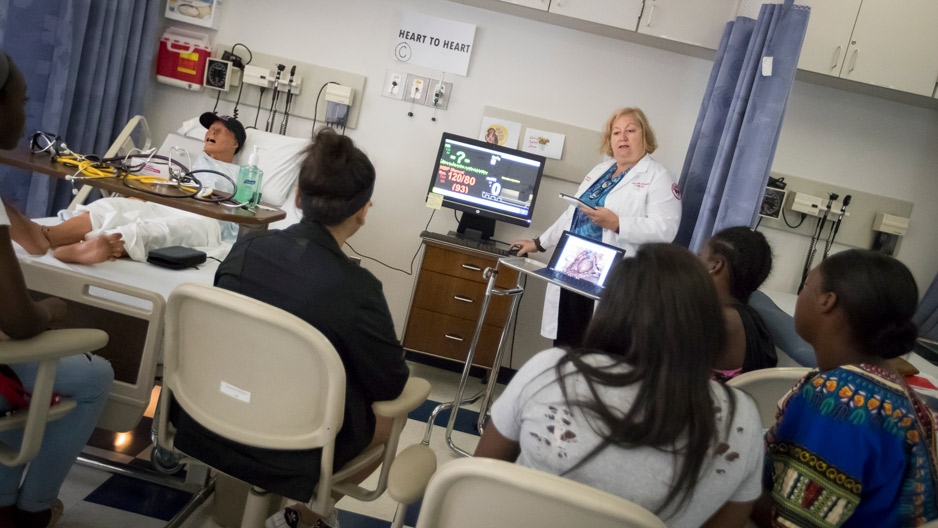 When a group of teenage students filed into a lecture hall at Temple's Kornberg School of Dentistry on a recent summer morning, the first question they had for dentists-in-training there didn't have much to do with teeth. They wanted to know how old the dental students were.
It turned out that Daniel Malloy and David Carpinello, two fourth-year dental students presenting to the high schoolers aren't more than a decade older than they are: They're 25.
Malloy and Carpinello were presenting to the group as part of Temple's College Bound Academy, a program in the Center for Social Policy and Community Development that brings teens in foster care to campus for a week during the summer so they can get a taste of college life and learn about potential careers. On this day, the students envisioned what it would be like to pursue a career in dentistry.
"The only downside for me is the [student] loans," Malloy told the high schoolers. "But you do get paid well, so it's not something you can't overcome."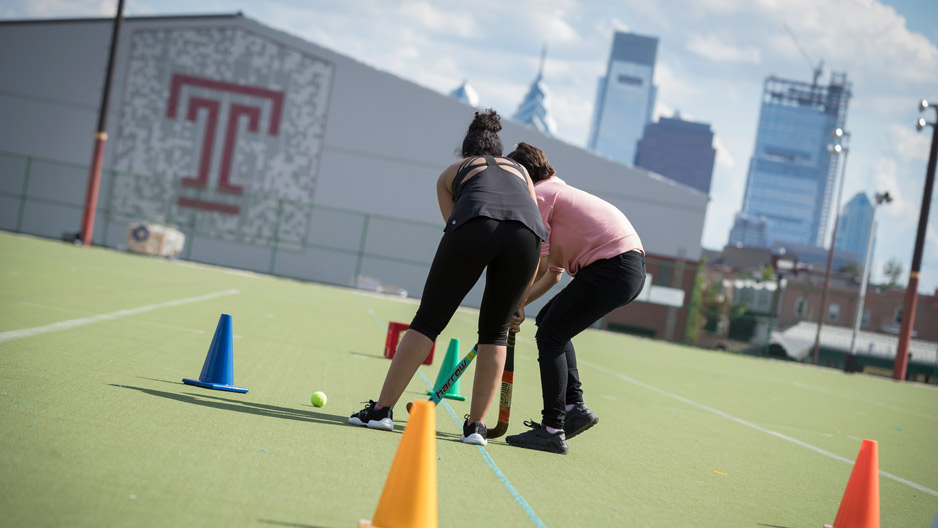 Students learn to play field hockey on Main Campus.
Reminding students that there's nothing they can't overcome is one of the core missions of the College Bound Academy, which encourages teens who grew up in the foster care system to dream big and attend college, opening their eyes to an array of opportunities they may not have been exposed to before. This year's Academy marked the program's third year.
Harold B. Brooks, who oversees the program as the educational services coordinator for the Center for Social Policy and Community Development's Achieving Independence Center, said Temple's is the only College Bound Academy program offered in the northeastern United States and that students who complete the Academy are eligible for college scholarships when they graduate from high school.
Safiya Washington, assistant program coordinator and counselor/supervisor for the College Bound Academy, who traveled with the students for their visit to Kornberg, said getting young people in foster care to experience college with kids who have similar backgrounds provides them with important connections and support.
"College is different for someone who has both parents than someone who doesn't," Washington explained. "They have a lot of trauma in their lives. The first year of college can be really difficult."
The 16 teens who participated in this year's College Bound Academy stayed in 1940 Residence Hall and explored not only dentistry, but also careers in nursing at the Health Sciences Campus, the media via a visit to Klein College of Media and Communication and landscape architecture and horticulture at Ambler Campus, among other fields.
They also experienced life as a college student, playing field hockey, seeing a play and eating at the cafeteria.
But best of all, the Academy provides the teens with a unique experience to bond with their peers and the counselors who oversee the program.
"It's good because you live with [the other students] like a family," said Latoya, 16, who participated in the Academy for the second time this year and aspires to be an interior designer.
Nataye, 17, has attended the Academy all three years since it began. She said the experience has helped to inspire her to pursue a career in social work.
"It's a good experience to be around people like you," she said.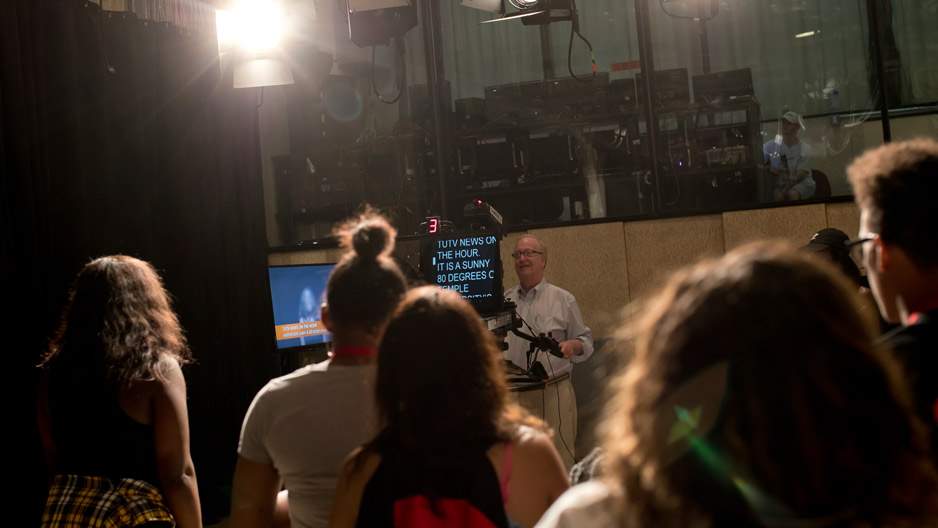 TUTV General Manager Paul Gluck, an associate professor, teaches students in the College Bound Academy about careers in broadcasting. 
Washington said she and her fellow counselors also take time to teach the students about the college application process and how to fill out the Free Application for Federal Student Aid, so they're prepared when the time comes.
"Sometimes we're their first exposure to things like that," she said.
Learn more about Temple's Center for Social Policy and Community Development.
—Morgan Zalot and James Duffy