New simulation center opens at School of Podiatric Medicine
The center will enhance education at the school by supplementing real-world clinical experience with practice and immediate feedback from attending physicians.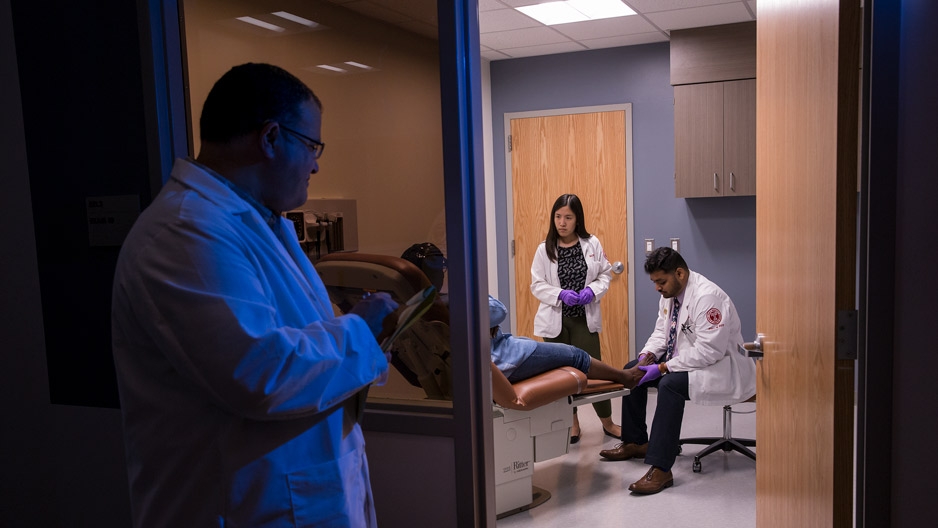 A new center at Temple University's School of Podiatric Medicine will enhance medical education by providing students with a place to practice patient interactions and receive immediate feedback from faculty.
The School of Podiatric Medicine cut the ribbon on its new simulation center, as well as a new anatomy lab, Oct. 10. The simulation center, which boasts 12 clinic rooms outfitted with diagnostic tools and audio and video recording equipment, is brand new and will serve as a place for additional training and quality control. The anatomy lab is an upgrade to existing facilities at the school. 
"A dedicated simulation center for podiatric students will allow us to prepare students better and more thoroughly for professional practice," said Raquel Perez, a clinical instructor in the Standardized Patient Program who was instrumental in planning the new center. "We are a supplementary program designed not to replace real-world experience, but to provide students with a safe and nurturing environment in which to make mistakes and learn from them."
Perez said the simulation center, which was in the works for about a year before its official opening, will allow more opportunities for early intervention and skills development. In addition to audio and video recording equipment, the center's clinic rooms have one-way window mirrors so that attending physicians can observe students interacting with simulated patients without actually being present inside the room and offer immediate feedback.
Temple's
School of Podiatric Medicine
is the only podiatric medical school in Pennsylvania, and it is one of only nine such institutions in the country.